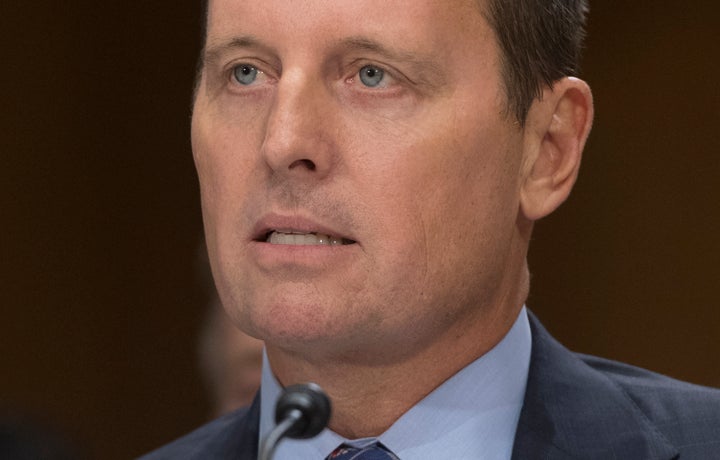 The Senate on Thursday voted 56-42 to confirm Richard Grenell, President Donald Trump's nominee for the ambassadorship to Germany.
Grenell, a Republican and close political ally of Trump, has a background in communications and worked with incoming national security adviser John Bolton at the United Nations under President George W. Bush. He also worked briefly as a national security and foreign policy spokesman on Mitt Romney's presidential campaign in 2012.
Trump had reportedly considered Grenell for the U.S. ambassadorship to the United Nations before nominating Nikki Haley, a former U.S. representative, for the position.
With his confirmation, Grenell becomes one of the most prominent openly gay Trump appointees. Grenell's supporters include Stuart Milk, co-founder of the Harvey Milk Foundation and nephew of the late gay civil rights leader. Milk told The New York Times in March that he believed Grenell's confirmation would "send an important message" to the LGBTQ community about their place in the Trump administration.
The Senate vote was delayed earlier this week over several Democrats' concerns regarding Grenell's past comments about women. Grenell has a reputation for launching sexist attacks through his Twitter account and disparaging women in media and politics.
On Monday, a spokeswoman for Sen. Jeff Merkley (D-Ore.) said in a statement to CNN that the senator was concerned about Grenell's "significant history of making misogynistic and other incendiary statements online."
She added that Grenell "has also been dismissive of the threat of Russia's meddling in the US, a fact that is doubly concerning as Germany is one of our closest and most important allies in pushing back on Russian aggression on the world stage."
The confirmation comes ahead of a visit to the White House by German Chancellor Angela Merkel, who is expected to push Trump not to abandon the Iran nuclear deal nor hit Europe with new U.S. tariffs. French President Emmanuel Macron made similar appeals to Trump during his three-day state visit this week. But where Trump and Macron have appeared to develop an easy rapport, relations have been notably chillier between Merkel and the U.S. president.
Germany has seen a rise in anti-American sentiment since Trump assumed office, and foreign policy experts have warned about the already tenuous transatlantic relationship.
"The liberal world order with its foundation in multilateralism, its global norms and values, its open societies and markets — is in danger," wrote a group of 12 German foreign policy experts in an op-ed last year. "Donald Trump is the first U.S. president since World War II to fundamentally question the ideas and institutions of the liberal international order."
Popular in the Community