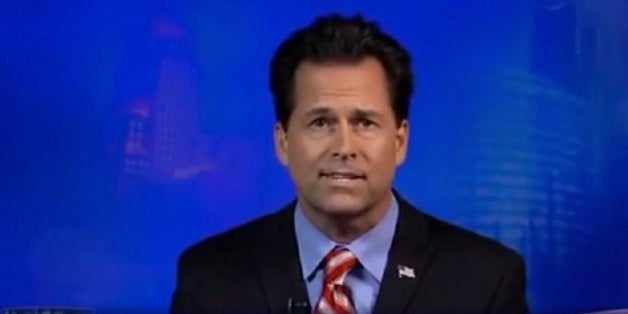 WASHINGTON -- In a sign of conservative appetite to unseat incumbent Republicans, the Senate Conservatives Fund announced Tuesday that it was endorsing Dr. Milton Wolf over Sen. Pat Roberts (R-Kan.).
Roberts has served in the Senate since 1997, and votes with his party 90 percent of the time, according to The Washington Post, at the same rate as other conservative senators such as Mike Enzi (Wyo.) and James Inhofe (Okla.).
The group's endorsement touts Wolf, but makes no mention of Roberts. "Dr. Milton Wolf is a principled conservative who will fight to stop the massive spending, bailouts, and debt that are bankrupting our country. He's not a career politician," SCF Director Matt Hoskins said in a statement. "He's a doctor who understands exactly why Obamacare must be repealed. Kansas Republicans deserve a real choice this election, and Dr. Wolf gives them a chance to send someone new to Washington who will shake things up and bring about real change."
A Roberts spokeswoman did not immediately respond to a request for comment.
The group has endorsed two other primary challengers to Republican incumbent senators -- Chris McDaniel in Mississippi and Matt Bevin in Kentucky, who is challenging Senate Minority Leader Mitch McConnell (Ky.). The SCF has also endorsed Ben Sasse in Nebraska, and Rob Maness in Louisiana, who are running in primaries without an incumbent. Former Sen. Jim DeMint (R-S.C.) founded the group while still in the Senate; he has since left to become president of the Heritage Foundation. The group, which came to prominence in the 2010 tea party wave, used to support only conservative upstarts in primaries, but has since moved onto challenging incumbents.
The SCF, however, said it was not immediately ready to back a primary challenge to Sen. John Cornyn (R-Texas) by Rep. Steve Stockman (R-Texas). "We haven't decided yet whether we will endorse Steve Stockman, but we're going to watch the race closely," Hoskins said in an email to The Huffington Post. "Texas deserves two conservative fighters in the Senate, not just one. John Cornyn has voted to increase the debt, raise taxes, bail out Wall Street banks, and fund Obamacare. He's part of the problem in Washington and voters deserve better."
Wolf is a second cousin once removed to President Barack Obama, but the family ties have not precluded him from being a strong opponent of Obamacare. He has written many op-eds and appeared on Fox News to lambaste the health care overhaul. In a recent Washington Times op-ed, he accused Obama of being dishonest about his own mother. "The depths of the president's dishonesty are fully revealed by his willingness to dishonor his own departed mother when he falsely claimed that her health insurance company attempted to cancel her policy," he wrote. "In actuality, Ann Dunham's employer-based policy not only paid for her hospital bills and cancer treatment in full, they afforded her care at prestigious institutions like Memorial Sloan Kettering and the Straub Clinic."
Calling all HuffPost superfans!
Sign up for membership to become a founding member and help shape HuffPost's next chapter
BEFORE YOU GO
PHOTO GALLERY
Sen. Ted Cruz