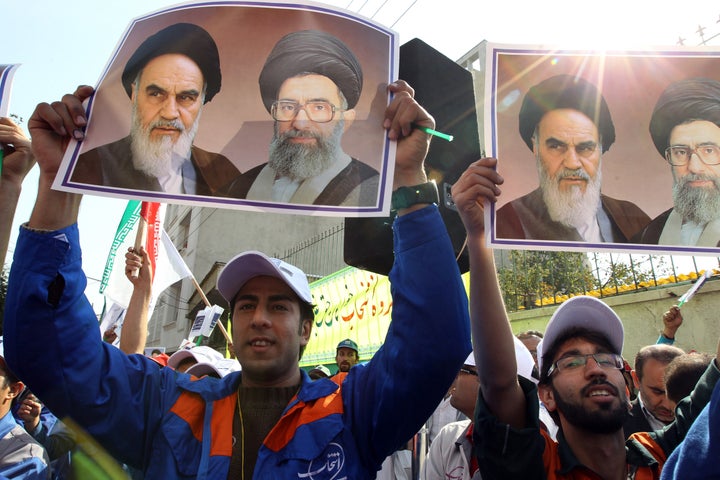 A bipartisan group of Senators led by Mark Kirk (R-IL) is reportedly considering a new, draconian round of sanctions on Iran that could only be lifted if Iran moves "toward a free and democratically elected government." On the surface, the language of the bill sounds very attractive. It would be great if we could push Iran in a more democratic direction, and have diplomacy address far more than the nuclear issue. But here is why the pretty language is deceiving. We have tried this before and it didn't lead to democracy. It led to war. Remember Iraq? It was through a regime-change sanctions bill in 1998 that the war with Iraq actually started.
Iran's former enemy and neighbor, Saddam Hussein, was sanctioned after the 1991 Persian Gulf War, with the condition that the sanctions could not be lifted until he complied with disarmament and monitoring efforts. While imposing devastating costs on the Iraqi people, the sanctions left Hussein largely unscathed. Eventually he agreed to dismantle Iraq's nuclear, chemical and biological weapons programs and accept rigid inspections in exchange for the lifting of the financial and trade embargoes imposed by the UN Security Council.
However, when Iraq neared the completion of its obligations under the agreement, the U.S. moved the goal posts and said the sanctions would only be removed if Hussein stepped down. Congress passed the Iraq Liberation Act in 1998, formalizing U.S. policy to oust Hussein, which was signed into law by President Clinton. By switching the demand for lifting sanctions to regime change, which Iraq's dictator would never seriously consider, the incentive for Hussein's compliance with international demands was eliminated. Rolf Ekéus, who oversaw UN efforts to eliminate Iraq's WMD program between 1991 and 1997, indicated that "[w]ith regime change now a stated U.S. objective and the easing of sanctions off the table, Saddam lost his appetite for cooperation." The undercutting of diplomacy left Saddam with only one option: defiance and escalation. Following a joint U.S.-UK bombing on Hussein's headquarters and defense apparatus, Iraq ejected UN inspectors. Without reliable intelligence on Iraq's WMD program, and having closed off any hope of a diplomatic agreement, the Bush administration was able to politicize faulty intelligence to make the case for what would prove to be an unneeded and costly war of choice.
If enacted into law, the Senate's draft bill would repeat the mistakes of the Iraq Liberation Act. Calling for regime change would derail ongoing diplomatic negotiations that represent the best chance to prevent an Iranian nuclear weapon, avoid war, and seriously address human rights while taking pressure off of Iran's indigenous human rights and democracy movement. It would only confirm for the Iranian government their deep-rooted suspicions that U.S.-led economic pressure is not really part of a diplomatic effort to convince Iran to curb its nuclear program, but rather an attempt to overthrow the Islamic Republic itself. But for some lawmakers in the Senate, regime change imposed by the U.S. is the only acceptable approach to Iran.
This latest push for Congressional sanctions comes after negotiations in Almaty, Kazakhstan between the P5+1 and Iran failed to produce an agreement to ease tensions over Iran's nuclear enrichment program. As relations with Iran have declined due to concerns over possible weapons dimensions to Iran's nuclear program, the United States has instituted the most comprehensive unilateral sanctions regime in history in an effort to pressure Iran to accept a deal it would otherwise refuse. NIAC's latest report on the impact of sanctions on Iran, "Never Give In, Never Give Up," details how this sanctions-first strategy has failed to alter Iran's nuclear calculus despite imposing significant punishment on Iran's economy.
Rather than give in to American-led economic pressure, Iran is focusing its efforts on adapting its economy to the sanctions, targeting Western and Israeli interests around the world and taking steps to create new facts on the ground with regard to its nuclear program. Despite the escalation of sanctions over the past four years, Iran's nuclear program has continued to advance. Absent a diplomatic agreement that includes sanctions relief for Iran in exchange for limitations on enrichment, Iran's nuclear capabilities are likely to continue to advance, ordinary Iranians will bear the costs of international sanctions, and the threat of a military conflict will escalate.
In February, Director of National Intelligence James Clapper reiterated before the Senate Select Committee on Intelligence that despite progress in its nuclear enrichment capabilities, Iran has not yet made a decision on whether to pursue a nuclear weapon. As a result, there is clearly still time for diplomatic negotiations to convince Iran not to pursue one. But to do so, Iran needs to be convinced that the United States is fully committed to a negotiated resolution, not war or U.S.-imposed regime change. Unfortunately, the next round of Congressional sanctions could undercut negotiations before they have a chance to make progress.
Despite the bill's supposed interest in supporting human rights and democracy, by making war more likely it could have the complete opposite of its intended effect. Further, adding onto the already painful web of sanctions would do nothing to stem the steep costs the sanctions regime and the Iranian government's economic incompetence have imposed on the Iranian people, including dramatically rising unemployment and shortages of medicine and pharmaceuticals needed to save lives.
The Atlantic Council, in a recent report, warns that these effects are causing the Iranian people to shift blame for their suffering from the regime to the United States and its allies. In order to regain the good will of the Iranian people and support human rights and democratic growth in Iran, lawmakers in Congress would be well-served to re-focus their legislation to encourage banks to utilize sanctions exemptions for humanitarian goods, or to introduce new sanctions exemptions so that the Iranian people have greater access to technology that helped democratic activists in the Green Movement in 2009.
Economic pressure has only served to solidify Iran's intransigence. This time, however, the sanctions appear directly targeted to undermine the Obama administration's diplomatic engagement. Let's hope our lawmakers remember what happened the last time we went down this road.
Popular in the Community