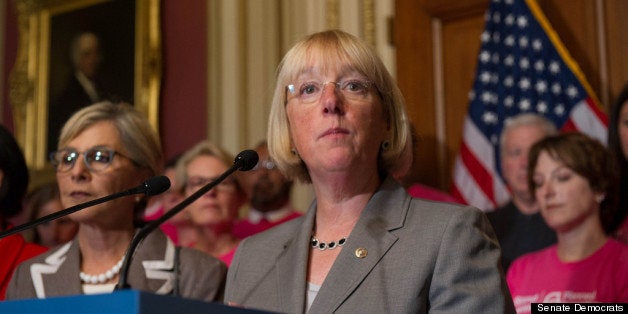 A group of Democratic Senators made clear on Wednesday that a House Republican bill prohibiting women from having abortions 20 weeks after conception is dead on arrival in the Senate.
Sens. Patty Murray (D-Wash.), Barbara Boxer (D-Calif.), Richard Blumenthal (D-Conn.), Tammy Baldwin (D-Wis.), and Mazie Hirono (D-Hawaii) appeared together in opposition to the Pain-Capable Unborn Child Protection Act, which they said they believe would hinder women's access to reproductive health care and is an attempt by right-wing Republicans to chip away at legal abortion.
"We are here today to make one thing abundantly clear," Murray said. "And that is that the extreme, unconstitutional abortion ban that passed the House just weeks ago, and which is being shopped around by the right-wing for sponsors here in the Senate, is a non-starter. Regardless of who introduces it -- it's going nowhere."
The new House abortion bill, written by Rep. Trent Franks (R-Ariz.) is based on the medically disputed theory that fetuses can feel pain at 20 weeks, and would ban abortions after that threshold. The bill passed the House by a largely party-line vote of 228-196. The White House has threatened a veto.
Boxer called the bill "extreme and dangerous" and said it "isn't going anywhere in the United States Senate. Not on our watch."
Murray called the bill "a direct attack on Roe vs. Wade" with women's health "an afterthought." She said the bill was part of a trend of trying to curb abortion rights in state legislatures across the country.
Blumenthal said 17 states in the past six months have passed restrictions on reproductive health care. As of 2011, more than half of the women in the U.S. live in states with extreme restrictions on abortion, he said.
Baldwin said that in Wisconsin, Gov. Scott Walker (R) on Friday signed a bill that requires women seeking an abortion to first undergo an ultrasound, and prevents doctors who don't have admitting privileges at local hospitals from performing them.
"Our governor thinks he knows better than women and their doctors," Baldwin said.
Murray and her colleagues emphasized that the bill diverts Congress' attention from more pressing issues.
"At a time when workers are being furloughed, and our student loan rates are going up, and investment in research and education is being slashed, the last thing we need is a politically-driven distraction like this is," Murray said.
"Republicans clearly didn't learn anything from the 2012 election, when voters rejected their war on women, and asked us on focus on making their lives better," Boxer said. "Americans want us to go back to work. Not to go back to the last century."
Representatives from Planned Parenthood and Physicians for Reproductive Health also attended the senators' news conference.
Dr. Sara Imershein, a Washington-based obstetrician/gynecologist and a member of Physicians for Reproductive Health, said the abortion bill "criminalizes the sound medical care that we doctors provide, and will compromise the health of women, especially those with complicated pregnancies and life-threatening medical conditions."
"This bill does nothing to improve women's health and safety, and instead, it puts our patients at risk," Imershein said. "I urge the Senate to stand against this harmful legislation."

Calling all HuffPost superfans!
Sign up for membership to become a founding member and help shape HuffPost's next chapter
BEFORE YOU GO
PHOTO GALLERY
War On Women