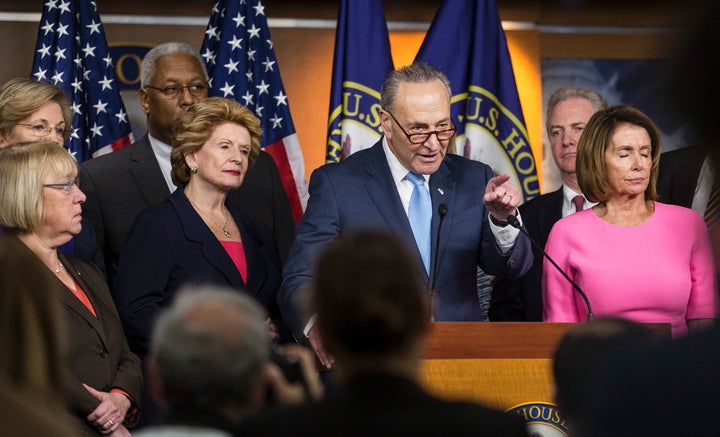 The outcome of the 2016 election shocked and worried Democrats across the country. Unfortunately for them, there may be worse to come in the 2018 midterm elections.
In less than two years, 33 Senate seats will be up for grabs. Senate Democrats, armed with the filibuster, are the last line of defense against incoming President Donald Trump and the congressional Republican agenda. That means the electoral stakes are high in 2018, and Democrats must fight to keep up their numbers.
The picture looks reasonably sunny for Republicans, who have only eight Senate seats on the ballot next year. Six of them (Mississippi, Nebraska, Tennessee, Texas, Utah and Wyoming) are likely safe for the GOP.
Democrats, on the other hand, have 23 Senate seats to defend ― 25 if you count the independents who caucus with the Democrats.
A dozen of those seats are likely safe in the Democrats' camp. They'll probably hold onto seven seats in the Northeast ― Connecticut, Massachusetts, Rhode Island, New York, New Jersey, Maryland and Delaware. Democrats are expected to retain five more seats in California, Hawaii, Washington, New Mexico and Minnesota.
The two Senate seats now held by independents ― Angus King (Maine) and Bernie Sanders (Vt.) ― are also likely to stay in the hands of their incumbents or go to Democrats.
That leaves 13 seats ― 11 held by Democrats and two held by Republicans ― as potential tossups.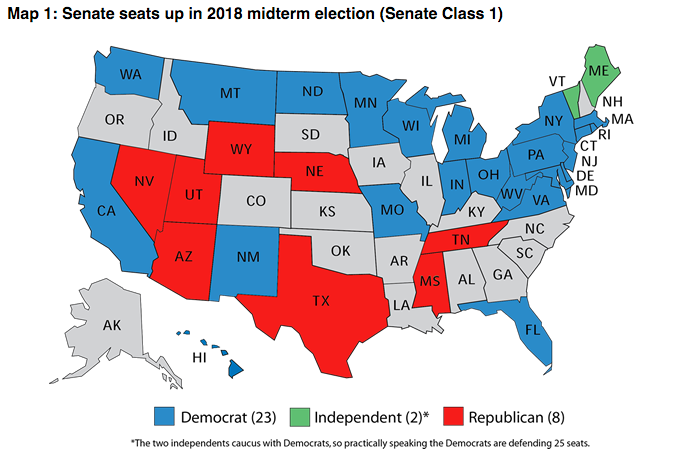 Just two of the tossup seats are in states that voted for Hillary Clinton last November: Nevada and Virginia. Others are in states ― like Pennsylvania, Florida and Michigan ― that only went for Donald Trump by small margins. But Trump's victories can't be ignored.
Midterm elections have tended to favor the opposition ― that is, the party that isn't led by the sitting president. So history could be working for the Democrats.
But the 2018 midterms could be different. Kyle Kondik and Geoffrey Skelley of Sabato's Crystal Ball argue that today's extremely polarized political environment means that the GOP has a good chance of picking up seats in a few "very Republican states" now held by Democrats.
Here's an early look at those tossup races:
First-term senators like Tammy Baldwin (D-Wis.), Heidi Heitkamp (D-N.D.) and Joe Donnelly (D-Ind.) may have a harder time defending their seats.
The GOP has plenty of time to find a strong candidate to unseat Donnelly in Indiana, too. The first-term senator won office in 2012 after tea party favorite Richard Mourdock took out six-term Sen. Richard Lugar in the Republican primary and then took himself out in the general election with controversial remarks about rape. Now the Republicans have a good chance of winning that Senate seat back.
As for Heitkamp, she appeared to top Trump's list for agriculture secretary at one point. That looked like bad news for Democrats trying to hold onto the North Dakota Senate seat. New reports suggest former Georgia Gov. Sonny Perdue is now the best bet for the agriculture post. But even if Heitkamp is running for re-election, she faces a battle in a state that voted for Trump by a 36-point margin.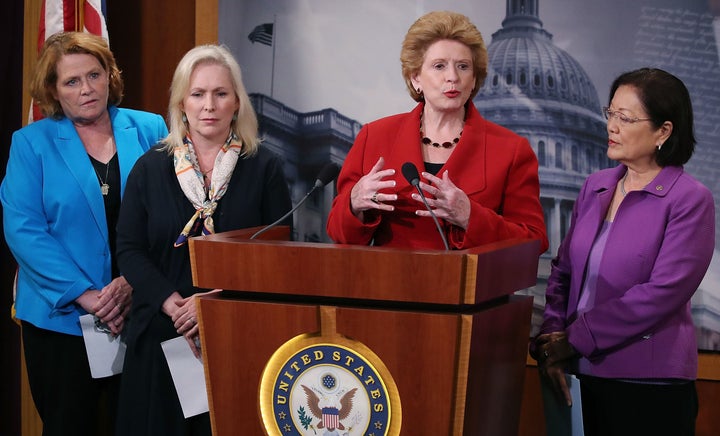 Second-term senators Claire McCaskill (D-Mo.) and Jon Tester (D-Mont.) also hail from states that voted for Trump by wide margins (19 points and 21 points, respectively). Both are well-established incumbents ― a boon for re-election. But if they face strong challengers in their heavily Republican states, McCaskill and Tester could still be in trouble.
Tester probably stands a better chance of the two. While going for Trump last year, Montana also re-elected its Democratic governor, Steve Bullock, to a second term.
The Senate race in Ohio could get interesting. Democratic incumbent Sherrod Brown won his 2006 and 2012 elections by comfortable margins, so the same is possible next year. But the sizable victories of both Trump and fellow Sen. Rob Portman (R) last November could provide momentum for Republicans to oust Brown after roughly four decades of public service in Ohio. Specifically, while Brown could probably beat state Treasurer Josh Mandel again, a bid by Ohio Gov. John Kasich would likely prove tougher competition. The popular Kasich is perfectly positioned for a 2018 Senate bid: He led Trump by 11 points in the state's 2016 presidential primary, and he can't run for re-election next year having served two consecutive terms as governor.
The Senate seat in Florida has a good chance of staying blue, as long as Sen. Bill Nelson (D) runs for re-election. The three-term incumbent won his previous Senate races by reasonable margins and looks like the favorite in 2018. But there is one key caveat to forecasting Nelson's victory so soon. Gov. Rick Scott (R-Fla.), who will be forced out of office by term limits at the end of next year, has begun to lay the foundation for a potential 2018 Senate bid. Scott could run with the support of newly re-elected Sen. Marco Rubio (R-Fla.), by-then-President Trump and a Republican-controlled Congress. That gives him a solid chance of knocking out Nelson.
In Arizona, the Republican Senate primary next year will probably be more interesting than the general election. During the 2016 campaign, one-term Sen. Jeff Flake (R-Ariz.) repeatedly sparred with Trump, expressing his clear disapproval and refusing to endorse the nominee. Now he's under fire within his own party. Former state Sen. Kelli Ward has said she'll challenge Flake in the Republican primary. Although Ward is fresh off a 12-plus point loss to veteran Sen. John McCain in the 2016 primary, she did mount a formidable challenge to him. Whether or not Flake gets past her, however, Democrats will likely have a hard time snatching this one from the Republicans.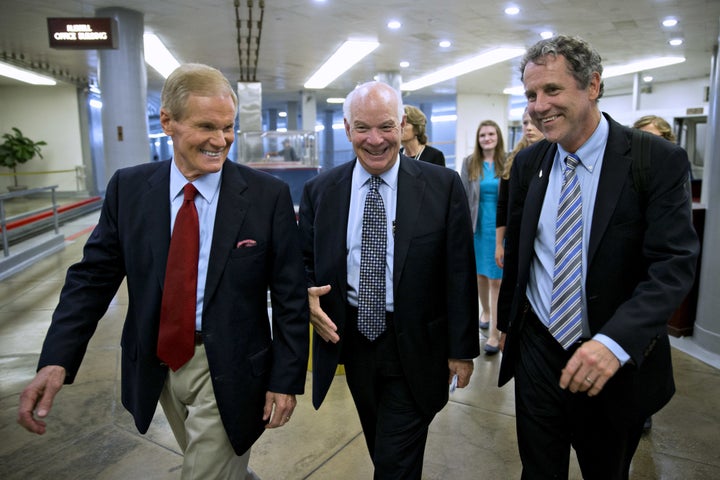 There are some tossup states on the 2018 map in which Democrats still hold a slight advantage over Republicans ― mostly states with well-established Democratic incumbents.
With the water crisis in Flint still tainting his reputation, Michigan Gov. Rick Snyder (R) has become increasingly unpopular. This bodes well for Democratic Sen. Debbie Stabenow's bid for re-election. The state did narrowly support Trump in 2016 ― the first time Michigan has gone Republican in a presidential contest since 1988 ― but Stabenow is a strong candidate running for a fourth term.
Like Heitkamp in North Dakota, Sen. Joe Manchin in West Virginia is a moderate Democrat willing to work with the Trump administration. Indeed, Trump considered Manchin for the position of energy secretary. While the job ultimately went to former Texas Gov. Rick Perry (R), Manchin's willingness to work across the aisle plays well in his red state. If he can soar above the anger toward the Democratic Party in West Virginia ― a state Trump won by 43 points ― he may yet hold onto his seat.
In Pennsylvania, Sen. Bob Casey Jr. (D) will likely keep his seat despite the huge upset that saw his state back Trump last year and also re-elect Sen. Pat Toomey (R). Still, it will definitely be a race to watch.
Similarly, Sen. Tim Kaine (D-Va.), the Democrats' vice presidential nominee last year, will probably hold onto his seat in 2018. Clinton and Kaine carried Virginia by a comfortable, if still surprisingly close, 5 points in November. With lower turnout in the midterm election, the state may be competitive. But given a solid turnout in Northern Virginia, Kaine should be able to secure his seat for a second term.
Finally, there's Nevada. Last year, the state saw some hard-fought battles but still went blue. Voters supported Clinton and elected Democrat Catherine Cortez Masto to take over retiring Sen. Harry Reid's seat. Democrats could pick up another seat here in 2018 with the right candidate against one-term Sen. Dean Heller (R). While it won't be easy to knock off the incumbent, a strong candidate and good campaigning would give Democrats reasonable hope.
The bottom line for 2018: Democrats likely won't take back the Senate majority, but Republicans probably won't reach the 60 seats they need to block a Democratic filibuster, either. To get that filibuster-proof majority, Republicans will have to flip eight of the 11 competitive seats held by Democrats and win their own two tossup contests.
Of course, stranger things have happened.
Grace Sparks contributed reporting.
Before You Go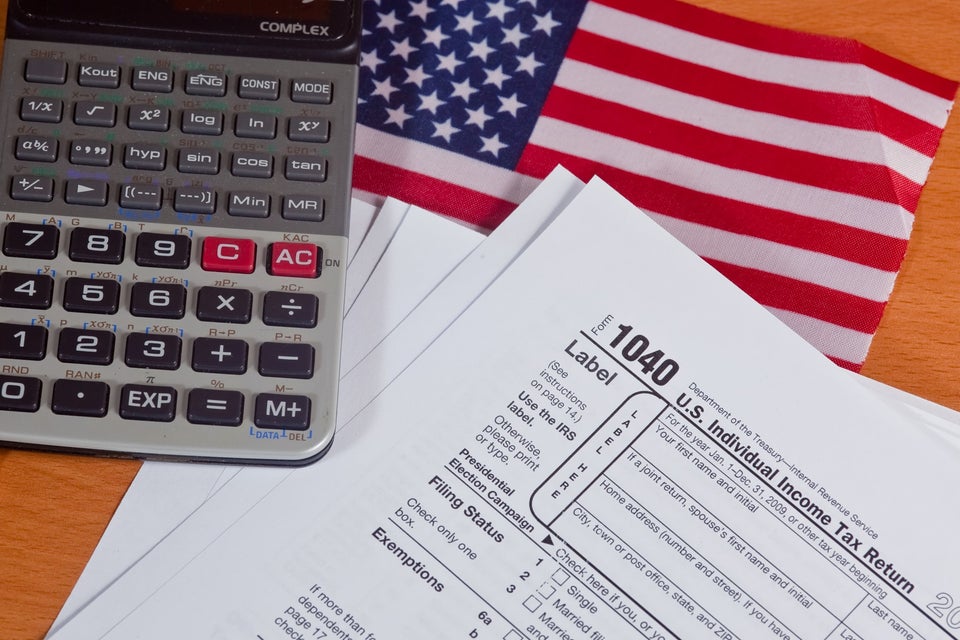 What Your Members Of Congress Can Do For You
Popular in the Community