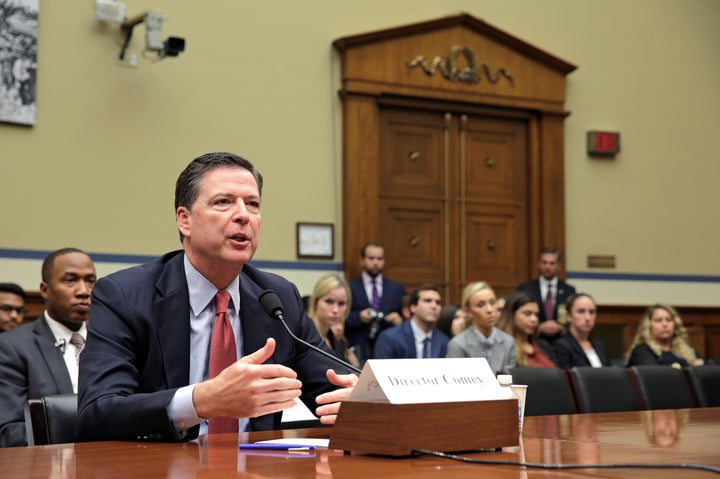 A quartet of Senate Democrats wrote a letter to FBI Director James Comey on Saturday formally requesting an expedited update on his recently announced investigation into new emails relating to Hillary Clinton.
Stressing their concern that Comey's investigation was already being misused for political purposes, Sens. Tom Carper (D-Del.) and Ben Cardin (D-Md.), as well as the top two Democrats on the Senate Judiciary Committee ― Patrick Leahy (D-Vt.) and Dianne Feinstein (D-Calif.) ― asked both Comey and Attorney General Loretta Lynch to provide "more detailed information about the investigative steps that are being taken, the number of emails involved, and what is being done to determine how many of the emails are duplicative of those already reviewed by the FBI."
The Senators requested that they provide updated information "no later than Monday, October 31, 2016."
"Unfortunately, Director Comey's letter has been misunderstood," the letter reads. "It is already being used for political purposes, creating a misleading impression regarding the FBI's intent and actions. We strongly believe that it is incumbent on the FBI and Department of Justice to act without delay to dispel any misleading impressions about the emails that have been newly identified, as well as their importance ― or lack thereof ― to the previous investigation involving Secretary Clinton."
The request to Comey for a formal update on the status of his investigation comes just a day after the FBI director let Congress know that his bureau had found potentially relevant emails in an investigation outside of the one conducted into Clinton's private email account and server. Comey's letter announcing that finding was both vague and brief, however, and it prompted more questions than answers.
Subsequent reports revealed that the new emails were discovered on the laptop shared by Clinton's longtime aide Huma Abedin and her estranged husband, former Congressman Anthony Weiner, who is under investigation for allegedly sexting with an underage girl. It was unclear, however, whether any of the emails (believed to be over 1,000) actually originated from Clinton. In fact, the FBI reported hasn't even had access to the emails at all and is waiting for a warrant to search them.
Still, Clinton's opponents jumped on the matter, holding it up as further evidence of a poor ethical compass and perhaps criminality. GOP nominee Donald Trump called it a scandal bigger than Watergate ― a comparison that one of the reporters who broke the Watergate story scoffed at.
All sides did agree on one thing, however: that Comey needed to provide more answers and promptly. Clinton's campaign has stressed this point more than Trump's, with her top aides holding a conference call Saturday morning to lob sharp criticisms at Comey for his conduct. They spent the rest of the day re-tweeting stories about how Lynch and others at the Department of Justice had advised Comey not to go public with his new finding since it would break with department protocol to stay far away from campaigns as Election Day approaches.
But despite both the Trump and Clinton campaign asking for more details, House Oversight Committee Chair Jason Chaffetz (R-Utah) to whom the Comey letter was sent, said that he had no plans to call the FBI director to the Hill to testify. The letter from the top Senate Democrats won't change that decision. But it could prompt Comey to put more details in writing.
"Just ten days before a presidential election, the American people deserve more disclosure without delay regarding the FBI's most recent announcement," the letter reads. "Anything less would be irresponsible and a disservice to the American people."
Popular in the Community