WASHINGTON ― Senate Democrats disappointed young undocumented immigrants in December when many of them voted for a government spending bill that left out deportation protections. Whether Democrats do the same again this week will depend on two things: their level of commitment to helping so-called Dreamers and their disgust over Congress' continued inability to approve longer-term government spending.
Senate Minority Leader Chuck Schumer (D-N.Y.) said Wednesday that there's plenty of both commitment and disgust in the Democratic caucus, and he predicted strong opposition to House Republicans' plan for another short-term spending bill that does nothing for the 700,000 young immigrants.
"The revulsion towards that bill was broad and strong," Schumer told reporters after a meeting with fellow Democrats.
"The overwhelming number in our caucus have said they don't like this deal and they believe if we kick the can down the road this time we'll be back where we started from next time," he added later. "There's very, very strong support not to go along with their deal."
Their resolve will be tested this week if the House approves a short-term government funding bill to avert a shutdown on Friday, as leadership in the lower chamber aims to do in spite of Democratic opposition there. It's possible that Democratic senators will, as they did in December, vote for it to avoid being blamed for its failure ― only a small fraction of them would need to ― without a fix for the Dreamers, who could begin to lose protections in larger numbers after March 5 under the Deferred Action for Childhood Arrivals program, which President Donald Trump had rescinded.
Dreamers are hoping for the alternate possibility: that Senate Democrats will say they can't support a bill that doesn't address DACA, even if it means a government shutdown until Congress comes to an immigration deal. 
Some new dynamics emerged Wednesday when some senators suggested they wouldn't support another short-term spending fix, known as a continuing resolution, even though they did in the past.
"It's another patch," Sen. Jon Tester (D-Mont.) told reporters, adding that it wasn't about a potential lack of Dreamer protections but the fact that it was yet another short-term bill. When reporters said it sounded like that meant he would vote no, he said, "It does, doesn't it?"
Sen. Tom Carper (D-Del.), who also voted for the December short-term funding bill, said that he was leaning no if another comes up this week. He said he changed his mind because of the White House's "unwillingness to negotiate in good faith" on immigration and after his conversations with members of the business community who urged a fast solution for Dreamers.
"I want a comprehensive deal," Carper told reporters. "This is not half a loaf, this is not a quarter of a loaf, this is a couple of slices of the loaf."
Inside the Democrats' meeting, a handful of senators stood to say they would vote against a continuing resolution and another one or two said they were unsure, but none said they would vote for it, Senate Minority Whip Dick Durbin (D-Ill.) told reporters afterward. Durbin voted against the bill in December and said he would again without Dreamer protections.
Durbin said he wants a vote on a bipartisan plan he and two other Democrats created with three Republicans to give Dreamers legal status and meet Trump's demands on border security and legal immigration changes. Anything less than a vote wouldn't be enough, Durbin said.
"I've seen a lot of commitments that are not worth going to the bank on, so I want a vote," Durbin told reporters.
On the continuing resolution, Democrats have a newfound ally on the Republican side. Sen. Lindsey Graham (R-S.C.), one of the backers of the bipartisan deal to help Dreamers, along with Durbin, said Wednesday that he wouldn't support a continuing resolution because "eventually, you've got to say no" to short-term spending bills.
He said that Republicans need to accept that they won't be able to get deals on things they want, like more defense funding, if they don't give on Dreamer protections.
"Democrats are not going to give us what we want on defense and leave the DACA kids hanging until March 4," Graham said. "Nobody really believes that's viable."
Trump has dismissed the Durbin-Graham deal, but it has a growing number of Republican backers. In addition to its original three GOP co-authors ― Sens. Jeff Flake (R-Ariz.), Cory Gardner (R-Colo.) and Graham ― four others signaled support on Wednesday: Sens. Susan Collins (R-Maine), Lamar Alexander (R-Tenn.), Lisa Murkowski (R-Alaska) and Mike Rounds (R-S.D.). 
Of course, it would take more than a few senators switching to opposition against a short-term funding bill to sink it. A bill would need 60 votes and, currently, there are 51 Republicans and 49 members of the Democratic caucus, which includes two independents. The continuing resolution in December passed easily in a 66 to 32 vote (two senators were absent), with two Republicans voting against it and 17 Democratic caucus members voting for it.
Dreamers and their allies are lobbying hard on Capitol Hill, including through sit-ins at Democrats' offices pleading with them to hold strong for a DACA fix as part of a funding bill.
But some Democrats were shaky as to whether they would vote for another short-term bill, if they answered the question at all. Sens. Tim Kaine (D-Va.) said Tuesday that he thinks Congress can and should deal with Dreamers this week but did not definitively say he would vote against a bill that did not include protections for them.
The most definitive ― although not explicit that he would vote for a funding bill without Dreamer relief ― was Sen. Joe Manchin (D-W.V.).
"I just don't think there's any way in the world that anyone should be talking about shutting down the government," he told reporters on Wednesday. "We should be talking about working and keeping the government open."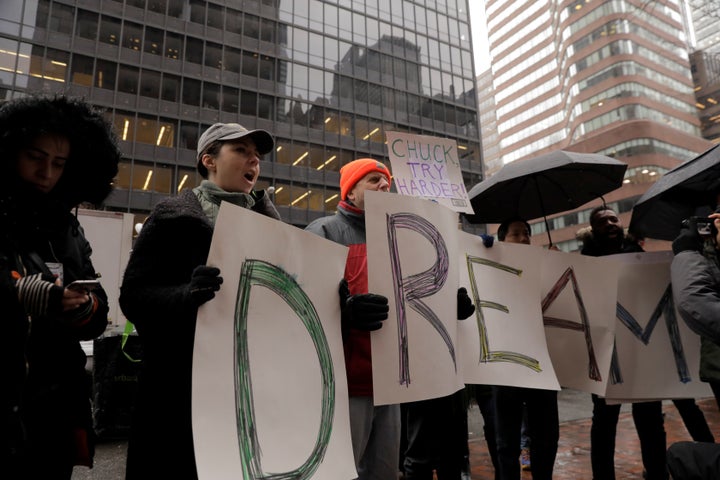 Calling all HuffPost superfans!
Sign up for membership to become a founding member and help shape HuffPost's next chapter
BEFORE YOU GO
PHOTO GALLERY
How Donald Trump Talks About Undocumented Immigrants