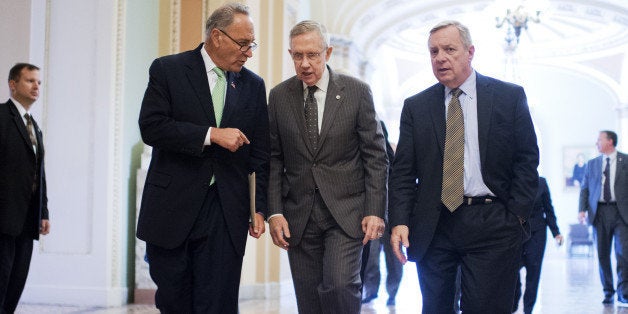 WASHINGTON -- Senate Democrats who aren't running for re-election this year and those who have retired were sitting on nearly $52 million in campaign cash at the end of September, even as their party's candidates are slogging through a difficult electoral cycle.
That untouched pot of money has become a sore subject for Democratic strategists, several of whom privately complained that the lawmakers were risking the Senate majority to protect their own hides. What's further agitated these strategists is that some Democratic senators who are running for re-election with comfortable leads have also stashed away cash while their colleagues struggle in tight races.
"We all get multiple daily desperate emails begging for money, especially as Democrats are on the verge of losing the Senate," said one top strategist who, like the others, would only speak about the matter anonymously for fear of retribution. "Meanwhile, some senators are sitting on millions while colleagues like [Georgia candidate Michelle] Nunn and [Iowa candidate Rep. Bruce] Braley are fighting for their political lives and to keep the majority."
Complaints about the generosity of individual lawmakers are an element of every single campaign. The gripes expressed here have arisen in cycles past; they will in cycles future. What is irksome for party officials, however, is that the situation for Democrats in 2014 is so dire. The electoral map is large and fluctuating, and as the midterm campaigns enter their closing days, operatives want to be running hard in states like Georgia or Iowa without having to take resources away from other close contests. Two officials told The Huffington Post that Senate Majority Leader Harry Reid (D-Nev.), unhappy with the contributions so far, has been pushing his members to give more cash to the Democratic Senatorial Campaign Committee.
The complaints aren't directed at one individual senator. Several names have come up in conversations. Among them are Sen. Tom Harkin (D-Iowa), who is sitting on more than $2.37 million in campaign cash even though he is retiring; Sen. Chuck Schumer (D-N.Y.), who has more than $12.8 million in his campaign account saved for his race in 2016; former Sen. Evan Bayh (D-Ind.), who has more than $9.8 million in his campaign account despite having left office in 2010; and Senate Majority Whip Dick Durbin (D-Ill.), who had $4.7 million cash on hand at the end of September while facing an easy re-election contest.
"It's astonishing that 10 days before the election, the No. 2 in Senate leadership is sitting on that kind of money as Democrats get outspent across the country," said the aforementioned strategist.
In an email statement to The Huffington Post, the DSCC defended the amount of money donated by Senate Democrats and noted that members have contributed to the committee's work in other ways.
"Democratic senators have been fully supportive of our efforts this cycle, traveling the country, giving generously from their campaigns and raising directly for the DSCC," said Matt Canter, the committee's deputy executive director.
For the lawmakers, meanwhile, there is a second side to each of these stories. Schumer, for example, has donated $1 million to the DSCC (more than any other member). His office said he has also helped raise nearly another $2.7 million for candidates. Moreover, while he seems likely to coast to victory in heavily Democratic New York come 2016, running in the Empire State is a pricey proposition, with the second most expensive media market after California.
Durbin is actually running for re-election. Though he is almost certain to win, he's spending heavily, his campaign said. The $4.7 million cash on hand at the end of September is $400,000 cash on hand now, campaign spokesman Ron Holmes told The Huffington Post. That was after $250,000 was transferred to "help efforts of Democratic candidates running for Senate" during the last 10 days. Beyond the transfers, Durbin has also raised more than $2 million for the DSCC, Holmes said.
There are other Senate Democrats in relatively easy races who seem to have cash to spare. Sen. Jack Reed (D-R.I.) had $3 million at the end of September; Sen. Cory Booker (D-N.J.) had nearly $3.5 million at the end of September.
Harkin isn't running for office now or in the next cycle. But he is hoping to start a policy center after he leaves office in January. Since Congress outlawed earmarks, he needs a pool of cash to do it. Politico first reported that Harkin's refusal to throw more money behind Braley, his potential successor, has irked Reid. Harkin and Reid have discussed the matter in several tense meetings.
On Thursday, Bayh told The Huffington Post that he had been generous with his remaining campaign funds, having transferred roughly $1.5 million over the last three years to other Democrats. Part of the reason he wasn't doing more, he said, was that he was advised "by former colleagues who retired and had given significant money to some of the committees" that those donations went unappreciated. But the other reason he wasn't doing more was less personal and more political.
"I'm in my 50s. Most of the other people [holding on to cash] are in their early 70s," said Bayh. "So I don't know what the future might hold. I don't think it makes a lot of sense closing doors." Asked if he was planning a future run for office, he added, "I think the chances of that are not high. But you just never know."
Bayh is hardly the only retired member with money in the bank. Former Sen. Ken Salazar (D-Colo.) has $1.2 million in campaign funds that has been left (so far) unused. Former Sen. Max Baucus (D-Mont.), who now serves as the U.S. ambassador to China, has $1.08 million. Retiring Sen. Tim Johnson (D-S.D.) has $848,000 in his campaign fund even as the race to replace him has become a three-way tossup.
It stands to reason that in a state like South Dakota, a few hundred thousand dollars could actually make a difference.
Contributions from the campaign accounts of senators have generally not been a huge source of money for the DSCC or its Republican counterpart. House party committees are generally more reliant on such contributions as there are far more representatives running in uncompetitive races with funds to spare.
Some Democratic senators are using other avenues to help their party's efforts. A leadership PAC affiliated with Sen. Tim Kaine (D-Va.) has given $150,000 to Senate Majority PAC, a super PAC supporting Democratic senators, and another $50,000 to a super PAC supporting the re-election of Sen. Mark Warner (D-Va.). Senate Majority PAC also received $250,000 of his own money from Sen. Jay Rockefeller (D-W.Va.) and $100,000 from Durbin's campaign.
Not everyone, moreover, is convinced that money is the solution -- or, rather, that lack of it is a major problem. This cycle has seen historic levels of spending by both campaigns and outside groups. Airing another series of television ads in the closing days may make a difference on the margins. But the likelihood is that most voters have either tuned out or made up their minds.
"Democrats in key Senate races and their allies have enough money," said one long-serving Democratic operative. "Maybe not as much as the other side, but enough to buy enough ads to make every swing voter's eyes bleed. They need to focus on free media, debates and GOTV ['get out the vote' efforts]. I just hate whining. It's a sure sign someone is trying to divert attention from their own mistakes and failings."
This post was updated with a comment from the DSCC.
Calling all HuffPost superfans!
Sign up for membership to become a founding member and help shape HuffPost's next chapter
BEFORE YOU GO
PHOTO GALLERY
Senate Seats Up For Grabs In 2014