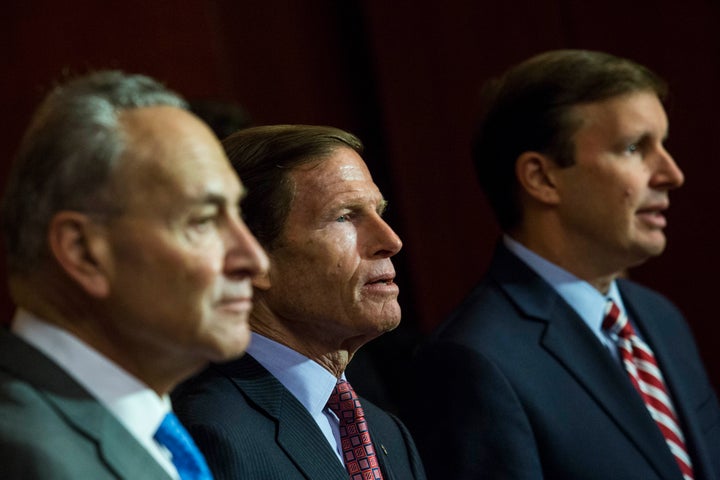 WASHINGTON -- One day after 14 people were killed in a mass shooting in San Bernardino, California, Senate Democrats pushed through votes on measures to strengthen gun control laws. Republicans succeeded in blocking every single one.
In an effort to apply pressure on their GOP colleagues, Senate Democrats tried to change the focus of legislation aimed at repealing Obamacare and defunding Planned Parenthood on the Senate floor Thursday. Their package attempted to strip out the text of the underlying bill and replace it with three measures that would have blocked individuals on terrorist watch lists from purchasing guns, expanded existing gun background checks, and increased funding for mental health services and treatment for substance abuse disorders.
"Our thoughts and prayers are not even close to enough. This country is dangerously close to falling into a new normal," said Sen. Chuck Schumer (D-N.Y.), the Senate's third-ranking Democrat. "Is this the kind of country we want to be? Senate Democrats are not waiting one more day."
Democrats offered the package during a vote-a-rama on the GOP Obamacare bill. While every amendment failed -- they each needed to secure 60 votes -- Schumer said earlier in the day that the point of it all was to ensure the entire country knows where every senator stands on the issue. He predicted a "good number" of Republicans were "dreading" the votes.
Regardless, the amendment meant to improve funding for services treating mental illness and substance abuse disorders failed in a 47-52 vote. The measure blocking individuals suspected of terrorism from purchasing guns and explosives failed 45-54. In what was primarily a party-line vote, a couple of senators defected. Sen. Heidi Heitkamp (D-N.D.) voted with Republicans against the amendment, while Sen. Mark Kirk (R-Ill.) joined Democrats in supporting it.
The final gun control-related measure pushed by Democrats failed in a 48-50 vote. The amendment, offered by Sen. Joe Manchin (D-W.Va.), would have expanded background checks for people purchasing firearms at gun shows and on the Internet. It was the same bill Manchin introduced with Sen. Pat Toomey (R-Pa.) in 2013 in the wake of the Sandy Hook shooting. Four Republicans, including Toomey, joined Democrats in voting for the measure on Thursday: Sens. Susan Collins (R-Maine), John McCain (R-Ariz.), and Mark Kirk (R-Ill.). Sen. Ron Johnson (R-Wis.) didn't vote.
The attack in San Bernardino is the second mass shooting in the U.S. in the span of five days, and has drawn stronger cries from Democrats for Congress to act on meaty gun control legislation. Republicans in the House are taking a different tack. Many have been vowing to pursue legislation to reform the nation's mental health system after the deadly shooting at a Planned Parenthood facility in Colorado over Thanksgiving weekend.
The political realities in Congress have made passage of expansive gun control legislation seemingly impossible. After reforms failed to pass in the aftermath of a devastating 2012 shooting in Newtown, Connecticut, that left 20 children and six adults dead at Sandy Hook Elementary School, lawmakers have considered attempts to tighten the nation's guns laws a herculean task.
"Members of Congress don't get elected in order to send out sympathy tweets. Members of Congress get paid to change policy to make people safer," Sen. Chris Murphy (D-Conn.) said earlier Thursday. "And what is so offensive, to those of us particularly who have lived through Sandy Hook, is it's not bad enough that we haven't passed any legislation to try to address these epidemic rates of gun violence, but in this Congress we are not even trying."
Admitting Senate Democrats may not have the votes to pass the legislation, Murphy said at least the amendments would show the public some senators are "plugged into this disbelief" over Congress' inaction.
Wednesday's shooting at a social services center in San Bernardino is the deadliest mass shooting in the U.S. since Sandy Hook. In 2015 alone, there have been more mass shootings than there have been days, according to a count compiled by the Guns Are Cool community on Reddit.
Questioned on the point of offering the amendments, given the division between the two parties in Congress, Sen. Barbara Boxer (D-Calif.) shot back.
"You are basically saying, 'Why bother?'" Boxer told reporters. "That is not what leaders do. They don't just hide because you may not win the vote. You keep doing it."
With success unlikely, Schumer hinted that Democrats would look to the year-end government spending bill, known as the omnibus, to try again.
"We are prepared to fight this in every place where we can make a difference and succeed," he said.
This story updates an earlier version published prior to the Senate votes.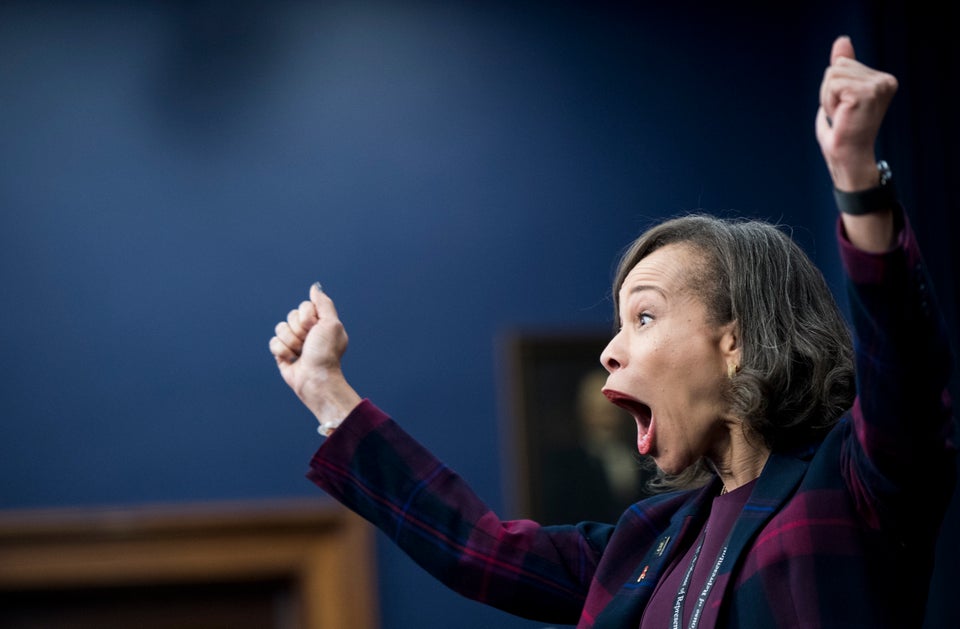 Scenes From 114th Congress And Capitol Hill
Popular in the Community