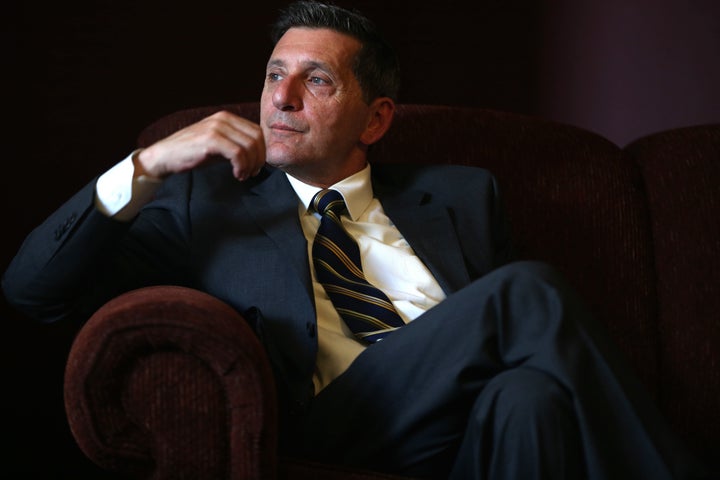 WASHINGTON -- As Senate Republicans prepare to push through a comprehensive bill aimed at combating the heroin epidemic, Democrats are girding for a final stand, warning that if the bill goes through in its current form, the last chance to sufficiently fund the effort will be gone.
The concerns over cost threaten to derail a three-year effort, which is stumbling toward the finish line under the shadow of election-year politics. For Democrats, the political calculus is simple: Enacting the Comprehensive Addiction and Recovery Act is perhaps the highest campaign priority of Senate Republicans, thanks to the boost it would give vulnerable incumbents like Rob Portman in Ohio and Kelly Ayotte in New Hampshire.
Surely, Democrats reason, Republicans can cough up a billion dollars to walk away with the win. Republicans, meanwhile, warn that a billion-dollar opioid bill wouldn't make it through both chambers of Congress. They argue that Democrats would be foolish to lose the progress made in the current bill, the result of three years of talks with drug policy groups.
Negotiations over CARA are ongoing, and a Senate vote could come as soon as this week. On Tuesday, top White House officials ramped up the pressure. Michael Botticelli, director of the National Drug Control Policy, and Sylvia Burwell, secretary of health and human services, repeatedly emphasized that without the roughly $1 billion in funding the White House has requested for treatment, the bill won't make "a dent" in the epidemic.
Botticelli referred reporters to a letter bearing the signatures of all the Democratic members of the conference committee, warning that they will not sign the conference report if significant money -- $920 million -- isn't committed toward treatment.
Not signing the report, though, is different from voting against it on the floor.
The purpose of Tuesday's call was to announce a major rule change involving recovery medication -- one that could, by itself, help tens of thousands of people. Many of the questions, however, focused on the legislative standoff over CARA. When asked if the White House would be urging Democrats to vote against the bill, Botticelli warned that the bill was insufficient, but stopped short of calling for it to be killed.
"While there are several important provisions in CARA, many of which the administration has been acting on for many years now, again, we do not believe that without a significant and robust infusion of treatment resources that [the bill] will really affect the beginning of the end of this epidemic," he said. Burwell, meanwhile, didn't address the question.
The pair were pressed throughout the call to draw a bright line on whether Democrats should kill CARA without adequate funding, but they declined to do so.
Sen. Chuck Schumer (D-N.Y.), though, has been suggesting Democrats might take it all down.
"We believe you've got to walk the walk, not just talk the talk. And doing all these changes without funding? Law enforcement needs more funding, treatment needs more funding," Schumer said recently.
Republicans "talk about it because they know it's a real problem," he said, "but they don't want to fund it because they know the hard right doesn't want to fund anything."
Asked by Politico whether his concerns could tank the bill, Schumer said: "I hope not. But we need funding."
Back in March, Democrats faced a similar dilemma. Schumer warned then that Democrats could take the bill down if they didn't get the money they needed to support it. The Senate passed its version of CARA 94-1 nevertheless.
One thing is certain: The epidemic will continue to rage even with the passage and implementation of CARA. The ongoing death toll is hard to fathom, with an average of 129 people dying from overdoses every day. Yet the bill's steps toward ending the crisis, however incremental, would still be something. And Democrats may be left with the choice of something or nothing.
This time, though, Democrats are stiffening their spines. Recently, Senate Democrats spiked $1.1 billion in funding to combat the Zika virus, arguing that Republicans had poisoned the legislation with spending cuts and restrictions against Planned Parenthood.
When Democrats fought for an extra $600 million to attach to the opioid bill in March, much of that spending would have gone toward law enforcement. The push for drug war money cost Democrats the support of a swath of drug policy reform groups. Despite Schumer's reference to "law enforcement," the current White House push for funding only seeks money for treatment.
Daniel Raymond, policy director at the Harm Reduction Coalition, was one of the first advocates to take the unusual step of siding with Republicans in March. Raymond insisted then that the Democratic push for more funding was unnecessary, smacked of election-year politics and threatened to undo valuable progress. But now he's siding with Democrats in their last-minute push for a big opioid investment, telling The Huffington Post in an email:
We've always supported CARA's provisions as good policy, but good policy isn't enough to end the overdose epidemic without a more substantial commitment of funding to close the treatment gap. I don't want to see the conference committee walk away from a serious funding discussion due to partisan budget politics.

Previous calls for emergency funding have been rejected by the majority in both the Senate and the House. Now the Democratic conferees have made a serious and credible proposal in line with the President's budget request. It would be irresponsible for Republicans to dismiss the call for funding as election year politics when people's lives are at stake.
Raymond's HRC put out a statement, however, that stops short of calling on lawmakers to vote against the bill. "We ask that an investment in mandatory treatment infrastructure funding be included in the final conference report and swiftly passed by both chambers," it pleads.
Meanwhile, a coalition of 184 drug policy and recovery groups has sent a letter to Congress supporting passage of the bill.
Republicans say they expect to dramatically increase spending.
"If you look at the Labor HHS funding for opioid programs, we are on track for a 93 percent increase over last year's level, and a 539 percent increase over the level two years ago," said Kevin Smith, a spokesman for Portman.
"In addition, if you look at funding for all opioid programs, we are on track to increase funding by more than $250 million over the last two years -- that's a 114 percent increase," Smith went on. "Rob supports doing even more, but the fact is we're making real progress on funding. Now we have to put in place the policy that will ensure these resources are spent wisely on evidence-based programs that work, and that's what CARA is all about."
Indeed, according to the Senate Appropriations Committee, the federal government spent $220 million on discretionary opioid spending in 2015 and has allocated $321 million for 2016. The White House requested $404.5 million in 2017, and the Senate has proposed $471.5 million. There's almost no chance that the appropriations bill that includes the opioid money will get through the House and become law -- that would require Congress to function in a straightforward fashion that has eluded it in recent years -- but the bill isn't meaningless. When an omnibus spending bill is finally written -- after Republicans admit that regular order has failed -- the appropriation bills that have been started will likely form the basis for the catchall legislation.
Millions of dollars are already spent on failed drug war approaches that do little to combat addiction, and may actually make the situation worse. Accounting only for money allocated to Health and Human Services, the government spent $41 million in 2015 and $136 million in 2016, and would spend $262 million under the Senate's offer in 2017. (The White House budget requested $195 million.)
Since the budget request, though, the White House has asked for a supplemental bill that would allocate $1.1 billion, almost exclusively directed toward evidence-based, medication-assisted treatment, the kind of dramatic move that at least has the potential to turn the epidemic around. This week's $920 million request is pulled from that supplemental.
If Republicans prevail during this round, there may be future opportunities to add funding for the epidemic. In the fall, Congress will likely need to pass a stopgap spending bill to fund the government through the election. Republicans will be in no mood to take a political hit for shutting down the government, and the White House could demand Zika and opioid funding. Just weeks ahead of the election, both Portman and Ayotte are likely to join that fight. If it fails that time around, there'll be a post-election opportunity when an omnibus spending bill is debated.
The new CARA legislation, a rare bill to be hammered out in a conference committee, a joint panel made up of members of both parties and chambers, expands the use of overdose reversal medications. It also aims to modernize the focus of treatment by shifting away from traditional inpatient, 12 step-based centers to office-based treatment from a medical doctor and a therapist, with the help of medications prescribed for opioid dependence.
The bill's most far-reaching effects will likely come from allowing nurse practitioners and physician assistants to begin prescribing buprenorphine, often sold under the brand name Suboxone, a medication that suppresses cravings for opioids and counteracts an overdose in the event of relapse.
Under current regulations, only doctors can get certified to prescribe buprenorphine -- a medication, that along with methadone, health experts around the world view as one of the best chances for addicts to make a lasting recovery. For the first year of prescribing buprenorphine, certified doctors can only accept 30 patients with opioid addiction at any one time. That limit goes up to 100 patients during a doctor's second year of prescribing.
Advocates had hoped that the bill would raise or eliminate the buprenorphine cap -- a restriction that is unique in medicine -- but it doesn't do so. However, it explicitly grants the secretary of health and human services the ability to raise the cap by regulation. In March, HHS announced that it would be upping to 200 the number of patients a doctor could treat, though it did so under uncertain authority.
During the White House press call on Tuesday afternoon, Burwell announced that after hearing comments from doctors and addiction specialists across the country, HHS will be raising the cap not to 200 but to 275 patients. The rule change is set to go into effect by the first week of August.
Both Burwell and Botticelli said that only a fraction of the people who need such treatment have access to it. In January 2015, HuffPost reported that access to medication-assisted treatment was nearly impossible to find within the treatment industry. In a follow-up story, we found that opioid addicts in rural communities had to travel hundreds of miles to find a doctor who had cap space and was willing to treat them.
Dr. Clark McCoy, an addiction specialist in Fort Collins, Colorado, who runs the Front Range Clinic, says the bump to 275 patients will be a huge help.
"It will make all the difference to our clinic operation to continue to offer this life-saving treatment," McCoy said. "With the limits being what they were, you can't have a clinic operation centered around this."
A significant part of McCoy's practice involves keeping a waiting list and turning away patients. "We had a patient who was -- this is just two or three days ago -- whose mom was calling the clinic and was terrified, saying 'My daughter isn't going to make it,' really desperate for care," McCoy said. "We had to tell them to wait. It was gut-wrenching." McCoy currently has a waiting list about 40 patients long.
Not only does this final CARA bill make HHS' authority to raise the cap explicit, it would also allow nurse practitioners to become certified to prescribe the medication. Kelly Clark, president-elect of the American Society of Addiction Medicine, told HuffPost that she wishes the bill included the Senate's TREAT Act provision of raising the cap to 500 patients. "It is disappointing to have no increase in the limit for addiction special physicians, but we await the increase from HHS," Clark said.
Dr. Andrew Kolodny, chief medical officer of the New York nonprofit Phoenix House, expressed a similar sentiment. "200 to 275 is in the right direction but I think HHS should remove the cap rather than lift it," he told HuffPost in an email.
Kolodny was not pleased with the CARA bill.
"I see little in CARA to celebrate," he wrote. "Efforts to expand access to treatment require real funding. The $1 billion in mandatory funding sought by President Obama is a bare minimum of what's needed. And despite a lack of treatment dollars, it includes an expensive handout to the pharmaceutical industry in the form of increased Medicare spending on so-called abuse deterrent opioids."
Kolodny added that "the CARA Conference Report also contains other language lobbied for by [the] pharmaceutical industry, including a pain management task force intended to undermine the CDC opioid guideline and removal of incentives for states to make PDMP use mandatory."
"PDMP" refers to the prescription drug monitoring program. The initial Senate bill required doctors to check a prescription database before prescribing opioids if their state had gotten extra grant money connected to CARA. The final version of the bill, after lobbying from the pharmaceutical industry, doesn't include that provision. When doctors are required to check the database, as they are in a handful of states like Kentucky and New York, the number of pills they prescribe tends to drop. Doctors, for instance, may find that a patient has been prescribed a drug like Xanax, which doesn't always interact well with opioids and can raise the risk of overdose. Or a doctor may find that the patient recently got a different opioid prescription from a nearby doctor. When doctors are better informed, it often leads them to prescribe less medication than they otherwise would, and that's bad for drug companies' bottom lines.
"If we spend the money to build the database, why aren't we requiring doctors to use them?" asked Gary Mendell, founder of Shatterproof, a drug policy advocacy group. "The obvious reasons are financial interests tied to selling pills."
Before You Go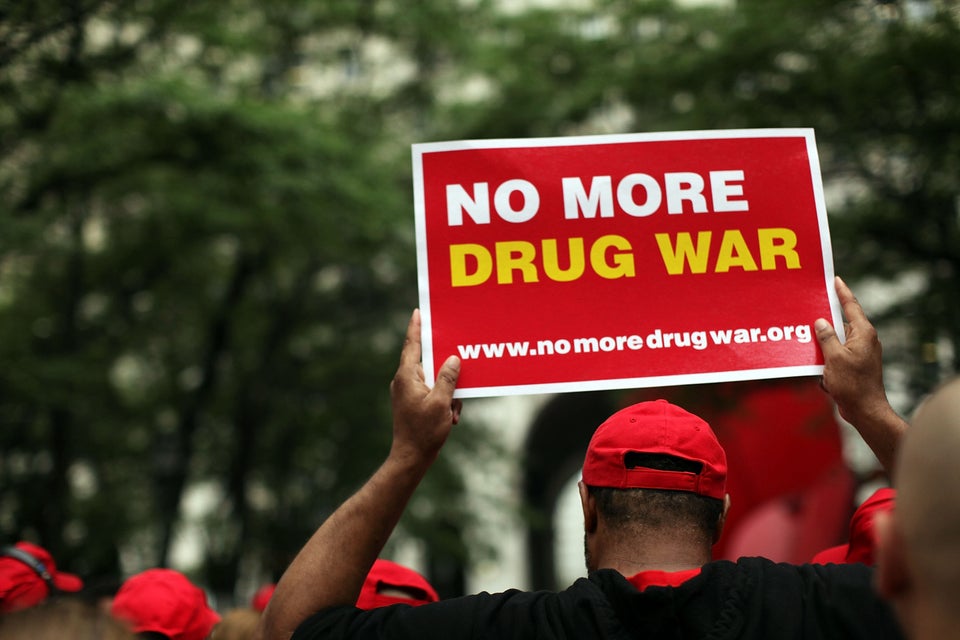 27 Reasons Why U.S. Shouldn't Lead War On Drugs
Popular in the Community