WASHINGTON -- A controversial Iran sanctions bill is losing steam in the Senate, where at least three of its own Democratic cosponsors are warning that pushing the legislation now could thwart delicate international negotiations.
"Now is not the time for a vote on the Iran sanctions bill," Sen. Chris Coons (D-Del.) said at a Wednesday event hosted by Politico.
Coons said he still supports the measure, which would increase sanctions on Iran unless its government agrees to restrictions on its programs that go far beyond the demands of any of the countries involved in the talks. But he acknowledged that moving the bill now would interfere with a deal in place between Iran and six world powers, including the United States. Under that six-month deal, Iran has agreed to scale back its uranium enrichment in exchange for sanctions relief. Iranian leaders have already warned that congressional action involving new sanctions would sink the current deal, which would leave the U.S. with few options for resolving concerns with Iran other than going to war.
HuffPost readers: Have you received a letter from your senator regarding his or her position on Iran sanctions (S.1881) ? Please forward to openreporting@huffingtonpost.com.
"I think, to the extent that we simply excite the distance and the tension between the Congress and administration on this, that doesn't serve our shared view of making certain that Iran does not acquire a nuclear weapons capability," Coons said.
Sen. Kirsten Gillibrand (D-N.Y.), a cosponsor of the sanctions bill, said in a statement to HuffPost on Wednesday, "After speaking with the President, I am comfortable giving him the additional time requested before this bill goes to the floor."
Sen. Joe Manchin (D-W.Va.) echoed those sentiments Tuesday night.
"I did not sign it with the intention that it would ever be voted upon or used upon while we were negotiating," Manchin said on MSNBC. "I signed it because I wanted to make sure the president had a hammer if he needed it and showed them how determined we were to do it and use it if we had to."
He added that it's better to "give peace a chance."
The shifts signal a slowing in momentum for the bill among Democrats, who have faced a full-court press from a number of top administration officials, including President Barack Obama and Secretary of State John Kerry. During Tuesday night's State of the Union address, Obama vowed to veto the bill if it landed on his desk and urged Congress to let international talks play out.
It's already clear that Congress is reluctant to proceed on the issue. Senate Majority Leader Harry Reid (D-Nev.) has signaled an unwillingness to bring the sanctions bill to a vote, and in the House, party leaders have been meeting privately for weeks to figure out how to proceed. Talk in that chamber has centered on the possibility of voting on a non-binding resolution that would allow lawmakers to lay out their preferred endgame in Iran negotiations.
Sen. Richard Blumenthal (D-Conn.) already said earlier this month that a vote on the bill was not needed during the interim agreement. Meanwhile, a spokeswoman for Sen. Ben Cardin (D-Md.) punted the matter to Reid.
"Senator Cardin wants to see negotiations with Iran succeed. As for timing of the bill, it is and has always been up to the Majority Leader," Cardin spokeswoman Sue Walitsky said.
Both of the bill's main sponsors, Sens. Mark Kirk (R-Ill.) and Robert Menendez (D-N.J.), held their ground when asked for their reactions to Obama's veto threat.
"While the president promises to veto any new Iran sanctions legislation, the Iranians have already vetoed any dismantlement of their nuclear infrastructure," Kirk said in a statement.
On Tuesday night, just after the State of the Union had ended, Menendez said, "I'm not frustrated." He walked quickly into an elevator as he spoke, pushing the buttons and looking ready to be done with the conversation. "The president has every right to do what he wants."
A spokesman for Sen. Michael Bennet (D-Colo.) said Wednesday that merely introducing the bill -- but not voting on it -- was helpful to negotiations. "Senator Bennet supports the President's diplomatic efforts and would like them to succeed. The pertinent question isn't about when we vote on the bill, but whether its introduction is helpful to the negotiations. He believes it is," spokesman Adam Bozzi said.
Not all senators agreed that a vote should be delayed. Offices for Sens. Jim Inhofe (R-Okla.) and Mike Johanns (R-Neb.) confirmed that the senators wanted to hold a vote now, and Sens. Marco Rubio (R-Fla.), Saxby Chambliss (R-Ga.), James Risch (R-Idaho) and John Hoeven (R-N.D.) also said Obama's veto threat should be challenged.
Sen. Mark Warner (D-Va.) sent a letter to a constituent explaining that the legislation would only kick in new sanctions if Iran didn't meet the terms of its agreement -- but in fact, the bill Warner cosponsored would find Iran in violation if it didn't meet a host of other conditions, some of which are practically impossible.
The Huffington Post has reached out to all of the Senate bill's cosponsors -- that includes 43 Republicans and 15 Democrats -- to gauge their willingness to hold off on a vote for the time being.
This piece will be updated with responses. Ryan Grim contributed reporting.
Clarification: The original article said the Iran sanctions bill stipulates Iran must halt all production of nuclear weapon components and technology. While the intent of the language of the bill has been debated, it does require severe restrictions on these programs but does not specifically and definitively state that the programs must be halted altogether.

Before You Go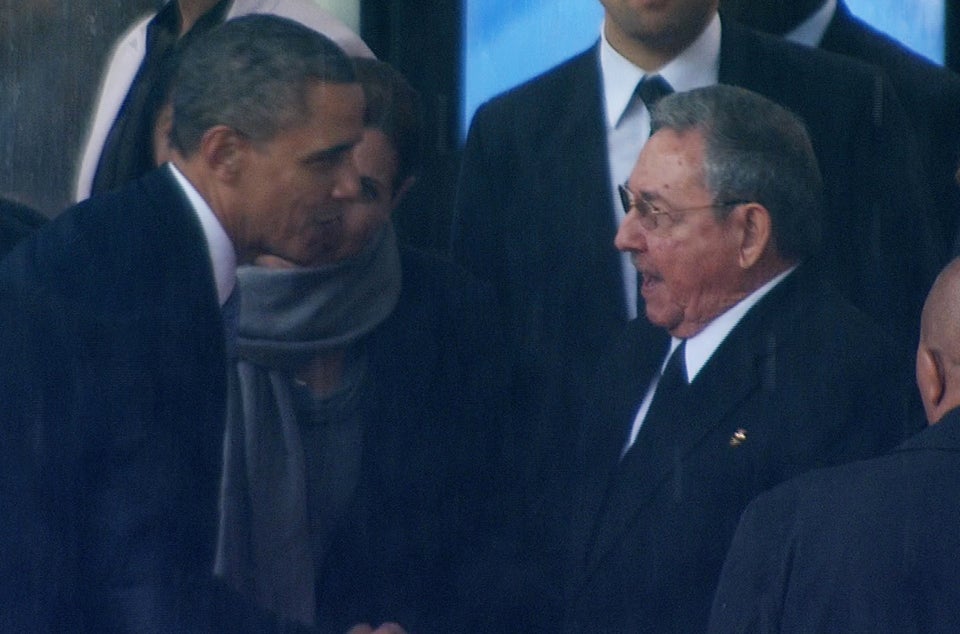 Obama's Handshakes Around The World
Popular in the Community