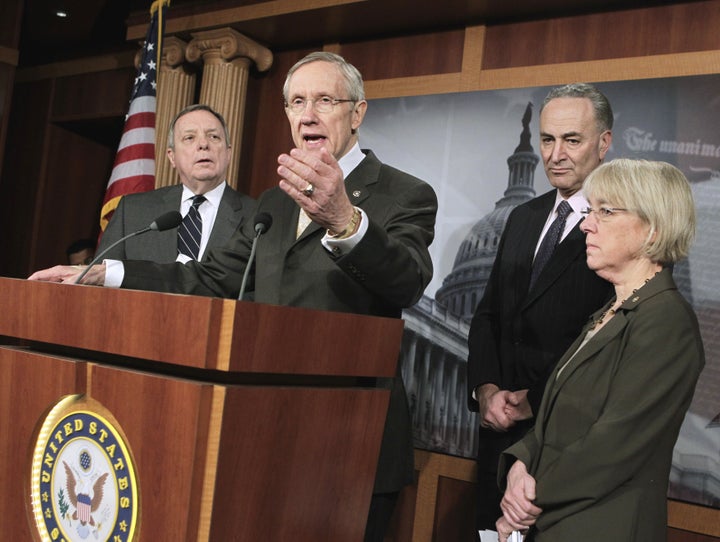 WASHINGTON - Democratic leadership and Appropriations Committee staffers are meeting Thursday afternoon to find ways to cut social spending from the remainder of the fiscal year 2011 budget, a Senate Democratic aide told HuffPost. The object of the gathering is to identify cuts that will satisfy House Republicans' demands for drastic spending reductions despite the flagging economy.
Multiple leadership aides, however, said that the cuts will be made to a long-term budget resolution, rather than a short-term spending bill, as Republicans insist. That the two parties are now arguing merely over how quickly to make cuts indicates that their positions may be drawing close enough to avoid a government shutdown - without the GOP giving much up yet.
"It sounds like Senate Democrats are making progress towards our goal of cutting government spending to help the private sector create jobs," said Michael Steel, a spokesman for House Speaker John Boehner (R-Ohio). "Hopefully, that means they will support the short-term CR with spending cuts that we will pass next week, rather than shutting down the government."
Boehner is traveling on a fundraising tour.
House Republicans have proposed a measure that would keep the government funded for two more weeks past the March 4th deadline -- when money runs out--asking for $4 billion in cuts. Democrats have not budged in insisting any stopgap be drawn along the lines of current funding levels.
The compromise offered to the GOP on Thursday would not change that. "This is not about a short-term CR," said a leadership aide. "We are planning to make a serious offer to the House Republicans on a long-term CR that contains deeper cuts than were originally proposed. And if the Republicans will meet us in the middle of this offer we might be able to avert the need for a short-term CR."
Senate Democrats are hoping that by offering the first concession, House GOPers will either respond in kind or take the blame for a shutdown. Yet each Democratic negotiating tactic has led to additional cuts. As the talks drag on, Republicans get closer and closer to their full goal. Meanwhile, the wrangling over a stopgap measure to temporarily avert a shutdown has the capacity to confuse the debate.
"Someone should pressure them and say 'Why are you so focused on the short term CR when it is it long term CR that matters?" said a top Senate Democratic aide.
The long-term goal would be reached by cutting $8.5 billion in earmarked projects. An additional roughly $25 billion could be cut, said Democratic aides, by moving up reductions that Obama had proposed for the next year so that they take effect sooner. During Thursday afternoon's meeting, lawmakers will discuss what specific programs will be set aside for targeting.
UPDATE (Friday, 11:20 a.m.): Majority Leader Eric Cantor (R-Va.) unveiled additional details about the House bill on a conference call on Friday. The two-week stopgap bill will take its cuts not from the same programs as the House funding bill passed last week, but instead will target projects created by earmarks and accelerate spending cuts proposed in President Obama's fiscal year 2012 budget.
First, though, the GOP leadership must get its short-term measure past its own caucus, as many members are pushing for the two-week bill to include measures that de-fund health care, the Environmental Protection Agency and other politically motivated cuts.
House leaders said they want to avoid government shutdown, which could occur if the House and Senate cannot compromise on a funding bill by the end of next week.
"Let me be clear, a government shutdown is not a responsible or acceptable option," Majority Leader Eric Cantor (R-Va.) said on a conference call on Friday.
Popular in the Community