WASHINGTON -- Reactions from Democrats running for the U.S. Senate ranged from apprehension to full-throated encouragement after President Barack Obama's Wednesday speech outlining his strategy to combat Islamic State militants in Iraq and Syria, though some candidates haven't yet announced an opinion.
In an address from the White House, the president said he would ramp up airstrikes against militants "wherever they are," and said he hoped Congress would give him additional aide for the operations, even though he already had the authority to do so.
"I believe we are strongest as a nation when the president and Congress work together," Obama said, "so I welcome congressional support for this effort in order to show the world that Americans are united in confronting this danger."
Supporting an expanded military campaign against the Islamic State, the militant group also known as ISIS or ISIL, is a politically delicate issue for vulnerable Democrats, as buttressing further action risks alienating the kinds of voters who soured on the Iraq War. However, a Monday CNN/ORC International poll found that 7 in 10 Americans believe the Islamic State has the resources to launch an attack against the United States, a sign that voters are concerned the group poses a serious threat.
Sixty-one percent of the poll's respondents opposed placing U.S. soldiers on the ground to combat the terrorist group, and most of the Democratic candidates up for re-election strongly condemned sending in ground troops in any way.
Of the Senate Democratic incumbents engaged in close races, Sens. Mark Udall (Colo.) and Mark Begich (Alaska) were the only ones critical of the president's plan. Sens. Al Franken (Minn.), Kay Hagan (N.C.), Mary Landrieu (La.), Mark Pryor (Ark.) and Jeanne Shaheen (N.H.) were largely supportive of the proposals.
"I oppose the president's plan to arm Syrian rebels at this time," Begich said. "I am gravely concerned by reports of ISIS seizing and utilizing U.S. weapons intended for those fighting against the Syrian regime, and we must have greater assurance that we aren't arming extremists who will eventually use the weapons against us."
"With more veterans per capita than any other state and many who have already served multiple deployments, I do not believe we should be asking our troops to put their lives at risk yet again when we don't have all the necessary answers," he added.
Udall said he would "demand that the administration provide a very clear picture of its goals and objectives," adding that though he supported an international effort with targeted airstrikes, history shows that American ground troops are incapable of eliminating "an extreme ideology."
"I believe any expanded U.S. military role beyond airstrikes in the fight against ISIL in Iraq must be approved by Congress," he said. "The American people must be assured that we are not pursuing another open-ended conflict in the Middle East, and I will not give this president -- or any other president -- a blank check to begin another land war in Iraq."
Hagan said she had been encouraging the Obama administration to give additional support to the moderate Syrian rebels "as long ago as the spring of last year."
"We must respond, and we will respond, by taking immediate, sustained and decisive action to destroy ISIS," she said. "The president and our military leadership have now developed a plan to train and equip moderate Syrian rebels and defeat ISIS with a sustained campaign of airstrikes."
Shaheen has also called "for a serious, comprehensive strategy to destroy ISIS."
"Outlining a strategy tonight was a start," Shaheen said. "In hearings next week, I intend to question administration officials on their plans to implement this strategy to confront the full scale of the terrorism challenge we face, particularly in Syria."
Franken, Landrieu and Pryor offered statements that made arguments along the same lines.
Some candidates hoping to win election to the Senate have also announced support for the president's plan. West Virginia Secretary of State Natalie Tennant, who's running for the state's open U.S. Senate seat, issued a statement that championed "aggressive action to dismantle ISIS without committing American combat troops on the ground" while also recognizing that "none of us wants to see more money and military resources devoted to fighting battles overseas, especially with challenges we face here at home."
"But that doesn't mean a blank check, which is why I also believe it's critical that Congress step up, take the tough votes, and be part of the decision-making process, to ensure America is united in our strategy and proper checks and balances are in place," she continued. "I have not seen the intelligence, and there is no doubt there are serious questions about the consequences of arming rebels in such an unstable part of the world, which is again why Congressional oversight is so important."
Kentucky Secretary of State Alison Lundergan Grimes, who is attempting to unseat Senate Minority Leader Mitch McConnell (R-Ky.), expressed support for the president's proposals while also criticizing him for waiting until Wednesday to explicitly define them.
"While the President should have offered the American people a credible plan to destroy ISIS much earlier, I am supportive of taking strong military action to hunt down the terrorists that have killed American journalists," she said in a statement. "However, I remain opposed to the use of American ground forces. We must work to build a broad coalition, that includes our allies in the region, to provide ground support and share responsibility and cost for defeating ISIS."
Rep. Gary Peters (D-Mich.), who is running for U.S. Senate, issued a statement Thursday in support of Obama's strategy.
"All airstrikes and other counterterrorism efforts directed towards ISIS must be done in consultation with Congress and in conjunction with a coalition of European and Arab nations," Peters said. "As a former officer in the U.S. Navy Reserve, I take very seriously any action that involves our men and women in uniform, and I remain opposed to the use of U.S. combat ground troops. This proposal offers a strategic approach to destroy the ISIS terrorists without American combat ground troops."
Democrats in other open-seat races, such as nonprofit executive Michelle Nunn in Georgia and Rep. Bruce Braley (Iowa), did not respond to requests for comment.
This post has been updated with a statement from Rep. Gary Peters.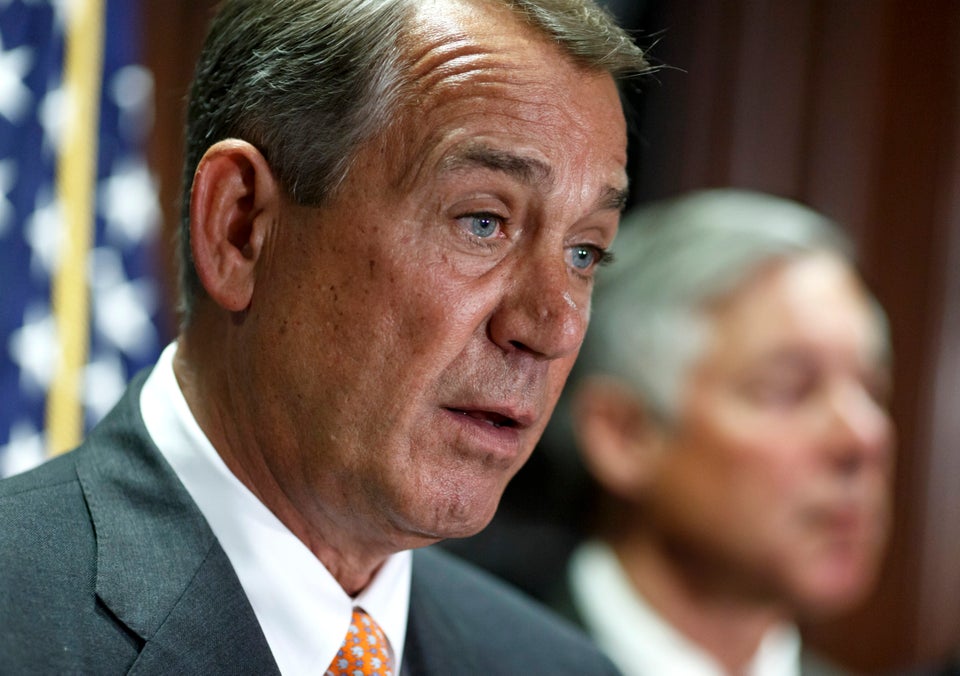 Politicians On Obama's ISIS Speech
Popular in the Community