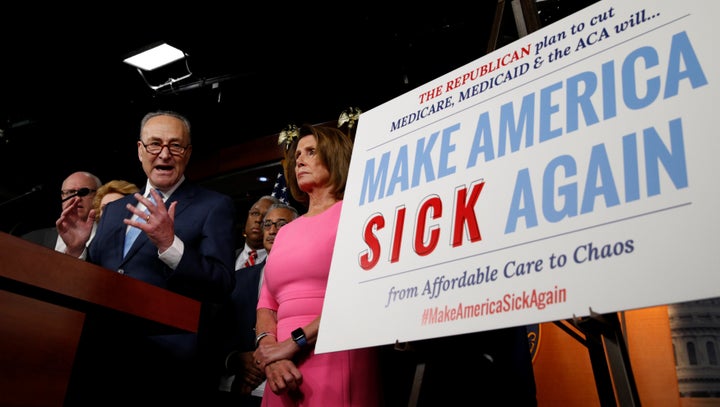 WASHINGTON ― Republicans are plowing forward this month with repealing the Affordable Care Act, and Democrats, with little ability to stop them, have plans to make it as politically damaging for them as possible.
On Monday night, Senate Democrats plan to stay up late, delivering floor speeches and Facebook Live broadcasts attacking the Republicans' drive to dismantle President Barack Obama's signature health care law. They will also pressure Republicans over their push to defund Planned Parenthood and to make significant cuts to entitlement programs like Medicare and Medicaid.
Senate Minority Leader Chuck Schumer (D-N.Y.) organized the effort, which will include multiple conference calls with a range of groups from Families USA, to Planned Parenthood, to the Service Employees International Union. Several dozen Democratic senators are expected to participate.
Republicans have said they want to have Obamacare repeal legislation ready to send to the White House soon after President-elect Donald Trump takes office on Jan. 20. But last week, a growing number of Republican senators expressed concern over congressional leaders' willingness to repeal the law without having a replacement, or at least a framework, ready to go.
"We are taking to the floor and social media to denounce this plan and warn the American people that the Democrats will be fighting tooth and nail against this potentially catastrophic move," Schumer said in a statement provided to The Huffington Post.
Monday's show of force is an effort by Democrats to capitalize, in particular, on that rift among Republicans.
"We cannot allow Republicans to make America sick again by repealing the ACA without a replacement plan that will ensure millions of Americans are not kicked off of their insurance, seniors do not face cuts to their Medicare, women are not denied access to care because of their gender, and many other groups, including Medicaid recipients, rural hospitals and more, do not suffer," Schumer said. "Right now, the GOP's plan would put the insurance companies back in the driver's seat and create chaos in the system instead of affordable care."
On Sunday, Senate Majority Leader Mitch McConnell (R-Ky.) said that "no action is not an option" on Obamacare. Speaking on CBS's "Face the Nation," McConnell wouldn't predict when his party would come up with a replacement, only that it would be done "rapidly."
But the "first step" to repealing the Affordable Care Act "will be taken in the Senate by the end of this week," he said.
Congressional Democrats have few tools at their disposal and cannot actually stop the repeal. Still, they hope to capture the public's attention by pointing to the 30 million Americans who stand to lose health insurance if the law is gutted.
Popular in the Community