Democrats on the Senate Foreign Relations Committee released a sweeping report Wednesday outlining Russian President Vladimir Putin's decades-long efforts to undermine democracy and issued stark warnings that the Kremlin will likely move to influence upcoming U.S. elections, including those this year and in 2020.
The report, commissioned by the committee's ranking member, Sen. Ben Cardin (D-Md.), and written by Democratic staff, details the Putin government's "relentless assault" on the rule of law in Europe and the United States and urges President Donald Trump to acknowledge the threat posed by the Russians or risk a regime that "will become further emboldened."
"It is imperative that the American people better understand the true scope and scale of Putin's pattern of undermining democracy in Russia and across Europe," Cardin said in a statement Wednesday. "This threat existed long before President Trump took office, and unless he takes action now, it will continue long after his administration."
He continued: "While President Trump stands practically idle, Mr. Putin continues to refine his asymmetric arsenal and look for future opportunities to disrupt governance and erode support for the democratic and international institutions that the United States and Europe have built over the last 70 years."
Aside from calls for Trump to address the ongoing influence campaign, the report also urges governments to hold social media companies accountable, to fix "woeful" vulnerabilities to cyberattacks and establish an international task force to counter such threats.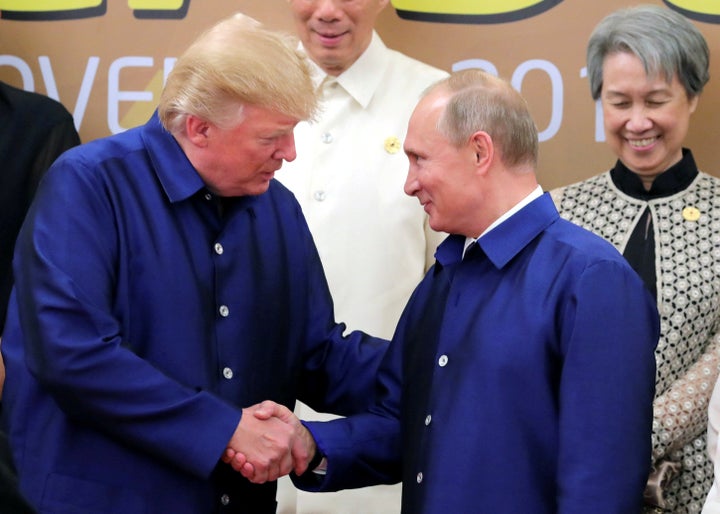 Putin's History Of Repression
Wednesday's report does not mention Russian interference in the 2016 U.S. presidential election, citing ongoing investigations by the Senate intelligence and judiciary committees.
The authors do, however, delve into Putin's aggregation of power beginning nearly 20 years ago and cite what they call a history of "exploiting blackmail, fears of terrorism and war." They write that the Russian strongman has "made it a priority of his regime to attack the democracies of Europe and the United States" as such governments "present an attractive alternative to his corrupt and criminal rule."
Under Putin's leadership, watchdog groups say, he and his oligarchs have pilfered an estimated $24 billion from state resources. At least 31 journalists have been killed inside Russia since he took power in 1999. And Russia has moved to attack countries including Georgia and Ukraine with military force and cyberwarfare.
Putin confirmed last month that he would seek a fourth six-year term as president in this March. He is expected to win.
Democrats note that many European countries have moved to deter such efforts at home. In advance of elections last year, Germany moved to test for computer vulnerabilities at its federal election authority, and local media outlets set up teams of fact-checkers to counter fake news, The New York Times reported at the time. And in the United Kingdom, top officials have issued public warnings meant to chastise Russian hacking attempts.
"We know what you are doing," British Prime Minister Theresa May said in November. "And you will not succeed."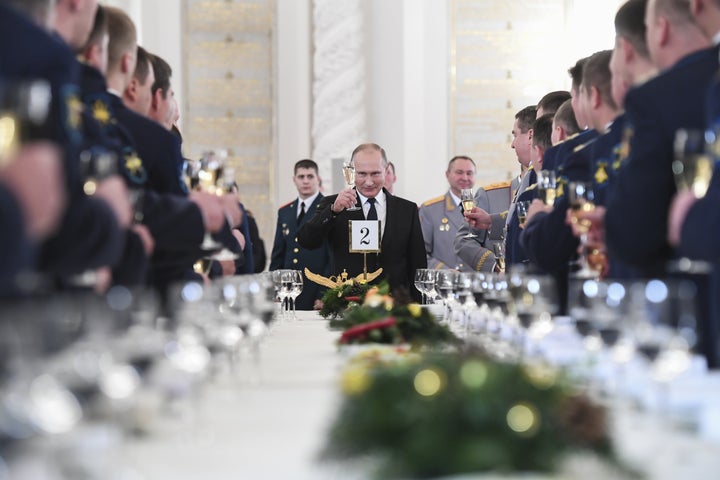 Calls For Trump To Lead
In America, however, such efforts have been largely absent.
Following a meeting with Putin in Vietnam in November, Trump went so far as to say he believed his Russian counterpart when he said Russia did not meddle in the 2016 presidential election, despite assurances from U.S. intelligence agencies that the Kremlin did, in fact, interfere.
"Every time he sees me, he says, 'I didn't do that,' and I really believe that when he tells me that, he means it," Trump said in November.
Senate Democrats voiced their displeasure with such opinions in Wednesday's report.
"The U.S. president continues to deny that any such threat exists, creating a leadership vacuum in our own government," the paper reads.
Cardin called for the president to take a leading role in the protection of America's democracy from Russian influence alongside the release of the report, and issued a rallying cry to "mobilize our country."
"President Trump must be clear-eyed about the Russian threat, take action to strengthen our government's response and our institutions, and — as have other presidents in times of crisis — mobilize our country and work with an international coalition to counter the threat and assert our values."
Calling all HuffPost superfans!
Sign up for membership to become a founding member and help shape HuffPost's next chapter