WASHINGTON -- With just days left in the legislative calendar before government funding expires, Senate Democrats are increasingly confident they'll be able to net long-term increases in domestic spending.
The strategy came into focus this past week, after Senate Majority Leader Mitch McConnell (R-Ky.) said he would be open to funding the government on a short-term basis to allow for broader negotiations. Senate Democratic leaders have said they're fine with such an arrangement, but only if the context for subsequent talks is clear: They would only back a deal that alleviates spending cuts, or sequestration; that does so equally for defense and non-defense accounts; and that doesn't include extraneous provisions attacking Democratic priorities (like Planned Parenthood funding).
Party leadership has made this demand before. But with deadlines nearing, it now appears that the rest of the conference is on board.
"Yes, yes, yes, yes, yes," said Sen. Chuck Schumer (D-N.Y.), the incoming minority leader, when asked if all members were behind the approach. "We discussed that Thursday in a meeting ... 50-50 above sequestration, no policy riders. That's our position -- for the long-term."
"We want to eliminate sequestration, we want defense and non-defense treated the same way," Minority Whip Dick Durbin (D-Ill.) said on Tuesday.
Though the concept of sequestration originated in the Obama White House in the summer of 2011 to placate Republicans who threatened to cause a default, Democrats have long lamented it, describing the spending caps -- which apply to discretionary programs and defense spending -- as arbitrary and damaging. And the president has insisted that he won't sign a bill allowing them back when a two-year deal providing relief from sequestration expires.
The impending negotiations could be one of the Obama administration's last opportunities to end sequestration for the long term -- the closer lawmakers get to the 2016 elections, the harder it will be to find common ground.
On Tuesday, Sen. Ron Wyden (D-Ore.) echoed his party's call for a bill similar to the two-year deal Sen. Patty Murray (D-Wash.) and Rep. Paul Ryan (R-Wis.) negotiated in 2013 that partially lifted spending caps. And though aides say that formal discussions for a new bill have not started -- McConnell has insisted that he and House Speaker John Boehner (R-Ohio) negotiate directly with the White House -- the contours of those talks are already clear.
"All of the Senate Democrats are on the same page as what the White House has said on the budget," said a senior Democratic aide. "We want sequestration relief -- equal and balanced -- and no riders."
Getting Republicans to agree to these positions will undoubtedly be harder now that Democrats are in the minority. The Murray-Ryan compromise was hammered out before the 2014 elections, and Republican leadership would be hard-pressed to sign off on a bill that increased government spending just one year after assuming control of the Senate.
And then there's the House. In that chamber, at least 40 Republican lawmakers are insisting that any government spending bill not include funds for Planned Parenthood, which is embroiled in controversy over its practice of donating fetal tissue for medical research. Though that's less than the 80 House Republicans who called for defunding Obamacare prior to the 2013 government shutdown, the issue still poses a significant enough hurdle for negotiations.
The hope among Democrats, at least, is that GOP leadership will move off those issues, cognizant that they could complicate the party's electoral position. They've been emboldened by McConnell's concession that Planned Parenthood will be funded as long as there is a Democratic president.
"It's an exercise in futility," McConnell told Politico. "I'm anxious to defund Planned Parenthood," he said, "[but] the honest answer of that is that's not going to happen until you have a president who has a similar view."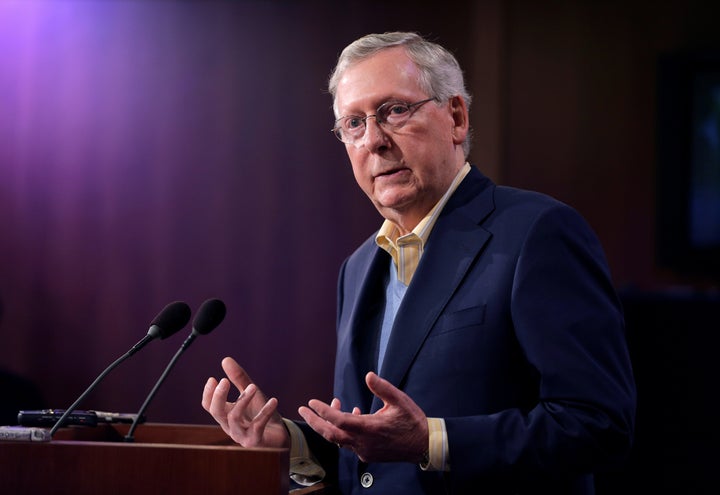 As of now, the Senate has (more or less) nine legislative days left before funding expires. The House has seven. A short-term deal to allow for more negotiations ― as envisioned by McConnell ― would give lawmakers more breathing room.
But such a deal would come at a cost for Democrats, since it would bring sequestration caps back into law, albeit for a few months. Democrats are wary that Republicans will simply keep kicking the can down the road, allowing the spending caps to stay in place and pocketing the savings. At least one top aide told The Huffington Post that this is precisely why the party would not sign off on a short-term deal if it went into 2016 (in other words, lasted longer than three months).
But those discussions have been overshadowed, for now, by efforts just to get to the negotiating table.
"The government runs out of money in a matter of days. Republicans have no plan to avoid a shutdown, but here they are twiddling their thumbs. This is an insult to the American people," Senate Minority Leader Harry Reid (D-Nev.) said Wednesday. "It's time for the Republican Leader to get serious about keeping the federal government open and funded."
Want more updates from Sam Stein? Sign up for his newsletter, Spam Stein, here.
Calling all HuffPost superfans!
Sign up for membership to become a founding member and help shape HuffPost's next chapter