WASHINGTON -- Senate Democrats dealt a stinging blow to President Barack Obama Tuesday by blocking legislation that would grant him authority to fast-track international trade deals.
Democrats, including several who favor Obama's trade agenda, banded together to prevent the Senate from considering legislation that grants the president so-called Trade Promotion Authority, which would bar Congress from amending or filibustering trade agreements negotiated by the administration. Fifty-two senators voted to start debate on the bill, short of the 60 needed to overcome a Democratic filibuster. Forty-five senators voted against the plan.
The fast-track bill is seen as essential to passing the Trans-Pacific Partnership, a secretive trade deal the Obama administration is negotiating with 11 other Asian-Pacific countries. Obama's rejection at the hands of his own party follows his bitter public feud with Sen. Elizabeth Warren (D-Mass.) over his trade agenda. Republican leaders in the House and Senate support both TPA and TPP.
In the final hours before the vote, even Democrats who support the president's trade agenda concluded that they could cut a better deal with Republicans by preventing Senate Majority Leader Mitch McConnell (R-Ky.) from opening debate on the TPA bill. "We're telling everyone, 'Don't be a cheap date,'" said one Democratic aide who spoke anonymously to discuss strategy.
Tuesday's filibuster isn't the first setback for fast track. The TPA bill had been stalled in the Senate Finance Committee for months before Obama and Senate Finance Committee Chairman Orrin Hatch (R-Utah) cut a deal with Sen. Ron Wyden (D-Ore.) that offered a handful of concessions in exchange for Democratic votes. All of those concessions, however, were not attached to the TPA bill itself, but packaged into three other pieces of legislation that cleared the committee during the same hearing in late April.
On Tuesday, McConnell showed some willingness to vote on two of the bills together -- TPA and a bill on Trade Adjustment Assistance, a program that provides job training and financial aid to workers who lose their jobs from international trade.
"We can't debate any of the provisions senators want to consider if they vote to filibuster even getting on this bill," McConnell said.
McConnell also said he would allow votes on the other bills with Democratic support, but moving them as separate bills would give Obama and Republican leaders opportunities to torpedo those provisions without taking down the TPA bill. Most of the Democratic concessions from the Wyden-Hatch talks are included in a trade enforcement bill. Some of the most important include a ban on imports made with forced labor, which is opposed by some Republicans, and a provision to fight currency manipulation by foreign governments, which is opposed by Obama.
"Our special concern this afternoon is about a lack of commitment on trade enforcement," Wyden said Tuesday. He accused Republicans of "legislative malpractice" for separating the bills with strong Democratic support from the TPA legislation.
"All they have to do is put the enforcement part into this," Sen Dianne Feinstein (D-Calif.) told HuffPost. "And there's a good reason that you want this enforced. You don't want child labor. You don't want people working 24 hours a day. I mean, this has to be part of the agreement. So to leave it out is a concern to us."
Speaking from the Senate floor, however, a visibly irritated Hatch said that separating the bills had been necessary. The currency manipulation provision authored by Sens. Chuck Schumer (D-N.Y.) and Sherrod Brown (D-Ohio) would ultimately undermine TPA, according to Hatch, and needed to be included in a separate bill, which could be dismembered, ignored or vetoed without touching TPA.
"Everybody knew that putting the Schumer amendment on the one bill would not be acceptable in the House and would not be acceptable to the president," Hatch said.
Earlier Tuesday, the White House downplayed the significance of the vote, but wouldn't say whether it supports Democrats' push to bundle the four bills.
"It is not unprecedented, to say the least, for the United States Senate to encounter procedural snafus," White House press secretary Josh Earnest said in his daily briefing. "We're pleased to see Democrats and Republicans both indicating a willingness to work through these procedural challenges."
Fast track authority is not necessarily dead. McConnell has the authority to bring the legislation back after cutting deals with Democrats, but it now faces an uphill battle in the Senate and an even tougher fight in the House, where a substantial bloc of Republicans and the overwhelming majority of Democrats don't back the measure.
McConnell wants the trade deal to pass, but will be able to relish a round of headlines focused on Democratic in-fighting in the short-term. "Maybe he wanted to kill it," Sen. Pat Leahy (D-Vt.) said of fast track.
The Democratic blockade of the measure intensifies a long-simmering conflict with the president, who has made securing trade deals a key element of his legacy and his final two years in office.
The president and backers of the effort say it will open more markets for U.S. goods, level the playing field for American manufacturers, and serve as a check on China's global advance. And they argue the Obama administration has figured out how to solve the problems of the much-maligned North American Free Trade Agreement.
"Most people don't realize that we actually fixed a lot of what was wrong with NAFTA in the course of this," said Sen. Tom Carper (Del.), one of the few Democrats to stick with Obama on the vote. "We need to be negotiating in the present, in the present tense, and not the past."
But many Democrats and some Republicans fear the TPP in particular will facilitate currency manipulation by foreign competitors, erode labor and environmental standards at home and abroad, and shrink domestic jobs for the middle-class. The Obama administration treats the TPP negotiating texts as classified information, making it a crime for his trade critics to detail their concerns in public.
While Carper and Obama emphasize that TPP will include enforceable labor and environmental protections, both labor unions and environmental groups remain steadfastly opposed to the deal, citing lax enforcement of such trade safeguards under Obama's tenure.
Obama's feud with Warren has centered around the TPP's enforcement mechanism, known as Investor-State Dispute Settlement. The process allows foreign corporations to sue a country over laws or regulations that they believe unfairly threaten their investments. The cases are heard before an international tribunal with the power to levy financial penalties against nations. While Obama has insisted that the process will not jeopardize U.S. standards, Warren and others worry it will curb future rulemaking, and indeed concerns that new rules would violate past trade agreements have become part of congressional debate in recent years.
The Obama administration has been in open war with Warren over this issue, with the president calling some of her concerns "pure speculation," "bunk" and "dishonest." Warren told The Washington Post on Monday she has yet to see a draft "that would do what the president says he has already accomplished."
Currency manipulation has been another major sticking point. In the past, a number of countries, including Japan, Malaysia and Singapore, which are all part of TPP, have kept the value of their currencies artificially low, which costs American jobs by making foreign goods cheaper. Two efforts to combat currency manipulation garnered bipartisan support in the Finance Committee. The one authored by Brown and Schumer was approved as part of the trade enforcement bill, while another, authored by Sens. Rob Portman (R-Ohio) and Debbie Stabenow (D-Mich.), was defeated.
Schumer predicted trouble for the administration if it didn't promise to protect the bill his amendment was attached to.
"Unless the administration says they won't veto it, they're going to lose a lot of votes on TPA, on the regular trade bill," Schumer told HuffPost earlier this month.
Unlike other Democratic demands, several Republicans support efforts to combat currency manipulation, as do many corporations, particularly in the steel and auto industries. Obama has warned that a poorly written currency provision could hamper the Federal Reserve's ability to conduct monetary policy, but many economists believe it would be simple to craft effective language that would give the Fed plenty of leeway. The Schumer-Brown bill would require the U.S. Department of Commerce to consider the effects of currency manipulation on trade complaints brought by U.S. companies. Those calculations would be included in international trade cases.
"If you represent a state like mine and you see what's happened in the last 25 years, you have to be very skeptical of arguments that seem to say, 'Just go away, your concerns are unwarranted, we're gonna fix all the problems of the past,'" said Sen. Bob Casey (D-Pa.). "It's just a basic disagreement."
Jennifer Bendery contributed reporting.
Before You Go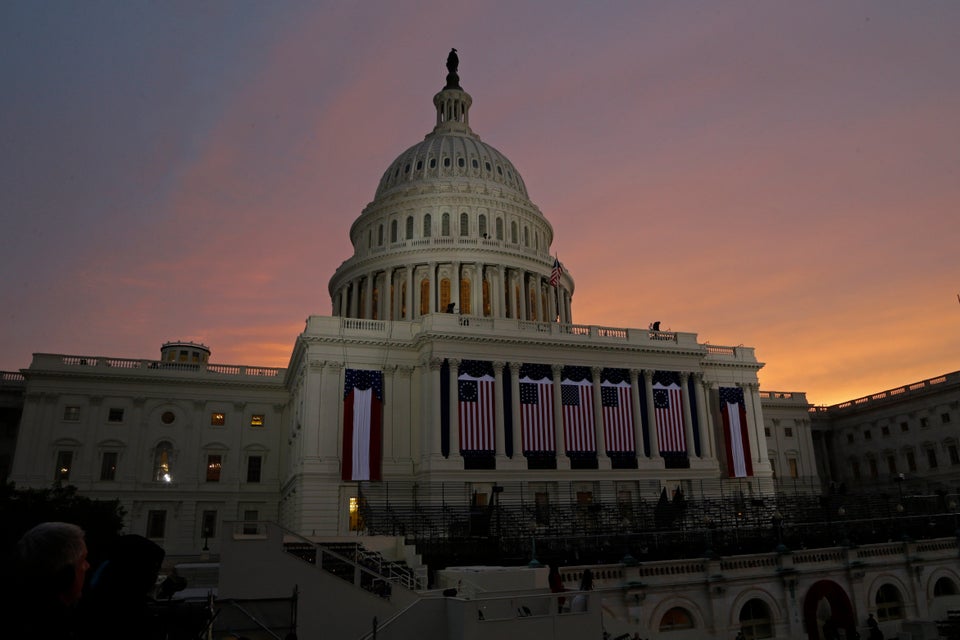 U.S. Capitol Photos
Popular in the Community