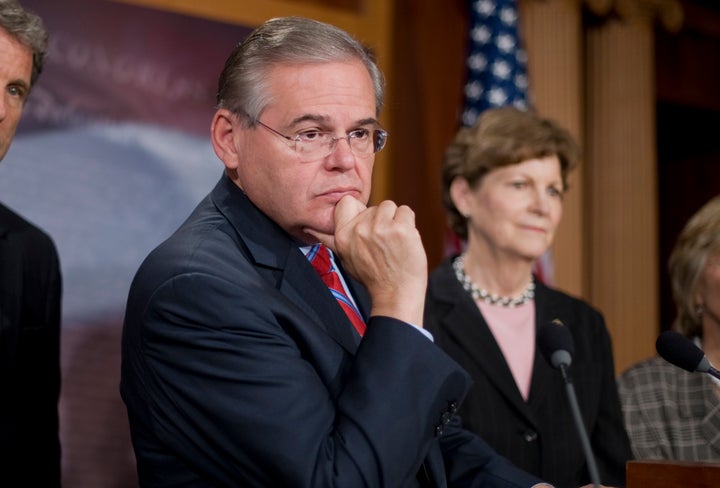 WASHINGTON ― What the hell happened in President Donald Trump's private, two-hour meeting with Russian President Vladimir Putin in Helsinki last month?
Top Democrats on the Senate Foreign Relations Committee on Friday asked Secretary of State Mike Pompeo for all relevant documents ― including notes from the U.S. interpreter in the room ― to try to figure it out.
"In view of the President's comments and the inability of senior officials to provide a clear and complete description of any commitments that President Trump may have made during this two-hour conversation, we respectfully request that you provide relevant materials including all classified and unclassified cable traffic, memoranda of conversations, interpreter's notes and policy directives related to the meeting," reads the letter to Pompeo from Sens. Robert Menendez (D-N.J.) and Jeanne Shaheen (D-N.H.).
Lawmakers still know very little about what Trump told Putin in that meeting, after which he publicly trashed U.S. intelligence and praised the Russian leader. Among those in the dark: the chairman of the Senate Foreign Relations Committee, Bob Corker (R-Tenn.).
"We'd like to understand what was agreed to when the leaders of our two countries sat down in Helsinki," Corker said Tuesday in a committee hearing on U.S. relations with Moscow. "Were there discussions regarding current or future arms control agreements? What other promises or assurances were made? To date we have received no real readout, even in a classified setting, of this meeting."
Shaheen has been pushing to hear from the U.S. interpreter who was in the room with Trump and Putin.
"That translator is an official of the U.S. government," she told reporters last month. "It is imperative that the American people and this Congress know precisely what the president shared or promised the Kremlin on our behalf."
Republicans don't seem interested in bringing in the interpreter, though, even as Trump continues to lavish Putin with praise amid the ongoing investigation into Russia's interference in the 2016 presidential election. It's also not clear whether the president could claim executive privilege to prevent the interpreter from testifying.
Corker's spokeswoman did not immediately respond to a request for comment on whether he supports the Democrats' request for documents from Pompeo.
REAL LIFE. REAL NEWS. REAL VOICES.
Help us tell more of the stories that matter from voices that too often remain unheard.