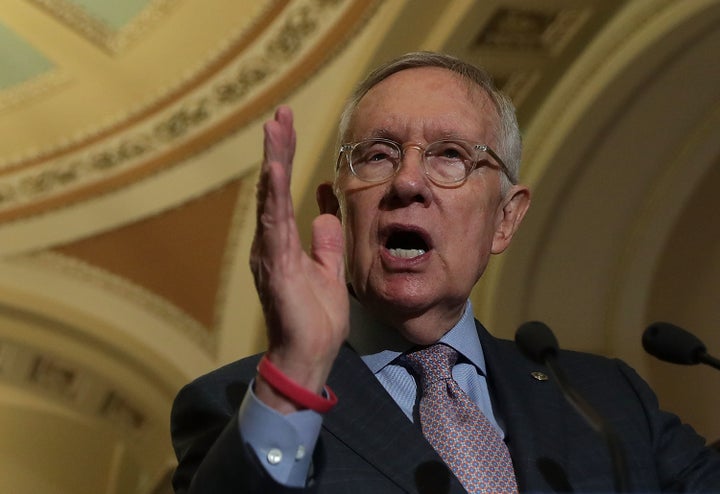 WASHINGTON ― When it comes to attacking Donald Trump, congressional Democrats are pulling out all the stops.
The party's lawmakers are following the lead of Senate Minority Leader Harry Reid (D-Nev.) who has made a sport out of poking the GOP nominee for, among other things, failing to release his tax returns. Now, they're working to get a law on their side.
Sens. Ron Wyden (D-Ore.), Chris Murphy (D-Conn.), Debbie Stabenow (D-Mich.) and Ben Cardin (D-Md.) joined Reid at a press conference Thursday to tout legislation Wyden introduced that requires all presidential nominees to release their tax returns.
At the event, the Democrats showed themselves just as capable of employing the kind of idle speculation and clever epithets that fueled Trump's rise.
Absent the release of Trump's returns, the senators argued, one can only assume he is either not paying taxes, profiting from Russian business interests, violating tax charity laws or all of the above.
Reid, speaking first, delivered the most stinging remarks.
"Why has he not released his tax returns? Because it's obvious he's been ethically compromised in most everything he's ever done," he said.
Trump's returns would shed new light on the massive tax breaks and other public benefits the mogul has received for his lucrative business projects, Reid ventured.
"He is a welfare king. He is king of the welfare kings ― a freeloader who's made his way in life by feeding off other people's hard work," he said.
Murphy, a member of the Senate Foreign Relations Committee, argued that the returns might show that Trump's plans to ease sanctions on Russia would benefit him financially.
"It is likely that those tax returns will show major income for Trump and his family from Russia ― from Russian business interests, from Russian oligarchs," Murphy said. "It will show that the decisions he will make on whether to turn on or off sanctions against Russia could have a multi-million dollar impact on his net wealth."
Wyden, the ranking Democrat on the Finance Committee, introduced the Presidential Tax Transparency Act in May. (Stabenow and Cardin are also members of the committee, which is responsible for tax-related legislation.)
Wyden claimed conversations with Republicans led him to believe the bill would pass very quickly if it were brought for a vote. He and fellow Democrats tried to force a vote on the bill last week.
Of course, the Republicans who control the Senate are almost certain not to allow such a vote.
Instead, the bill creates a plum opportunity for Democrats to hammer the GOP presidential nominee and, in the process, boost their chances of regaining control of the upper chamber.
Their counterparts in the House have used their public perch to slam Trump on the issue as well. Several members hijacked a hearing with Internal Revenue Service Commissioner John Koskinen on Wednesday to pepper him with questions about whether a tax audit would prevent someone from releasing their returns. (An ongoing audit is among the many reasons Trump has cited for not releasing his own.)
The minority leader showcased that approach on Thursday in a broadside at his Republican colleagues for preventing a vote on Wyden's bill.
Requiring the tax returns' release is "a kind of good government policy we should all be able to agree [on], but Republicans refuse to apply basic standards of decency to their swindler-in-chief," he said.
Popular in the Community