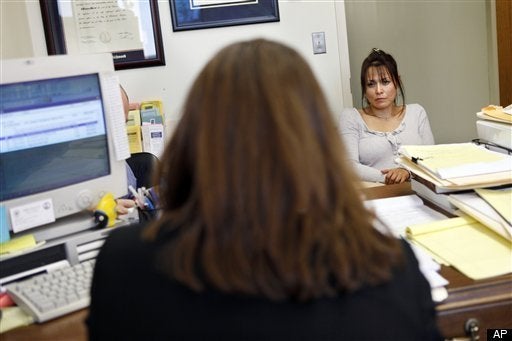 Advocates of legal services for the poor are up in arms over the nomination of Sharon Browne to the board of directors of the Legal Services Corporation, the federal agency that oversees federal aid to such programs
A Senate panel will likely approve the Republican-chosen nominee on Wednesday as part of a package that includes five other nominees supported by Democrats. Outside groups say Democrats are unwilling to try to separate Browne from the package for an up-or-down vote.
Citing her track record as a principal at the conservative Pacific Legal Foundation, Browne's critics say she's unfit for the job because she has directly opposed funding for legal services agencies.
"Ms. Browne should not be placed in a position to help determine the future of legal services for poor Americans," says a letter sent by the Alliance for Justice, a coalition of liberal groups, to members of the Senate committee that will vote on Browne's nomination Wednesday. The letter was signed by more than 70 fair-housing and civil rights advocates.
"She and the Pacific Legal Foundation ("PLF"), her employer, have engaged in litigation aimed at defunding those very services and legal efforts opposing the principle of equal justice -- the core of LSC's mission. "
And the American Bar Association says Browne is not qualified for the job. An evaluation by the ABA "did not find that Browne is free of all conflict and the appearance of conflict, that she is committed to the freedom of LSC and its grantees from political control, or that she could assure that she is fully committed to the role of legal services attorneys."
The PLF declined to comment. In February, a PLF research director told the San Francisco Chronicle that Browne would be a "great asset" for the LSC. He said the PFL does not oppose legal aid for the poor and that Browne would only work to make sure that the LSC avoids "activist, cause-oriented litigation."
The president picks six of the 11 members of the SLC's board; Senate Republican leadership picks the rest. The Obama administration announced in December the nomination of Browne, who was selected by Senate Minority Leader Mitch McConnell (R-Ky.).
An administration aide told HuffPost that it's a longstanding practice for administrations to go forward with the opposing party's choice unless the nominee violates an administration policy. But Jim Brosnahan of the California Commission on Access to Justice told HuffPost the administration rejected two people before announcing Browne.
At first, outside groups demanded a committee hearing on Browne, but they say they're not getting much traction with Democratic members of the Senate health committee. More recently, Brosnahan and others have been lobbying committee Democrats to push for an up-or-down vote on Browne. They say McConnell is insisting that Browne be voted on as part of a package with five other nominees and that Democrats aren't interested in fighting over it.
"We have talked with staff members for a number of senators and we sent the materials and we have very interesting discussions with them and they give us reasons why they don't want to do anything," said Brosnahan.
"Mitch McConnell threatened them," he said. "He threatened that he would hold up the five Democrats if Sharon Browne was not confirmed. One proposed that Browne couldn't do much damage on the board... We just got these kind of excuses. It was sort of pathetic."
Spokespersons for committee chairman Tom Harkin (D-Iowa) and McConnell did not immediately respond to requests for comment.
Eva Paterson, a former legal services lawyer who now works for the Equal Justice Society, also lamented the situation. "We just want a roll call vote. McConnell knows if that happens she's going to be stopped... McConnell can box us in so we're forced to accept this woman."
Brosnahan said he was surprised that health committee Democrats won't fight against the nomination. If the committee approves Browne on Wednesday, the fight will move to the Senate floor.
"We have Afghanistan, we have health care, we have deficits. I understand all that," he said. "But to me what has happened is the War on Poverty got turned around and it's a war on the poor from the United States Senate."
Popular in the Community