WASHINGTON -- Senate Democratic leaders are rallying around a strategy to deal with the threat of domestic terrorism without going after Syrian refugees, who have been the target of intense backlash since last week's attacks in Paris.
At a press conference on Thursday, Minority Leader Harry Reid (D-Nev.), his likely successor Chuck Schumer (D-N.Y.) and a number of other Democrats said they will focus on other proposals to combat terrorism. One such measure would make changes to the visa waiver program, which allows residents of certain countries to visit the U.S. without a visa and without going through an interview.
The Democrats also emphasized the need to ensure that people on terrorist watch lists can't possess or purchase firearms or explosives -- although passing any legislation on guns will be nearly impossible due to Republican opposition.
"It's outrageous that dangerous individuals can waltz into a gun show and buy any gun they want," Reid said.
By pushing for changes to the visa waiver program and for the closure of certain gun loopholes, Democrats are attempting not only to address what many caucus members see as genuine national security vulnerabilities, but also to slow the growing momentum to block Syrian refugees from coming to the United States. Thursday's press conference came shortly after the House moved forward a bill to add strict requirements to the refugee screening process, which Republicans and some Democrats argue could be exploited by Islamic State members. The militant group claimed credit for the attacks in Paris, which left 129 people dead.
The White House has threatened to veto the House bill, arguing that the screening process is already comprehensive and that it is morally dubious to place additional burdens on those fleeing terrorism. Reid said at the press conference that the bill "won't get passed" in his chamber.
But Democratic lawmakers have privately griped that as pressure mounts to respond to the Paris attacks, it would be hard to stand by the president absent a separate measure to address concerns about Islamic State infiltration. The proposed limits on visa waivers will give those Democrats an alternate policy to support.
The visa waiver program "is the soft underbelly of our national security policies," Sen. Dianne Feinstein (D-Calif.) said at the press conference.
Feinstein is working with Republican Sen. Jeff Flake of Arizona on one piece of legislation to address the visa issue, which would block people from being eligible for a waiver if they had visited Iraq or Syria in the past five years.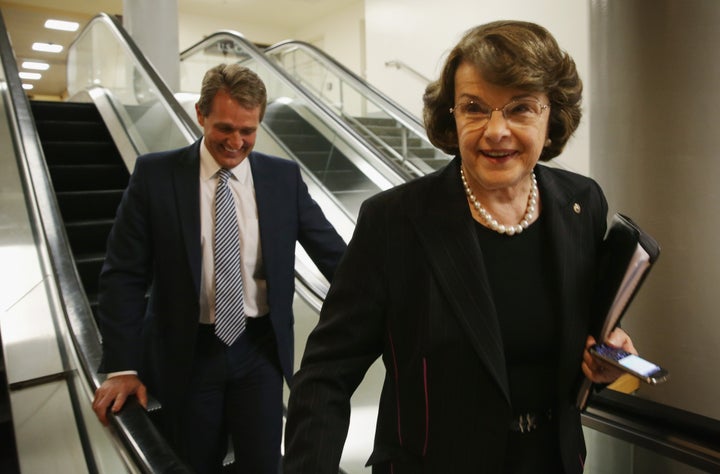 Feinstein and other Democrats at the press conference also proposed other measures related to visa waivers, such as requiring the U.S. to get more biometric information on the people using the program.
The press conference follows a Wednesday evening briefing during which administration officials talked to members of Congress about the situation in Syria. Lawmakers said after that session that while they still want to ensure the strength of the refugee screening program, they are most concerned about the possibility of terrorists using the waiver program to get into the U.S. without a visa.
Reid said Thursday that White House Chief of Staff Denis McDonough asked lawmakers to work on bipartisan measures to make changes to the visa waiver program.
Visa waiver limits may stand the best chance of passage compared to the House bill and other proposals. Some Republicans are on board with the idea, as are progressive Democrats like Sen. Chris Murphy (D-Conn.), who has noted that it is far easier to enter the country through the visa waiver route than through the refugee screening process, which lasts an average of 18-24 months.
Schumer's prominent role at Thursday's conference was particularly notable, given that he angered fellow Democrats, including administration officials, earlier this week by indicating that he was open to restrictions on refugee admittance.
The New York Democrat said that he now believes a "pause" in the refugee admission process is not necessary.
"The appropriate place to focus is the visa waiver program and the ability of terrorists to buy guns," Schumer said.
However, the Senate is unlikely to act on any legislation regarding the visa waiver issue until after its Thanksgiving break, Sen. John Thune (S.D.), the Senate's third-ranking Republican, said on Wednesday.
Reporters pressed House Speaker Paul Ryan (R-Wis.) on Thursday on why his chamber had focused on refugees rather than the visa waiver program or gun loopholes. He insisted it was just one step in a long process.
"There are many other issues that we need to consider, and we will do so under regular order," Ryan said.
Popular in the Community