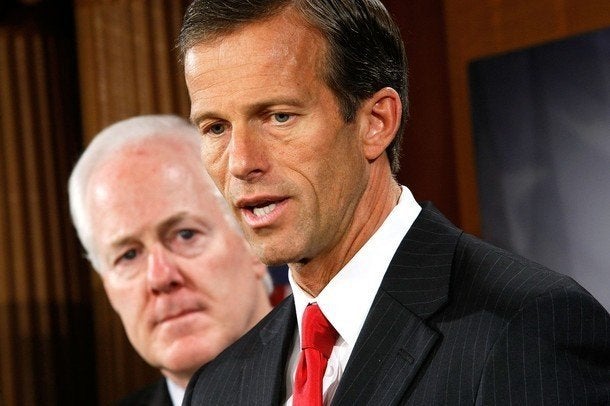 Mark Pryor took a few quick steps onto the Senate floor Wednesday, flashed a thumbs down and walked back out. With him went any chance John Thune had of seeing his expansive concealed-gun amendment become law.
Pryor, a key Democrat from Arkansas, didn't head back to his office, however. There was still a wild card somewhere in the deck: Would Sen. Bob Byrd (D-W.Va.) show up? He surprised many in the Senate on Tuesday by wheeling in to vote for funding for the F-22 fighter jet, so anything was possible.
As the vote neared an end, the door swung open and in bounded Pryor. "Mr. President! Mr. President!" he shouted, getting the attention of the desk. Comfortable that Byrd wouldn't be making the trip, and with Sen. Claire McCaskill (D-Mo.) voting no, Pryor switched his vote to a yes and the amendment failed by two, 58-39. Pryor could now say at home that he stuck with the National Rifle Association.
On Tuesday, the amendment to eliminate funding for the F-22 pulled the same number of votes and was described as a resounding victory. That's because the Senate had agreed, by unanimous consent, that it only needed 50 votes to pass. Thune's amendment, however, required 60, and so the exact same number of senators in favor added up to defeat.
The NRA isn't accustomed to losing, no matter how close the fight. They had won the last three Senate gun votes.
"Those who are keeping score understand this is the fourth major gun issue we've faced this year. We were losing those majors by ever-growing numbers on the three previous amendments, and that is the significance of the vote this afternoon," said Majority Whip Dick Durbin (D-Ill.) after the vote. "And it was extremely close, as you probably noted. But I do believe we have broken the momentum."
Democrats, in fact, had votes to spare this time around.
Toward the end of the tally, Colorado Democrats Michael Bennet and Mark Udall walked in together and headed straight for Sen. Chuck Schumer (D-N.Y.), the third ranking Democrat in the Senate. Schumer gave Bennet, a newly appointed freshman, a signal. Bennet looked back at Udall, who nodded.
With the dual green light, Bennet, a native of gun-hostile Washington, D.C., cast a yea vote for a radical weakening of gun laws. Udall followed him with another yes. The pair, secure that their yes votes wouldn't be enough to see the measure pass, walked together back up the aisle and sat side by side to take in the rest of the affair.
Schumer played down his role in a briefing with reporters following the vote. "There was no staring down at all. None," said Schumer. "Everyone was able to vote their conscience."
Sen. Frank Lautenberg (D-N.J.), however, declared himself impressed by Schumer's vote-winning abilities. "He was, I thought, mellow, very specific and not at all threatening or suggesting punishment, no. I learned something," said Lautenberg, who helped whip opposition to the amendment.
Virginia Democrats Mark Warner and Jim Webb didn't need to consult leadership. Warner walked in early and quickly voted yes. Webb popped in a few minutes later, voted yes, pivoted and left.
Senate Majority Leader Harry Reid (D-Nev.), facing re-election next fall, voted for the amendment, as he'd promised to do earlier. Montana Democrats Max Baucus and Jon Tester also broke party ranks -- with Baucus going so far as to make himself the lead Democratic cosponsor of the measure.
Democrats Ben Nelson (Neb.), Tim Johnson (S.D.), Blanche Lincoln (Ark.), Kay Hagan (N.C.) and Evan Bayh (Ind.) also voted with the NRA. Sen. Arlen Specter (D) played to the Pennsylvania primary crowd and voted down the amendment. His colleague Bob Casey, who's been a Democrat longer, played to the general electorate and voted with the NRA.
In Wisconsin, Democrat Russ Feingold voted with the NRA while fellow Dem Herb Kohl knocked it down.
Sen. Richard Lugar (R-Ind.) cast one of two no votes from the GOP. The vote was in character for Lugar, who is no enemy of gun-control advocates. The other no came from Sen. George Voinovich of Ohio, who was pressured earlier Wednesday by mayors across the country.
"Today, overheated rhetoric and fearmongering overcame common sense," groused Thune in a post-vote statement. He'll be back, he promised. "Despite today's defeat, this amendment had bipartisan support and I hope the Senate will reconsider this important issue in the future."
In consecutive days, the Senate has stared down both the military-industrial complex and the gun-rights lobby, two of the most powerful forces in Washington. Wall Street, of course, still has its way.
"We know the gun lobby is strong," said Schumer. "We know they'll be back. We know we have to be vigilant. But this shows that the Senate can rise to the occasion when the law just so overreaches that it puts police officers and sheriffs and citizens in dire difficulty."
Lautenberg, leaving the press gallery, turned to a staffer and observed that she looked as if she'd just let out a very deep breath. "It's the first one I've taken in the last week," she said.
Jeff Muskus contributed reporting.