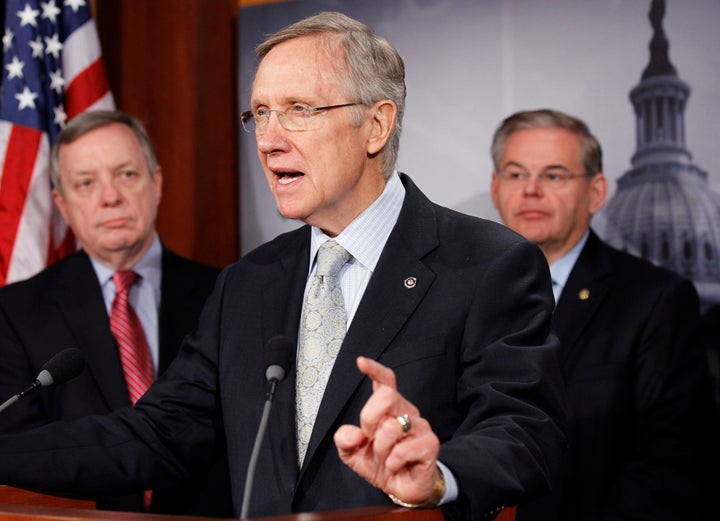 WASHINGTON -- Senate Democrats are open to pairing the DREAM Act, a bill that would allow some undocumented young people to gain legal status, with tougher immigration enforcement measures, Senate Majority Leader Harry Reid (D-Nev.) said on Wednesday.
Democrats re-introduced the DREAM Act on Wednesday, on the heels of a Tuesday speech by President Obama calling for paths to legalization for some of the nation's estimated 11 million undocumented immigrants. The DREAM Act is seen by many as the ideal immigration reform bill: It would allow undocumented immigrants who entered the U.S. as children, committed no crimes and want to attend college or join the military to remain in the country legally.
But the DREAM Act is unlikely to go anywhere in the current Congress. Last session, when Democrats controlled both chambers, the bill fell short of the 60 votes needed in the Senate to prevent a Republican filibuster.
This time around, the GOP controls the House and has a larger caucus in the Senate. While a few Republicans supported the DREAM Act in 2010, including Sens. Richard Lugar (R-Ind.), Lisa Murkowski (R-Alaska) and now retired Sen. Bob Bennett (R-Utah), most decry the bill as amnesty for immigrants who are in the country illegally.
On Tuesday, hours before Obama's speech on immigration reform, Republican Sens. John McCain (R-Ariz.), Lindsey Graham (R-S.C.), Jon Kyl (R-Ariz.) and John Cornyn (R-Texas) threw water on the idea of passing any bill that would allow undocumented immigrants to gain legal status.
"I think everybody recognizes that until the border is secure, any hope of additional legislation dealing with immigration is not likely to succeed," Kyl told reporters.
To win support from Republicans who say legalization cannot be passed without stricter immigration enforcement, Reid said he was open to the idea of a bill that would mandate E-Verify, a program that allows employers to check the legal work status of their employees.
Immigration advocacy groups are critical of the program, arguing it leads to false positives and could discourage employers from hiring even legal immigrants. Business owners, particularly in agriculture, say the bill would impose high costs on small businesses that would be required to check immigration status on all potential applicants.
The House GOP plans to move on a mandatory E-Verify bill, led by House immigration subcommittee Chairman Elton Gallegly (R-Calif.), later this year. Reid said he would be willing to look at the mandatory E-Verify bill if it passes the House.
"That would be an opportunity for us to do something with [the DREAM Act]," Reid said at the Wednesday press conference. "I'll be happy to look at that bill, and it may be the vehicle we need over here to get this done."
Reid, along with DREAM Act sponsor Sen. Dick Durbin (D-Ill.) and supporters Sens. Robert Menendez (D-N.J.) and Richard Blumenthal (D-Conn.), said he will also lobby Democrats who opposed the DREAM Act in 2010 to support the bill.
Five Democrats voted against the bill in December: Sens. Ben Nelson (D-Neb.), Mark Pryor (D-Ark.), Jon Tester (D-Mt.), Kay Hagan (D-N.C.) and Max Baucus (D-Mt.), while Sen. Joe Manchin (D-W.V.) skipped the vote.
"It was a bipartisan bill ... in a very general sense, but I think we should focus on what happened to the Republicans, who basically helped us not at all," Reid said. "Let's not focus on those five Democrats -- we'll work with them, of course -- what we need to focus on is the Republicans."
Reid said he plans to bring the bill to the Senate floor, but did not give specific details on timing.
Calling all HuffPost superfans!
Sign up for membership to become a founding member and help shape HuffPost's next chapter