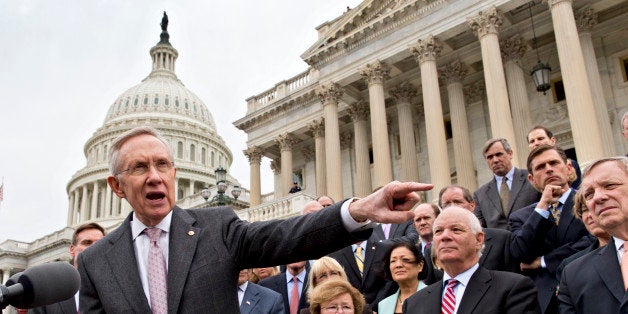 WASHINGTON -- Sitting in his office seven weeks before voters head to the polls, the man in charge of electing Democrats to the Senate cops to being unable to pinpoint the single animating issue of this cycle.

He prefers it that way.

Guy Cecil, executive director of the Democratic Senatorial Campaign Committee, argues that without one dominant issue driving the electoral climate, he's confronted with a dynamic political atmosphere resulting in a more manageable election season. Whereas the landscape in the past was overwhelmed by reactions to events (Iraq in 2006, Wall Street in 2008 and the health care debate in 2010) and individuals (Obama in 2008), this time the motivating forces are more race-specific.

Cecil said he could "wallpaper this room 100 times over with stories throughout the course of the last four years" about how one particular issue was going to turn the election. "I don't think that voters process all of these things individually in a way that leads to them making a determination," Cecil said in an interview with The Huffington Post.

The practical effect of that, said Cecil, was that Democratic candidates running in traditionally Republican states now had a fighting chance of winning. The political stench of some national issue or political figure wasn't weighing down their race.

"We are used to wave elections," said Cecil, referring to recent elections that produced a political sea change. "[2006] was a wave election. '08 was a wave election. '10 was a wave election. I mean '12, to the extent that you view it, it was pretty close. It was a strong tide of an election, with the president winning and us picking up two seats. I think what we are dealing with now is an election that is pretty stable."

Whether public opinion polls bear out Cecil's theory depends on your vantage point. Democrats retain just under a 50 percent chance of holding the Senate majority, and in a host of high-profile races in traditionally Republican states, the margins haven't budged much over the last few weeks. But that doesn't necessarily mean 2014 won't end up being a "wave" election. If Republicans can pick up six Senate seats, they could end up running both chambers come January. And the president's approval rating has hovered in the low 40s and shows no sign of bubbling back up anytime soon.
What seems less debatable is that no single issue has come to dominate this election as happened in the last three mid-terms. If anything, the past year has witnessed a conveyer belt of crises vying for top spot. The government shutdown in October 2013 was supposed to doom GOP chances. The disastrous launch of HealthCare.gov was even more toxic for Democrats. Domestic crises, from the IRS' targeting of conservative groups to the Guantanamo Bay prisoner swap for Sgt. Bowe Bergdahl, have had their turns. And so have foreign ones, such as Russia's invasion of Crimea and the collapse of Iraqi security forces. An improving economy was supposed to give the president some reprieve, but polls show that voters don't feel much better it -- and the last jobs numbers underwhelmed, suddenly making the issue more of a burden than a benefit.

"He's right," National Republican Senatorial Committee communications director Brad Dayspring said of Cecil's theory of dynamic issues. "There isn't a single dominant issue, but there's a handful of issues that are prevalent, each cutting against incumbent Democratic senators."

Chief on Dayspring's list of topics that collectively will doom Democrats this fall is the president's health care law, which has remained unpopular even though it isn't producing the grim scenarios once envisioned. Obamacare remains a fixture in political ads, though Cecil says the percentage of advertising on the topic has decreased. But even on this front, other Republicans acknowledge that while the law has played to their advantage, there isn't much political gain left to churn out.

"It is kind of interesting," said Stu Stevens, Mitt Romney's top strategist in 2012. "A lot of Democrats say a lot of people aren't advertising on Obamacare, which means it is more popular. I don't think so. I just think everyone has made up their mind about it so it's not moving numbers."
The 2014 election, in the absence of one issue that resonates nationally, has become hard to define and a more provincial affair. Indeed, many of the issues that have commanded public attention -- from the Edward Snowden leaks to foreign policy challenges like the rise of the Islamic State -- are not overtly partisan.
In certain states, national issues do remain predominant, including the influx of children along the nation's southern border and the systematic problems that plagued the VA over the summer. In others, though, the fault lines are local matters, such as in North Carolina and Kansas, where education funding has played a central role.

In this climate, Republicans haven't hidden their playbook. They want to tie each candidate, on each issue, to the president. Stevens noted that in the midst of most foreign crises, the president's approval rating tends to tick up as the public begins to rally around the commander in chief. But he didn't expect that to be the case this time, owing to the public's "lack of confidence about [Obama's] ability to execute."
Dayspring extended that theory to the domestic front as well.
"The common theme is that while voters in battleground states are overwhelmingly opposed to President Obama's handling of these key issues, their Democratic senators have blindly supported administration policy," he said. "As a result, it's been impossible for these senators to run as the 'independent voices' they've long claimed to be."

But Cecil isn't convinced that guilt by association is an effective ploy. If anything, he says, there are cases showing that it won't work. If the president's popularity was the sole deciding matter in the election, he noted, then Heidi Heitkamp wouldn't have won the North Dakota Senate race in 2012, when Obama lost the state by 21 points.

"If it was as just as simple as, 'Do you like or dislike the president, do you like or dislike Harry Reid, do you like or dislike what the Republicans are saying about national Democrats, therefore that automatically means you vote a certain way,' then we wouldn't need to have elections," said Cecil, who has focused his efforts on state issues and state-based local ground games. "We could just have a presidential election and turn it into a parliamentary system and dole everything out that way.

"It is possible that voters can make a decision about the two people who are actually on the ballot," he added. "They are running against the president and we are running against their candidates."
REAL LIFE. REAL NEWS. REAL VOICES.
Help us tell more of the stories that matter from voices that too often remain unheard.
BEFORE YOU GO
PHOTO GALLERY
Senate Seats Up For Grabs In 2014