WASHINGTON ― The Senate was supposed to spend the week discovering what it could pass to help undocumented immigrants who came to the U.S. as children.
They got the results on Thursday: For now, at least, it's nothing.
Multiple proposals fell short of the 60-vote threshold needed to pass the Senate during a series of votes on Thursday afternoon.
President Donald Trump's desired legislation received the fewest votes of all immigration measures considered by the Senate, going down by a margin of 39-60. Another Republican measure on so-called "sanctuary cities" failed by a vote of 54-45. And both bipartisan proposals failed by similar margins, one of them after a veto threat and an hours-long attack from the White House and Department of Homeland Security on both the amendment and its backers.
Now lawmakers will have to go back to the drawing board to find a way to help undocumented young people often called Dreamers, 700,000 of whom risk losing deportation relief because Trump ended the Deferred Action for Childhood Arrivals program. And they will have to do it with the knowledge that Trump isn't willing to compromise to get Democratic support ― something that could doom the entire effort.
Or maybe it already has. Before the vote on Trump's proposal, its lead backer told Democrats that if they want to help Dreamers, "this is it."
"This is your last chance to vote for a path to citizenship for all of the people that we have been talking about giving justice to and being compassionate about and bringing out of the dark," Sen. Chuck Grassley (R-Iowa) said on the Senate floor.
It's unclear what's next. Senate Republican leaders previously indicated they wanted DACA-related measures done this week. The "deadline" set by Trump when he rescinded the bill was March 5, at which point DACA recipients will begin to lose their protections in greater numbers.
House Speaker Paul Ryan (R-Wis.) said Wednesday that he wants to resolve the issue sometime in March, and that Congress has slightly more time due to court rulings that temporarily opened the program for renewal applications. The House GOP leadership is counting votes on a bill led by Rep. Bob Goodlatte (R-Va.) that offers only temporary status to DACA recipients, along with other elements of Trump's framework and many interior immigration enforcement measures beyond what the president asked for. Trump supports that plan as well, but it's unlikely to have the 218 votes needed for passage.
The Senate might be able to add DACA-related plans to the omnibus spending bill, possibly a stopgap measure without a path to citizenship, Majority Whip John Cornyn (R-Texas) told reporters after the vote. But he downplayed the idea of devoting considerable floor time to the issue in the near future.
The way the Senate debate shook out this week ― or didn't ― isn't a hopeful sign for the future. Trump backed a proposal that his allies repeatedly framed as a "generous" compromise and essentially told Democrats it was that or nothing.
Republican leaders seemed perfectly willing to go along, repeatedly saying that Congress needs to pass something the president supports. There's logic to the statement, but it glosses over another element of making law: They need to find legislation that Congress can pass, too. Trump and White House officials balked at any bipartisan proposals lawmakers presented.
Senate Majority Leader Mitch McConnell (R-Ky.) blasted Democrats after the vote for not supporting Trump's framework, and even accused them of not reaching across the aisle ― even though they'd made up a large proportion of the votes for bipartisan measures.
"Once again, when the hour came to actually make law instead of just making political points, our friends across the aisle were either unable or unwilling to get something done," McConnell said on the Senate floor after the votes. "After all the talk, all the talk, they hardly came to the table at all."
Senate Minority Leader Chuck Schumer (D-N.Y.) called on Trump to accept that his plan had failed and allow lawmakers to find a compromise.
"This vote is proof that President Trump's plan will never become law," he said in a statement after the votes. "If he would stop torpedoing bipartisan efforts, a good bill would pass."
The White House and administration took pains to attack the bipartisan proposal from Sens. Mike Rounds (R-S.D.) and Angus King (I-Maine) with members of the so-called "Common Sense Coalition." Within hours of its release Wednesday evening, the Department of Homeland Security put out a statement blasting the proposal as "the end of immigration enforcement in America." Later, the White House issued a veto threat. And then officials convened a call with reporters to bash it some more, speculating that some of its sponsors might have signed on without actually reading it.
The amendment ultimately fell short with a 54-45 vote ― earning more support than the president's plan.
White House and DHS officials said bipartisan measures did not wholly live up to Trump's framework. The president said he would approve a bill to grant a path to citizenship to up to 1.8 million Dreamers, both DACA recipients and people eligible for the program. But only if he gets a slew of other measures, too: border funding; changes to asylum law; the ability to indefinitely detain and deport immigrants, including children; ending the diversity visa lottery; and dramatically reducing family-based immigration pathways.
The White House and Republicans allies say this is a "generous" concession because Trump, who has spent months saying he wants to help Dreamers, is supporting a bill to do so, and for a broader population than just DACA recipients.
Democrats have said they're not willing to make certain compromises, although many have reluctantly said they would approve funding for a border wall and would make certain legal immigration changes. Immigrant rights activists, including many Dreamers themselves, have urged lawmakers to oppose legislation that would help undocumented young people while harming other immigrants.
That leaves Dreamers waiting and uncertain what their future will hold. If Congress does nothing, DACA recipients will continue to lose status each day, even though they are able to apply for renewal for now under temporary court orders. And when they do, they will lose their work permits and be at risk of deportation, because the Trump administration has argued it should detain anyone eligible for removal even if they're not considered a priority.
"Their falling out of status would not trigger them into being an enforcement priority," a White House official who declined to speak on the record told reporters on Thursday. "Of course, all of the laws of the United States are always enforced by DHS with individuals whom they encounter."
CORRECTION: A previous version of this story gave an incorrect tally for the vote on a measure concerning sanctuary cities. The measure failed 54-45, not 54-60. A previous version of this story also misstated the party affiliation of South Dakota Sen. Mike Rounds, who is a Republican.
Before You Go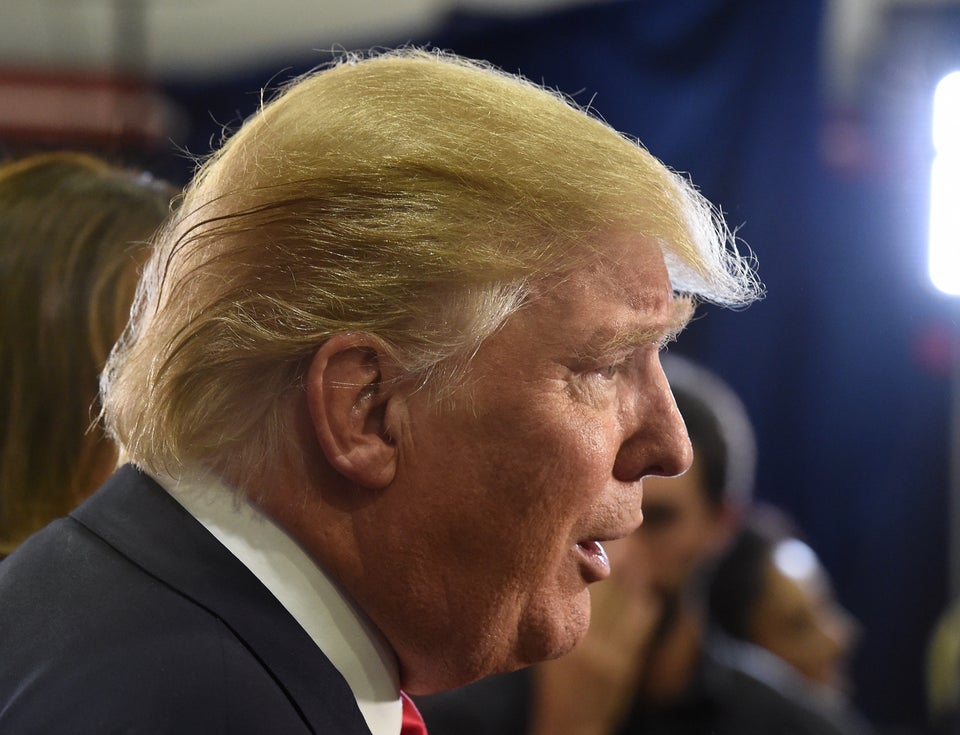 How Donald Trump Talks About Undocumented Immigrants
Popular in the Community