 Millions of Americans e-filed their income taxes Tuesday, but when senators submitted required reports about their campaign fundraising and expenses, most ignored computers in favor of paper.
According to a Center for Public Integrity review of Federal Election Commission records, just 21 lawmakers voluntarily e-filed copies of their first-quarter reports to meet Tuesday's filing deadline.
That's about a three-fold increase from three years ago — although it's far from a majority in the august body that has long cherished its old-school traditions.
The 21 lawmakers who voluntarily e-filed this quarter were Sens. Mark Begich, D-Alaska; Barbara Boxer, D-Calif.; Thad Cochran, R-Miss.; John Cornyn, R-Texas; Joe Donnelly, D-Ind.; Dianne Feinstein, D-Calif.; Al Franken, D-Minn.; Kirsten Gillibrand, D-N.Y.; Martin Heinrich, D-N.M., Angus King, I-Maine; Tim Johnson, D-S.D.; Patrick Leahy, D-Vt.; Claire McCaskill, D-Mo.; Jack Reed, D-R.I.; Bernie Sanders, I-Vt.; Chuck Schumer, D-N.Y.; Jon Tester, D-Mont.; Elizabeth Warren, D-Mass.; John Walsh, D-Mont; Sheldon Whitehouse, D-R.I.; and Ron Wyden, D-Ore.
Neither senators nor Senate candidates are required to e-file their campaign finance reports — unlike the thousands of political action committees, presidential candidates or their colleagues in the U.S. House of Representatives.
Currently, senators must submit their campaign finance reports on paper to the secretary of the Senate, where they are scanned and then forwarded to the FEC.
In a process that lasts weeks, the agency subsequently prints the documents and delivers them to a private contractor, which performs the data entry work necessary to make the information searchable and sortable in electronic databases.
A bipartisan bill sponsored by Tester, however, would change that.
Senate Minority Leader Mitch McConnell, R-Ky., however, has "objected to passing the bill by unanimous consent," Tester spokeswoman Marnee Banks said.
"Sen. Tester is working to remove the objection and get the bill the vote it deserves," Banks added.
A spokesman for McConnell did not respond to requests for comment.
Chris Gallegos, a spokesman for Cochran — a longtime supporter of e-filing — told the Center for Public Integrity that "this commonsense legislation could be passed" with "some agreement from the leadership in the Senate."
In the meantime, observers don't expect a deluge this year of new voluntary e-filers, Democrat or Republican.
"We see no need to duplicate the work," said Brooke Sammon, a spokeswoman for Sen. Marco Rubio, R-Fla.
Rubio's leadership PAC, Sammon added, "files immediately online," as federal law requires.
This story was originally published by The Center for Public Integrity, which is a nonprofit, nonpartisan investigative news organization in Washington, D.C.


Before You Go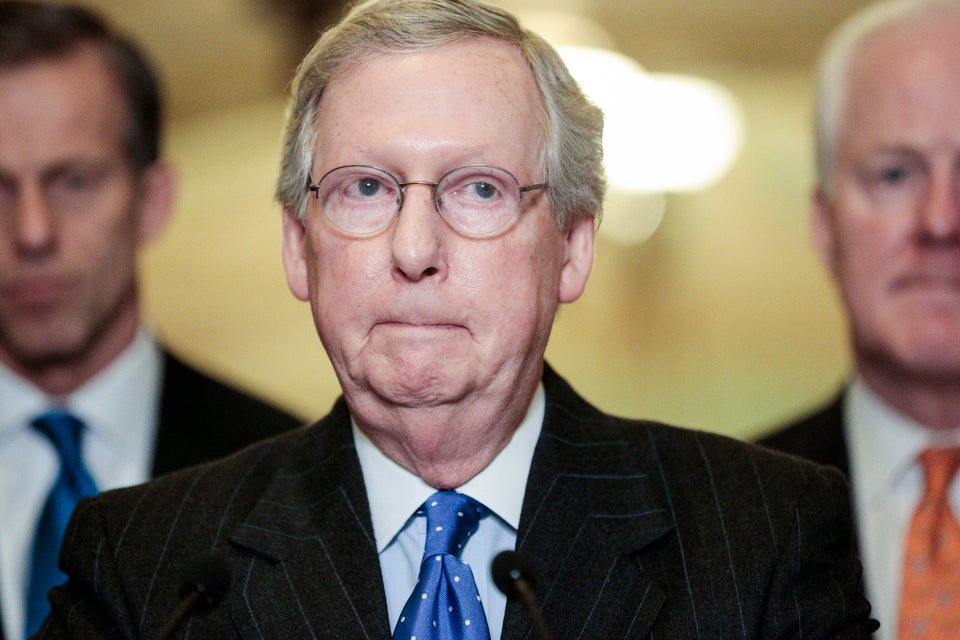 Say Cheese! Mitch McConnell Smiles
Popular in the Community