WASHINGTON -- On Dec. 8, 2011, Senate Republicans blocked the confirmation of Richard Cordray, President Barack Obama's nominee to head his signature consumer watchdog agency. Cordray had 53 votes in his favor. But Republicans were filibustering, meaning Democrats needed 60 votes to break it.
The problem, Republicans said, was not with Cordray, a former Ohio attorney general, but with the structure of the Consumer Financial Protection Bureau. They vowed to block any nominee unless significant structural changes made the consumer bureau more accountable to Congress. The GOP's demands included putting in place a five-member board rather than a single director, and a requirement that the agency's budget be approved through the appropriations process, which would have allowed Republicans to defund it.
On Tuesday morning, 71 senators voted to move forward on Cordray's confirmation, including 17 Republicans. Later in the day, Cordray was confirmed by a vote of 66-34. None of the GOP demands had been met.
So what changed? The politics around the filibuster.
In exchange for not going nuclear in the Senate -- changing the rules for approving presidential nominees -- Majority Leader Harry Reid (D-Nev.) won Cordray and six other Obama nominations related to environmental, labor and consumer issues.
Reid was, for Reid, jubilant. When he spotted a HuffPost reporter in his office Tuesday afternoon, he joked, "I haven't had a chance to tell you about it, but I have a helluva good story on Romney's tax returns that nobody has," referencing a previous interview he'd given.
Obama called Reid Tuesday to congratulate him, and had earlier called a handful of Democrats who had been reluctant to support the nuclear option, including Sen. Dianne Feinstein (D-Calif.). For all the celebration at both ends of Pennsylvania Avenue, a handful of junior members of the Senate made the Democratic victory possible.
Reid acknowledged as much Tuesday by sharing his weekly press conference with progressive Sens. Jeff Merkley (D-Ore.) and Tom Udall (D-N.M.), two outspoken advocates of filibuster reform whose fight to improve Senate functionality dates to early 2009.
The image of the three men standing together was a far cry from January, when Reid brokered a modest rules change with Senate Minority Leader Mitch McConnell (R-Ky.) that left the likes of Merkley and Udall dissatisfied. In that fight, Merkley, backed by a coalition of more than 70 progressive and labor organizations, spearheaded a proposal with far-reaching consequences (it would have ended the silent filibuster) and pushed for Reid to use the nuclear option.
The resulting dynamic between the two Democrats at times grew tense, with Reid once scolding Merkley for urging donors to pressure members of their caucus who were reluctant to go nuclear. But even though he didn't adopt the demands of his more progressive members, Reid came to agree with them as the GOP obstruction continued immediately after the January deal.
Republicans mounted filibusters on three of Obama's cabinet nominees -- Defense Secretary Chuck Hagel, CIA director John Brennan, and EPA nominee Gina McCarthy. Hagel and Brennan were later confirmed, but not without drama and delay. McCarthy's fate hung in the balance until this week. The obstructionism climaxed when Republicans continued to block Caitlin Halligan, Obama's pick to serve on the D.C. Circuit Court of Appeals, forcing the president to withdraw the nomination.
This time, rather than battling, Reid and Merkley were working from the same script. Labor unions, which had waged an expensive campaign last winter to pressure Democrats to reform the filibuster, stayed mostly quiet this time around, as Reid appeared genuinely invested.
"Merkley was pushing Reid very hard in January, and Reid had the whole caucus to manage," said a Senate Democratic aide who wouldn't agree to be named. "But they talked it out when the deal was struck and appreciated each other's efforts. We saw shortly after Merkley and Reid working together, and that's what made this effort different -- everyone working together."
Illinois Sen. Dick Durbin, the No. 2 Democrat, praised Merkley's relentless focus on the filibuster after the cloture vote on Cordray.
"He's been a singular force in the Senate to have us reassess the rules of the Senate to make certain that they are serving the needs of our nation," Durbin said on the floor. "I know that he felt a great sense of satisfaction with the vote that just was cast on the floor, a vote which 71 senators voted to end cloture."
The deal worked out with a handful of Republicans, led by Sen. John McCain (R-Ariz.), gave a pass to five of the nominees, but required that two of them -- recess appointees to the National Labor Relations Board -- be replaced. Democrats argued the resolution was unfair, as the nominees themselves were not opposed, and they were only appointed during recess because Republicans wouldn't agree to an up-or-down vote.
"The administration was immediately on board" with the NLRB solution, said a senior Senate aide involved in the negotiations. "They didn't want the place to blow up. The White House worked all day Saturday and Sunday trying to find new nominees, and the secret was they couldn't find anybody."
Labor leaders, particularly the AFL-CIO's Richard Trumka, were steadfast against dumping the two NLRB nominees, and Reid and Trumka spoke repeatedly with little progress. Finally, early Tuesday, the AFL-CIO's executive committee convened a conference call and also invited the Service Employees International Union's Mary Kay Henry, who was in favor of the compromise.
"Mary Kay Henry knew immigration was dead. How can you say to John McCain, 'Yeah, you made a good faith effort [on staving off the nuclear option], but we still wanna work with you on immigration,'" said the aide involved in the talks. "Immigration was on our mind."
Meanwhile, Reid continued to pick up support for the nuclear option from the few Democratic holdouts, including Sens. Mark Pryor (Ark.), Max Baucus (Mont.) and Joe Donnelly (Ind.). Pryor emailed Reid over the weekend to say that he'd be with him if it came to a showdown, and Baucus, who hadn't previously supported going nuclear, said on Tuesday that he would have been with Reid if it had come to a vote. That left Sen. Carl Levin (D-Mich.) as the lone resister.
Reid met with McConnell on Monday afternoon around 4 p.m. "Mitch, I know you came to see me, but let me just start off by telling you: I have the votes," Reid told McConnell, according to an aide Reid briefed immediately after. "Say whatever you want, but I have the votes."
McConnell responded: "Here's my offer: You'll get all your nominees, but you have to agree that there'll be no more rules changes."
Reid talked it over with staff and decided to reject the offer, knowing he could get a better one either from McCain or by going nuclear.
The two leaders met again Tuesday morning, after Reid already had a deal. Sen. Chuck Schumer (D-N.Y.) was in Reid's office just before 10 a.m., when he learned of McConnell's meeting with Reid. "What's going on?" he asked, before quickly answering his own question. "He's in there trying to save face. He's trying to cut a deal because he knows we have McCain in the end."
McConnell aides said that the minority leader was always willing to negotiate, and that the high-stakes showdown was never necessary, noting past offers to approve new NLRB nominees that were not appointed in an "unconstitutional" way. Democratic aides noted that the reasoning is undermined because McConnell had never before expressed willingness to let Cordray go through, even though he was appointed under the same "unconstitutional" process.
During Tuesday's weekly caucus lunch, Durbin noted that Reid had personally spoken to every single Democrat. Sen. Elizabeth Warren (D-Mass.), one of Cordray's fiercest supporters, who had worried the leadership would weaken the agency in order to confirm the director, was overheard saying, "I'm a believer."
Reid's ability to change to the rules -- or at least to threaten to do so -- may come up again before this session of Congress is over. A Democratic aide involved in the talks said that fewer than half of the caucus members are passionately in favor of rules reform, while the rest are willing to do it to overcome obstruction if Reid asks them. But the faction pushing for major reform will only strengthen, he said, if Republicans revert to the same parliamentary tactics after these seven nominees go through.
"Even those who are on the fence, they're going to say, 'They didn't learn a frickin thing,'" he said.

Before You Go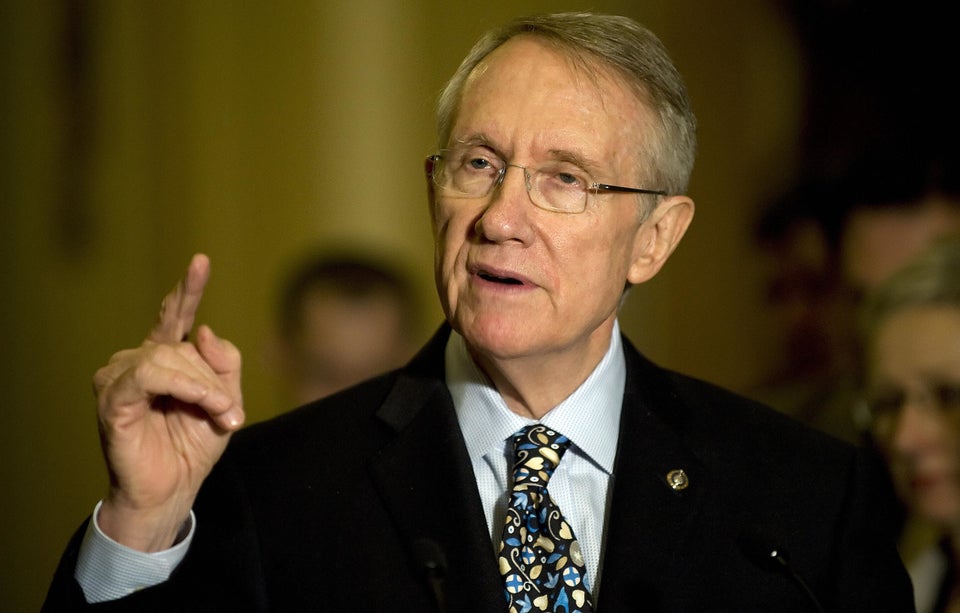 Senate Majority Leaders Through The Years
Popular in the Community