WASHINGTON -- Senate Republicans filibustered President Barack Obama's third and final nominee to the U.S. Court of Appeals for the D.C. Circuit on Monday, leaving Democrats with two options for filling the court's empty seats: change the rules and take away the GOP's power to filibuster certain nominees, or call it a day.
As expected, Republicans lined up to block a procedural vote for Robert Wilkins. His nomination needed 60 votes to advance. Instead, the Senate voted 53 to 38, with just two Republicans, Sens. Susan Collins (Maine) and Lisa Murkowski (Alaska), siding with Democrats to let him get a confirmation vote.
The GOP blockade on Wilkins was no surprise. In the last month, Republicans filibustered Obama's two other D.C. Circuit nominees, Patricia Millett and Nina Pillard. They'll readily admit their opposition isn't personal; they just don't want Obama to put any of his nominees on the court. Some argue the court isn't busy enough to warrant filling its three empty seats, and others make the counterintuitive argument that Obama is "court-packing" by filling vacancies. Both arguments gloss over the fact that the president has a constitutional duty to fill empty seats on a court.
Democrats have been warning for weeks that they're prepared to invoke the "nuclear option" and strip Republicans of their ability to block Obama's nominees if they keep filibustering. With Wilkins' vote now blocked, Democrats have to decide if they have it in them to change institutional rules that both parties are typically reluctant to mess with.
Senate Majority Leader Harry Reid (D-Nev.) and other Democratic leaders are expected to weigh their next steps in a Monday night leadership meeting. One idea being considered is stripping Republicans' ability to filibuster judicial and executive nominees, but not nominees to the Supreme Court. Aides emphasized that nothing has been decided, however, and leaders will likely discuss their options with the full Democratic caucus during lunch on Tuesday.
By the sounds of it during Wilkins' vote, some Democrats are ready to go nuclear right now.
"I fear that after tonight, the talk about changing the cloture rules for judicial nominations will no longer be just talk. There will be action," said Sen. Patrick Leahy (D-Vt.), chairman of the Senate Judiciary Committee. "We cannot allow this unprecedented, wholesale obstruction to continue without undermining the Senate's role provided in the Constitution and without harming our independent federal judiciary."
"When will we say enough is enough? Repeatedly over the past month, a minority of senators has blocked qualified nominees by abusing the Senate rules," Sen. Jeff Merkley (D-Ore.) said. "The rules on nominees are not working, and we need to change them."
But Republicans are largely shrugging off Democrats' threats, suspecting it's all talk. Senate Minority Leader Mitch McConnell (R-Ky.) said the real reason Democrats want to keep talking about the D.C. Circuit is to take attention away from the rocky rollout of the president's health care law.
Democrats are trying to "distract Americans from the failings of Obamacare," McConnell said ahead of Wilkins' vote. "I hope the Senate will focus on things people care about rather than spend its time trying to distract them."
Shortly after the vote, Obama railed against Republicans for blocking another of his key nominees.
"This obstruction is completely unprecedented," he said in a statement. "When it comes to judicial nominations, I am fulfilling my constitutional responsibility, but Congress is not. Instead, Senate Republicans are standing in the way of a fully functioning judiciary that serves the American people."
This is a developing story and has been updated.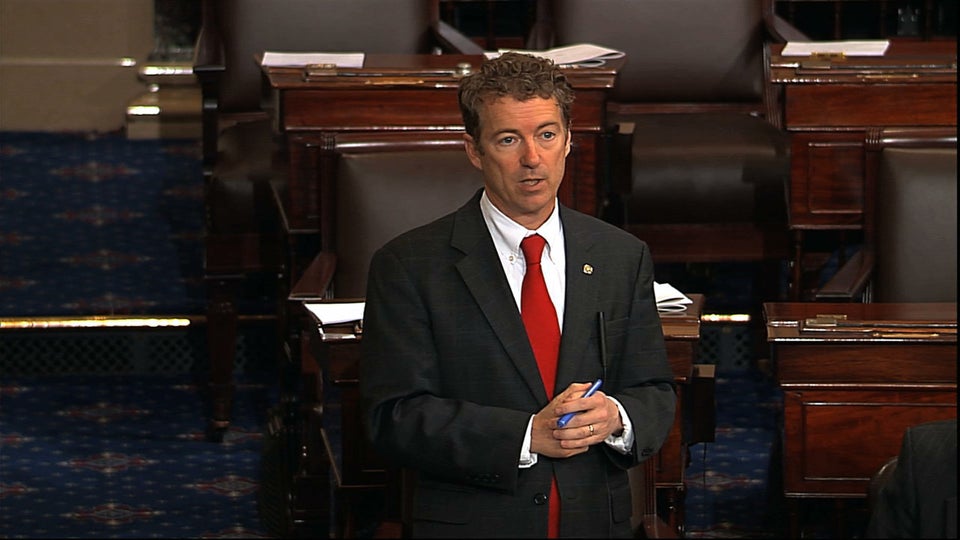 Rand Paul's Epic Filibuster