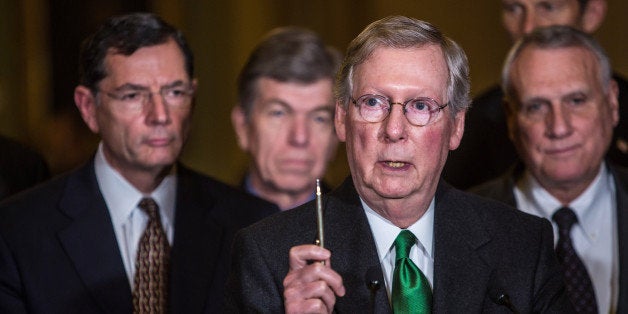 WASHINGTON -- It's been six months since Senate Democrats pushed through filibuster reform, a change that Republicans warned would have grave consequences and destroy comity in the refined upper chamber.
So what's happened since then? Two things: The president's nominees have largely been confirmed, and Republicans wasted hours of Senate floor time delaying those nominees before voting to confirm them anyway. At least 126 hours, to be exact.
Since December 2013, when Democrats changed the rules so that it only takes a simple majority to advance a president's nominees -- instead of the previous 60-vote threshold -- Republicans have voted to block 30 of President Barack Obama's nominees whom they ultimately ended up voting for. Thirteen of those nominees were even confirmed unanimously.
Take Diane Humetewa, for example, a judicial nominee for the U.S. District Court for the District of Arizona. Humetewa had the backing of her home state's two Republican senators, John McCain and Jeff Flake, and it was widely known that she was poised to make history as the first Native American woman on the federal bench.
Last week, 34 Republicans voted against letting Humetewa's nomination advance. Hours later, once Republicans let the clock run out on the allotted time for debate on her nomination, all of them voted to confirm her.
Or look at Douglas Harpool, a U.S. district court nominee in Missouri. In March, 43 Republicans voted against letting his nomination advance, including Sen. Roy Blunt, Harpool's home-state senator. Hours later, after dragging out the clock, 39 of those Republicans supported Harpool's confirmation. Blunt was among them.
This has happened consistently over the last six months. In February, 37 Republicans voted against advancing Connecticut district court nominee Jeffrey Meyer, and then, an hour and a half later, 37 Republicans voted to confirm him. In April, 41 Republicans voted against advancing Cynthia Bashant, a U.S. district court nominee for the Southern District of California, and later all 41 voted to confirm her. Just this month, 38 Republicans voted against advancing Kansas circuit court nominee Nancy Moritz, and then 36 of those Republicans turned around and voted to confirm her.
Here's a breakdown of all 30 nominees whom Republicans voted to block, and then voted to confirm anyway.
Republicans say their votes send a message about how unhappy they are about last year's filibuster reform. And those votes are just part of a broader GOP effort to delay nominees whenever possible.
Ever since December, when a nominee makes it to the floor, Republicans have routinely denied Senate Majority Leader Harry Reid (D-Nev.) their "unanimous consent" to begin debate, which means Reid has to use a more time-consuming process to move forward with each nominee. With consent from Republicans, a nominee could come up for a vote straight away. Without consent, Reid must schedule a debate on a nominee and wait for an intervening work day to pass. After that, each nominee gets anywhere from two to 30 hours of allotted debate time. Democrats typically concede their half of those hours, while Republicans run out the clock on their portion without actually debating the nominee.
The net effect, though, is that Republicans are voting to confirm the same nominees they're delaying for hours, days or even weeks at a time.
The Huffington Post tried to figure out a way to calculate all the hours Republicans spent delaying nominees they went on to support, but that proved too difficult. We did come up with a ballpark estimate for one metric: the total number of hours Republicans burned up in "post-cloture" time, the period allotted for debate on a nominee after he or she clears a procedural vote known as cloture.
In almost every case, Republicans ran out the clock during the post-cloture debate on the 30 nominees they supported. Based on the types of nominees that came up for votes (24 district court nominees, two circuit court nominees and four executive nominees at various levels) and the debate times allotted for each type of nominee, that amounts to roughly 126 hours spent doing nothing but burning up Senate floor time.
Reid regularly lambastes Republicans for delaying things for delay's sake. He did so again on Wednesday.
Don Stewart, a spokesman for Senate Minority Leader Mitch McConnell (R-Ky.), said that Reid should have expected Republicans to retaliate after Democrats changed the filibuster rules.
"Cloture is a vote to end debate," Stewart told The Huffington Post Wednesday. "After Sen. Reid broke the rules to change cloture, he should not be surprised if people aren't yet ready to end debate."
This story has been updated to include a comment from Sen. McConnell's office.
Calling all HuffPost superfans!
Sign up for membership to become a founding member and help shape HuffPost's next chapter
BEFORE YOU GO
PHOTO GALLERY
Conservatives Pointing Fingers