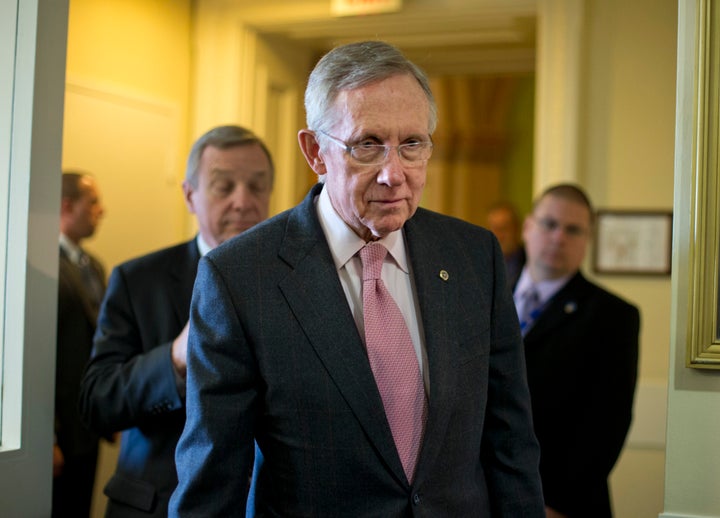 WASHINGTON -- Filibuster reform has a number of obstacles in front of it, but one that advocates didn't foresee could make the effort that much trickier come January -- the "fiscal cliff." In years past, the Senate opens its terms by swearing in new senators and then going into recess until the week of the inauguration.
When the Senate returns, it is still considered to be in its first legislative day, a time ripe for rules changes. But the upper chamber probably won't have that luxury this year, because fiscal cliff negotiations will have jammed right up against the new year, and will need to be legislated in order to avert the automatic tax increases and spending cuts. That means advocates will need to have everything lined up for filibuster reform -- the legislative package and the votes -- much sooner than they would have otherwise.
On Thursday, proponents of filibuster reform huddled in the Capitol to shape their strategy. Even if legislative language is released as early as next week, as is expected, the timeline to get everyone on board is short.
If the Senate can't do a rule change before handling the fiscal cliff, they won't be legally prevented from taking it up later, but the politics get tougher. If the Senate holds the vote after the first legislative day, "the rules can be changed with a majority vote threshold on any day by overturning rulings of the chair," Senate Majority Leader Harry Reid (D-Nev.) spokesman Adam Jentleson said.
Democrats still haven't settled on what to do -- or whether they have the votes. Sen. Chuck Schumer (D-N.Y.), who is third-in-command among Senate Democrats, told HuffPost "there's very broad support in the Democratic Party for changes" but they had not decided an exact plan. They would prefer to get votes from both parties so that what critics call the "nuclear option" -- pushing reforms through without the support of two-thirds of the chamber -- can be avoided, he said.
"Everyone would say the ideal would be to get a good agreement where you get two-thirds. If you can't, we'll see what happens," he said. "I would say there are 90 members of this chamber, a significant majority of both parties, which would like to see something change and are fed up with how the Senate works. It's a bipartisan yearning to fix it. Whether we can come to an agreement or not between the parties, we'll see."
Forcing a vote on the filibuster with a simple majority would likely be controversial in either case, given strong opposition from Republicans. Senate Minority Leader Mitch McConnell (R-Ky.) said in November that using the nuclear option would damage work in the future.
"Let's be clear: The rules change that's being proposed is not an affront to me or to the Republican Party. It's an affront to the American people," he said then. "It's an affront to the people who sent me and the other 46 Republicans here to represent them in the Senate, but whose voices would be shut out if the majority leader and this cohort of short-sighted Senate sophomores have their way and permanently change this body."
A McConnell spokesman did not respond to a request for comment on whether a day-one vote would receive the same level of opposition as a later one.
Shane Larson, legislative director with the Communications Workers of America, which is leading the effort from the outside, said that while technically the majority can do whatever it wants with 51 votes, the fiscal cliff could suck the oxygen from the filibuster fight if advocates let it slip into late January or February.
"The senate operates outside the bounds of physics and time, so they can keep themselves in the first legislative day for as long as they want," Larson acknowledged to HuffPost. But, he said, "As it looks like we're more likely to go off the cliff, we feel this would be best addressed immediately. I just feel like the fiscal cliff debate is going to take so much energy and there could be so much passion around it that there might not be the appetite to tackle rules reform."
A majority of Americans believe senators should need to stand on the floor and actually talk if they want to filibuster a bill, "Mr. Smith Goes to Washington"-style, according to a HuffPost/YouGov poll released Nov. 30. Reid said last month that he has been hearing the same statement from voters across the country, and plans to attempt to make that the case.
Michael McAuliff contributed reporting.
Before You Go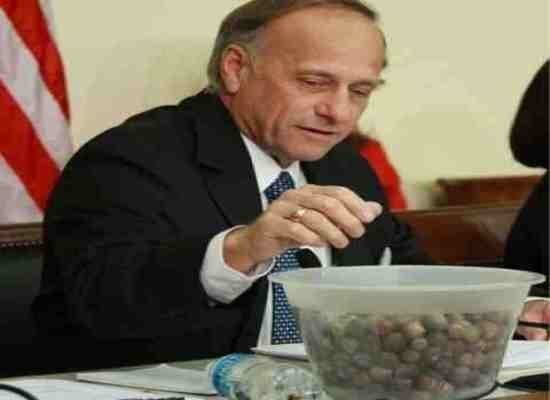 More Crazy Examples of Congressional Theatrics
Popular in the Community