WASHINGTON -- Advocates of what's come to be called the "talking filibuster" are closing in on the majority needed to reform the rules, according to a whip count compiled by The Huffington Post, based on interviews with Democratic senators and with reform advocates who have spoken with senators. Cross-checking the list with prior voting records and public statements indicates that Democrats could lock up as many as 52 votes by this week, when they are expected to introduce a rules reform package to be voted on in the new year.
An extraordinarily broad coalition of progressive and labor organizations is upping the pressure to include the provision in a package of rules reforms. The coalition of 48 liberal groups, Fix The Senate Now, sent a letter to Senate Majority Leader Harry Reid (D-Nev.) and his colleagues in leadership on Monday morning. A copy was provided exclusively to HuffPost and it calls for a variety of reforms, including the talking filibuster being pushed by Sen. Jeff Merkley (D-Ore.). Another far-reaching reform the group asks for is to put the onus on the minority to find 41 votes to block legislation, rather than forcing the majority to find 60.
Reid has vowed to press forward at the beginning of the next Congress, and the coming week is crucial for reform. The entire caucus is expected to meet to come to a consensus around what specific reforms to propose, and the leadership is scheduled to meet to strategize on the way forward.
Nailing down at least 50 votes, however, doesn't guarantee success. Advocates worry that Reid may use the prospect of victory on the most ambitious reform to persuade Minority Leader Mitch McConnell (R-Ky.) to cave and agree to a milder set of reforms. Those would likely include provisions that would speed up the pace of action in the Senate without altering the fundamental nature of minority rights. Under the current rules, the minority can filibuster the same piece of legislation multiple times throughout the process, requiring Reid to pull together 60 votes each time, and then wait a prescribed 30 hours before the next vote. Even if the majority has 60 votes, these multiple filibusters can chew up a full week of Senate time on just one bill. Reid has proposed disallowing the filibuster on a motion to proceed to debate, and also barring filibusters on efforts to set up a conference committee to deal with legislation that has already passed the Senate. Reid also wants to streamline the nomination process, and cut out some of the time it takes to move judges through by limiting debate once a filibuster has been defeated. Republicans and some Democrats, meanwhile, want rules written that would open up the amendment process. If Republicans agree to some of the changes pushed by Reid, he may be inclined to shelve Merkley's proposal for the talking filibuster, even though it appears to have enough votes to pass.
A recent HuffPost/YouGov poll found wide support for requiring senators to take the floor in order to filibuster, with 65 percent in support and only 9 percent opposed.
The talking filibuster is the most ambitious reform on the table. A version of it, also backed by Merkley, came to a vote in early 2011, when it was defeated 49-46. Five of those yea-voting Democrats are no longer in the Senate, leaving reformers with a base of 41 votes. One Democrat who didn't vote, Sen. John Kerry (Mass.), supports the talking filibuster, putting the tally at 42.
Eight incoming senators who caucus with Democrats have expressed support for it -- Tammy Baldwin (Wis.), Elizabeth Warren (Mass.), Martin Heinrich (N.M.), Heidi Heitkamp (N.D.), Mazie Hirono (Hawaii), Tim Kaine (Va.), Chris Murphy (Conn.) and Angus King (Maine) -- putting the number at 50. Simply having voted for a similar measure in the past, and expressing support for the concept subsequently, however, doesn't guarantee that a senator will support it again. Once Democrats release their full package of proposed reform, the process of firmly nailing down 51 votes begins in earnest.
But if those who have backed reform in the past combine with senators who have more recently voiced support for it, Vice President Joe Biden or Reid would both be in a position to put the measure over the top. The Constitution allows the vice president to break ties in the Senate.
There may be one more possibility: Sen. Dianne Feinstein (D-Calif.) didn't vote in 2011, and has been presumed to be opposed to major changes. But on Thursday she told HuffPost that she has met with Merkley and plans to study his proposal with an open mind. "I was just talking with him. I have his paper. I'm looking at it. We'll see," she said. Asked if she'd back Reid's move to change the rules absent a deal with Republicans, she didn't rule it out. "Well, that's a hypothetical question, I don't really know what the answer to it is. I will only say this: I think the time has come to look at real reform. I'm one that believes very strongly that cloture should not be allowable on a motion to proceed. We're here to debate. We're adults. This is a body, a hundred of us, to vote," she said. "To protect that absence of a vote by cloture you never have to take a position on the issue."
Democratic opponents in 2011 include Sens. Carl Levin (Mich.), Mark Pryor (Ark.) and Max Baucus (Mont.). Levin is the most outspoken opponent of rules changes within the caucus. Pryor, meanwhile, dramatically increased his stature thanks to his involvement in the 2005 "Gang of 14" -- a bipartisan group of senators who thwarted then-Senate Majority Leader Bill Frist's (R-Tenn.) attempt to change the rules to overcome Democratic filibusters of GOP judicial nominations. Pryor appears reluctant to take part in an effort that would undermine the image he crafted as a leader of the Gang of 14. He is also up for election in 2014 and likely worried about appearing overly partisan. In 2010, Pryor's Democratic colleague from Arkansas, former Sen. Blanche Lincoln, was wiped out in a landslide.
Under the current rules, the Senate majority could in fact force the opposition to continue talking, by keeping 51 senators on the floor at all times. Reid has employed that maneuver in the past, to no avail, and it's exceedingly difficult to pull off for an extended length of time.
Before Democrats vote on the talking filibuster or any other rules reforms, they would first have to vote to change the rules with fewer than two-thirds of the chamber in support -- what proponents call the "constitutional option" and what critics call the "nuclear option."
A number of senators who had been leery of going nuclear now are ready to press the button. "Democrats are considering three rules changes, and in the best of all worlds I wish we could just to do them on a bipartisan basis and come very close to what's being discussed," Sen. Tom Carper (D-Del.) told HuffPost. "If we can't, then at the end of the day, the need for change is so dramatic that we should use this constitutional approach."
Before You Go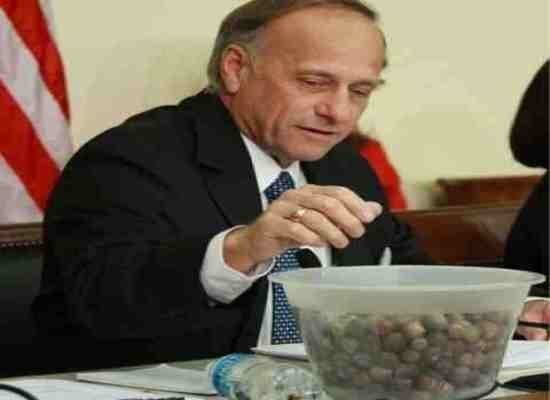 More Crazy Examples of Congressional Theatrics
Popular in the Community