WASHINGTON -- Senate Democrats who were previously opposed to changing filibuster rules via the "nuclear option" are so fed up with GOP obstruction of the president's nominees that they now say they want to go nuclear.
"I am very open to changing the rules for nominees," Sen. Barbara Boxer (D-Calif.) told The Huffington Post. "I was not before, because I felt we could work with them. But it's gotten to an extreme situation where really qualified people can't get an up-or-down vote."
"I do now," Sen. Dianne Feinstein (D-Calif.) told reporters when asked if she supports filibuster reform. She said she changed her mind on the issue after watching as a bipartisan deal to let President Barack Obama's nominees get votes, struck over the summer, went nowhere.
"We had a meeting in the Old Senate Chamber and everybody had an opportunity ... to really express themselves," Feinstein said of the summer meeting. "I thought it was going to bring about a new day. The new day lasted one week, and then we're back to the usual politics."
She called it "unconscionable" for a president not to be able to have his cabinet team and judicial appointees get votes. She specifically singled out Republicans' treatment of Obama's three nominees to the D.C. Circuit Court of Appeals. All three have been filibustered in the past few weeks. In total, there are now 21 nominees either currently being filibustered or who were filibustered and ultimately withdrew.
"This kind of behavior usually happens in the last six months of a president's tenure," Feinstein said. "But not now."
Neither Boxer nor Feinstein could say whether they thought Democrats had the 51 votes needed to invoke the so-called nuclear option, or the use of archaic Senate procedures to change the rules to strip the minority party of its ability to filibuster nominees. But both said the level of frustration among Democrats is at peak levels right now.
The fact that GOP senators were responsible for filibustering all three of Obama's D.C. Circuit nominees, all of whom were qualified and non-controversial, has "galvanized" Democrats to make changes, Boxer said.
Feinstein added, "If ever there's evidence for [a rules change], it is now."
Senate Democratic leaders still haven't said what they plan to do next. Majority Leader Harry Reid (D-Nev.) continues to keep his cards close, saying something needs to change, but stopping short of offering a concrete proposal. One plan under consideration would strip Republicans of their power to filibuster executive and judicial nominees, but not Supreme Court nominees. But Democratic aides emphasized that nothing is settled yet.
"I'm at the point where we need to do something to allow government to function," Reid told reporters Tuesday. "I'm considering looking at the rules."
Plenty of Democrats have been calling for filibuster reform for months, even years. But their talk hasn't turned into much action. Some Democrats bristled when asked if they thought their party had enough spine to follow through on a rules change.
"That's an interesting suggestion," Sen. Chris Coons (D-Del.) replied, with slight agitation. "The only reason it didn't happen before was an agreement was reached with Republicans. We've apparently reached the limit of that agreement," he added. "It's time to changes the rules for nominees."
"I'm in favor of changing filibuster rules for everything," said Sen. Tom Harkin (D-Iowa), adding that he would be "ecstatic" if Democrats revamped filibuster rules before he retires next year. "I've been wanting to change the rules for 17 years."
Sen. Joe Manchin (D-W.Va.) said he's "open" to the idea of filibuster reform for nominees, saying he sympathizes with Obama on the issue, given his own experience as a governor and an executive. "You have to get your team together," Manchin said. Asked why he thinks some of his colleagues remain reluctant to support changes, he shrugged.
"The easiest vote up here is the status quo and to vote 'no' on everything, I guess," he said. "But you've got to have movement."
At least one Democrat is still firmly opposed to using the nuclear option. Sen. Carl Levin (D-Mich.) said he's fine with a rules change, but only through standard procedure -- with a two-thirds vote, not a simple majority.

"I don't favor using the nuclear option, which violates the rules, to change the rules," Levin said. "I think the complications are so severe for a whole lot of causes."
Meanwhile, two other Democrats, Sens. Max Baucus (Mont.) and Claire McCaskill (Mo.), said they had no comment on the matter and walked away.
But asked if the recent filibusters of Obama's D.C. Circuit nominees have worn down her support for preserving the current rules, McCaskill suggested they have.
"A lot of things wear on me around here," she said over her shoulder. "That's certainly one of them."
Sabrina Siddiqui contributed reporting.
Support HuffPost
The Stakes Have Never Been Higher
Before You Go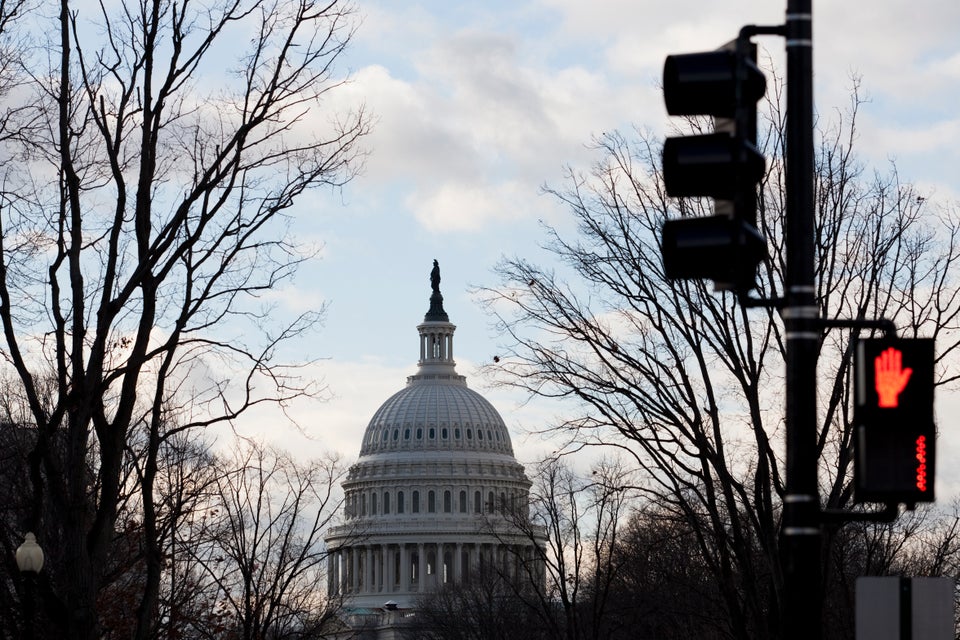 113th Congress Facts
Popular in the Community