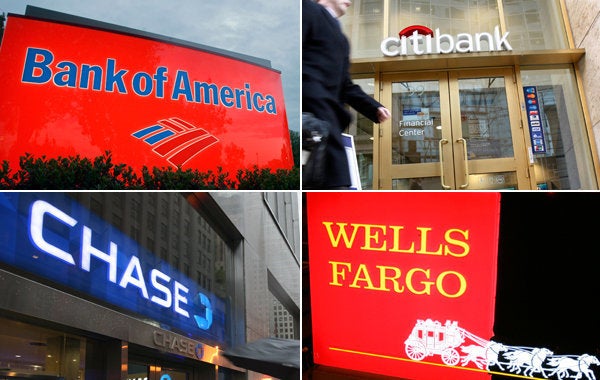 So much for ending Too Big To Fail.
The financial reform bill championed by the Obama administration and Senate Democrats as permanently ending the idea that large, interconnected financial institutions are too big to fail does no such thing, analysts at Moody's Investors Service cautioned today in a new report.
"[A] key issue that challenges the feasibility of the proposed legislation is that it would not fully eliminate the issue of interconnectedness, nor is it likely that resolution authority could fully eliminate the systemic implications of allowing a large and/or highly interconnected firm to default, especially with respect to large international groups, and it certainly would not eliminate the risk of contagion," the team of analysts led by Robert Young wrote.
"[T]he interconnectedness and contagion risks would not be completely eliminated, nor would the incentives and tools for regulators and the government to provide support via emergency liquidity or other programs that would continue to be part of the framework," they noted.
Some leading researchers, analysts and commentators have argued that the whole point of reforming the nation's financial system and the way it's regulated -- essentially the reason to even pass a reform bill -- is to end the idea that taxpayers would ultimately bail out megabanks and their smaller brethren the next these firms couldn't shoulder the consequences of excessive risk-taking.
That's exactly what happened in the fall of 2008 as taxpayers rode to Wall Street's rescue to save the very firms from collapse that ultimately caused the worst financial crisis and subsequent economic downturn since the Great Depression.
The hundreds of billions of taxpayer dollars that were pumped into these firms -- and the trillions they received in the form of implicit and explicit government guarantees -- to stave off an apocalyptic depression largely provided the impetus for Congressional action.
"The only way to avoid a crisis of this magnitude is to ensure that large firms can't take risks that threaten our entire financial system, and to make sure that they have the resources to weather even the worst of economic storms," President Barack Obama told top financial executives during a 2009 speech on Wall Street to mark the one-year anniversary of the collapse of Lehman Brothers.
"Even as we've proposed safeguards to make the failure of large and interconnected firms less likely, we've also created -- proposed creating what's called 'resolution authority' in the event that such a failure happens and poses a threat to the stability of the financial system.
"This is intended to put an end to the idea that some firms are 'too big to fail,'" he warned. "For a market to function, those who invest and lend in that market must believe that their money is actually at risk. And the system as a whole isn't safe until it is safe from the failure of any individual institution."
Though Moody's noted that the Senate bill makes them expect that government support will be less forthcoming, "there remains considerable uncertainty as to whether resolution powers could effectively allow for the failure of a large institution without adversely affecting other institutions," Young's team wrote.
"Never again will the American taxpayer be held hostage by a bank that is 'too big to fail,'" Obama said on Jan. 21.
A few hours before the Senate passed the bill authored by Banking Committee Chairman Christopher Dodd (D-Conn.), Obama delivered an eight-minute speech in the White House Rose Garden promising the end of taxpayer bailouts.
"Because of financial reform, the American people will never again be asked to foot the bill for Wall Street's mistakes," he said. "There will be no more taxpayer-funded bailouts -- period. If a large financial institution should ever fail, we will have the tools to wind it down without endangering the broader economy."
But the Moody's report isn't the first time experts have questioned whether the administration's plan, largely adopted by the Senate, will end Too Big To Fail.
Some, like Simon Johnson, former chief economist of the International Monetary Fund who now teaches at the MIT Sloan School of Management and contributes to the Huffington Post, have said that the mere complexity, size and international reach of financial behemoths like Citigroup and JPMorgan Chase makes it impossible for the government to safely resolve these firms.
In addition to Johnson, others have gone further, arguing that the best -- if not the only -- way to end Too Big To Fail is to shrink financial monstrosities down to a more manageable size. Federal Reserve Bank of Dallas President and CEO Richard W. Fisher, quoting Andrew Haldane, executive director for financial stability at the Bank of England, has suggested $100 billion in assets as one such threshold.
There are 23 U.S.-based bank holding companies that exceed that threshold, Federal Reserve data show. Four -- Bank of America, JPMorgan Chase, Citigroup and Wells Fargo -- hold more than $1 trillion assets. Three of those four hold more than $2 trillion.
James Bullard and Thomas Hoenig, heads of the St. Louis Fed and Kansas City Fed, respectively, also have advocated breaking up the nation's megabanks.
Democratic Senators Sherrod Brown of Ohio and Ted Kaufman of Delaware pushed an amendment to the Senate bill that would have forced roughly ten of the nation's largest banks to break up. Though three Republicans voted for it, the provision ultimately failed by a vote of 61 to 33. Dodd voted against it. The Obama administration opposed it, led by Obama's top economic adviser, Larry Summers, as well as Treasury Secretary Timothy Geithner.
"I believe this idea was sound policy -- and I further believe that a mainstream consensus will continue to grow that these megabanks are too large, too complex and too internally conflicted to regulate successfully," Kaufman said after his provision was defeated, echoing a position voiced by regional Fed presidents, former top Fed officials, and former top bankers on Wall Street.
In January, Summers outlined just how important ending Too Big To Fail is:
"Too big to fail is in many ways the central challenge here," he said. "Because when institutions are too big to fail, they gain a competitive advantage from the sense of government support. And so -- and that gives them an unfair competitive advantage.
"They are then able to take risks without market discipline, and when they take those risks, then they fail," he continued. "And if they're too big to fail, taxpayers are on the hook and the rest of the economy suffers, as we've seen."
The nation's four biggest megabanks collectively hold about $7.7 trillion in assets, according to their most recent regulatory filings with the Federal Reserve. That's about a $300 billion increase from the end of 2009, Fed stats show. It's also more than half of the nation's estimated total output last year.
Requests for comment e-mailed after business hours to Treasury and White House spokesmen were not immediately returned.
Popular in the Community