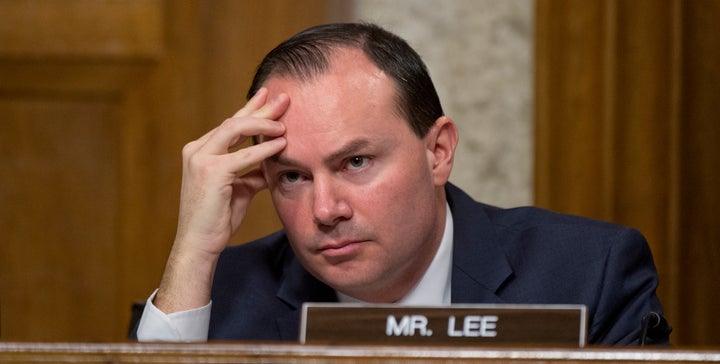 WASHINGTON -- Sen. Mike Lee doesn't think the U.S. Congress needs to get involved with the water crisis in Flint, Michigan.
The Utah Republican is preventing a vote on bipartisan legislation that would help cities get loans for infrastructure repairs if they face similar conditions.
"The only thing Congress is contributing to the Flint recovery is political grandstanding," Lee said in a statement on Friday. "The people and policymakers of Michigan right now have all the government resources they need to fix the problem."
Flint's water is unsafe to drink because of high levels of lead, which began leaching from the city's pipes in 2014 after the state failed to ensure the water was treated to prevent it from corroding the pipes. Democrats have heaped blame on Michigan Gov. Rick Snyder (R), who has apologized repeatedly. 
In January, Democrats proposed $600 million in direct assistance to Flint, but have since negotiated with Republicans on a $220 million measure that would make loan credits available to any city facing a water emergency. 
A spokeswoman for Sen. James Inhofe (R-Okla.), one of the Republicans who worked on the measure for weeks, said Monday that the senator is still negotiating. 
"Inhofe is working to address concerns from all parties involved and to find a responsible path forward for this fully paid-for solution, which allows all states to seek a loan to help their communities that are facing dangerous repercussions from aging water infrastructure," she said. 
Snyder and the Michigan state legislature have proposed $230 million worth of assistance, with $70 million already allocated for things like bottled water and beginning to replace lead pipes. Lee said the state can continue ponying up its own money. 
Lead is a national problem, however, with 10 million American homes and buildings getting water from lead pipes, according to the Environmental Protection Agency. It could cost hundreds of billions of dollars to replace them all. 
Sen. Debbie Stabenow (D-Mich.) said Friday she was surprised that Lee had used a procedural hold on the Flint-inspired measure instead of letting it get an up-or-down vote. 
"If Senator Lee opposes this bipartisan bill that is fully paid-for, he should vote against it, but he should not block it from even getting a vote," she said. 
Presidential candidate Sen. Ted Cruz (R-Texas) also placed a hold on the legislation, but released it after a review.  
Laura Barron-Lopez contributed reporting. 
REAL LIFE. REAL NEWS. REAL VOICES.
Help us tell more of the stories that matter from voices that too often remain unheard.