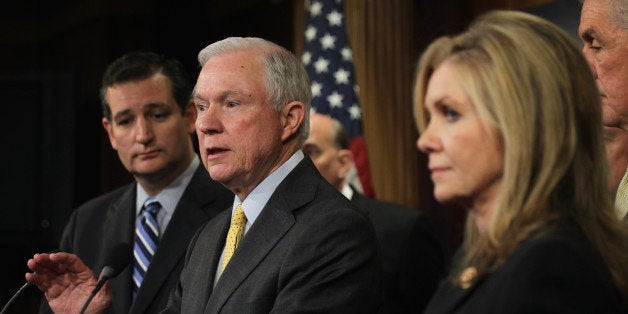 WASHINGTON -- Republican Sens. Jeff Sessions of Alabama and Ted Cruz of Texas made a failed attempt on Thursday get vulnerable Democrats on the record supporting so-called "amnesty" for undocumented immigrants.
The senators engaged in a procedural maneuver that would have allowed a subsequent vote on a bill from Cruz to block protections for undocumented immigrants. Cruz and Sessions challenged red-state Democrats in particular to join them in opposing President Barack Obama's executive action on immigration, which he recently delayed after pleas from some members of his party, who said it could hurt their chances in the midterm elections.
Republicans have no intention of letting up pressure on those vulnerable Democrats on immigration, and Thursday's motion offered a final opportunity to attack them for voting with the party on the issue.
"If we leave town without having passed a bill to block this executive amnesty, then it will be a permanent stain on the Senate, on the constitutional order, and this entire Democratic caucus," Sessions said on the Senate floor before the vote, which took place during debate over government funding. "So I urge my Democratic colleagues, I know the pressure is to stay hitched, to stay in line, but you do have the power to vote differently."
The effort narrowly failed in a 50 to 50 vote, but the senators succeeded in getting the attention of red-state Democrats: five of them voted with Republicans to open up amendments and allow for a vote against executive action on immigration. Those Democrats were Sens. Mary Landrieu (D-La.), Kay Hagan (D-N.C.), Mark Pryor (D-Ark.), Jeanne Shaheen (D-N.H.) and Joe Manchin (D-W.Va.). All but Manchin are up for re-election this year.
Cruz's measure would have blocked new applications for the Deferred Action for Childhood Arrivals program, or DACA, and prohibited Obama from further executive action on immigration that allowed undocumented immigrants to stay and work legally. DACA allows young undocumented immigrants who have been in the U.S. for years to apply to stay and work legally for two or more years, and so far has helped more than half a million people. If Obama makes broader moves to change immigration policy, as he has promised to do by the end of the year, millions more undocumented immigrants could receive reprieve.
Though Cruz's measure will not receive a vote, the issue is likely to come up again as Republicans try to paint vulnerable Democrats as pro-"amnesty."
"How many Senate Democrats, particularly in red states, go home to their states and say amnesty is a terrible thing, and then come back here and facilitate the president illegally granting amnesty?" Cruz said on the Senate floor. "How about we have some honesty? ... The truth is the 55 Senate Democrats want amnesty but they don't want the voters to know."
Although Republicans have opposed DACA since it was first announced in 2012, the rallying cries against it have grown louder this year after an influx of tens of thousands of unaccompanied minors crossing the border illegally. The new entrants would not be eligible for DACA, but Republicans argue that by creating the policy, the Obama administration sent the message that undocumented young people could stay if they made it here.
There has been a sharp decrease in unaccompanied minors crossing the border illegally since early in the summer. During that time, Obama has repeatedly vowed to take executive action on immigration, but recently delayed those plans until after the election.
Cruz has said his measure would not strip protections from current recipients, and a staff member from his office clarified that those already granted DACA protections could renew them but would not be granted work authorization.
The House voted 216 to 192 in August to end DACA and block Obama from actions to limit deportations in the future. Eleven Republicans broke with their party to oppose the measure, while four House Democrats voted in support.

Before You Go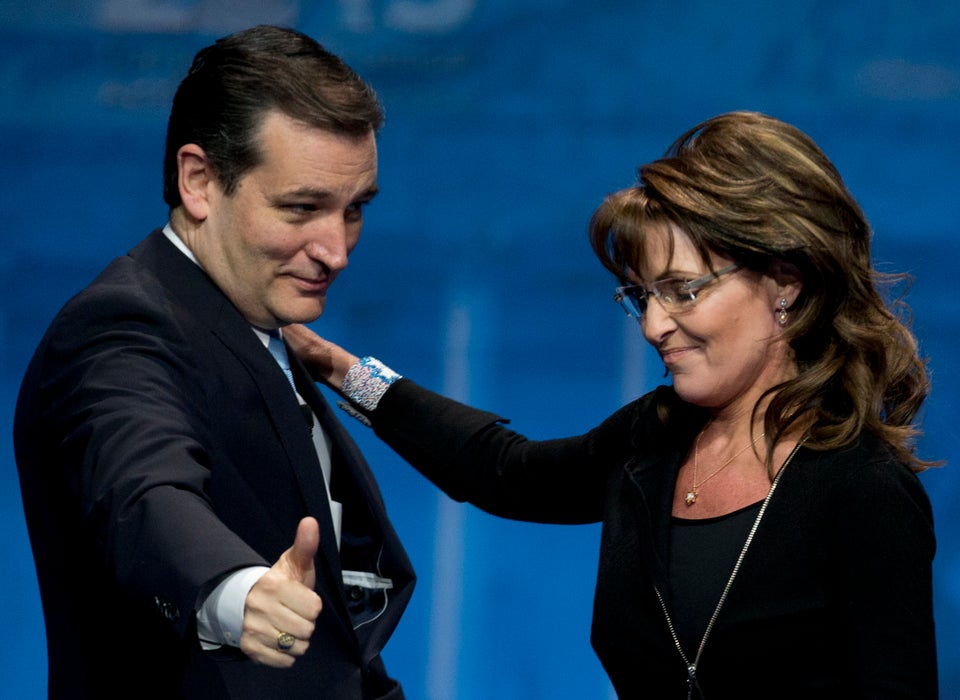 Sen. Ted Cruz
Popular in the Community