WASHINGTON -- Five of the most vulnerable Senate Republicans in the 2016 elections say they do not think the Senate should vote on a Supreme Court nominee put forward by President Barack Obama in the wake of the death of Justice Antonin Scalia.
"We're in the midst of a consequential presidential election year, and Americans deserve an opportunity to weigh in given the significant implications this nomination could have for the Supreme Court and our country for decades to come," Sen. Kelly Ayotte (R-N.H.) said in a statement Sunday. "I believe the Senate should not move forward with the confirmation process until the American people have spoken by electing a new president."
"I strongly agree that the American people should decide the future direction of the Supreme Court by their votes for president and the majority party in the U.S. Senate," Sen. Ron Johnson (R-Wis.) said Sunday.
On Monday, Sens. Rob Portman (R-Ohio) and John McCain (R-Ariz.) chimed in with similar comments. Portman said that with the election less than nine months away, "the best thing for the country is to trust the American people to weigh in on who should make a lifetime appointment that could reshape the Supreme Court for generations."
"This wouldn't be unusual," he said in a statement. "It is common practice for the Senate to stop acting on lifetime appointments during the last year of a presidential term, and it's been nearly 80 years since any president was permitted to immediately fill a vacancy that arose in a presidential election year."
There really is no perfect precedent for what is now happening with the Scalia vacancy. The Senate did confirm Anthony Kennedy to the Supreme Court in 1988, the final year of Ronald Reagan's presidency, although the spot had opened up the previous year.
When President Lyndon Johnson tried to elevate Justice Abe Fortas to the role of chief justice during the election year of 1968, the Senate filibustered and blocked him. But that wasn't all about timing -- there were also ethical concerns surrounding Fortas.
Immediately after news of Scalia's death broke on Saturday, Washington began speculating on whether Obama would be able to get a nominee through the Senate -- a move that could shift the ideological direction of the court more than any other appointment in the last 25 years.
Obama announced Saturday night that he plans to nominate someone when the Senate returns from its recess on Feb. 22.
But Senate Majority Leader Mitch McConnell (R-Ky.) has already told Obama not to expect any success, saying the Scalia vacancy "should not be filled until we have a new President."
Obama would have an uphill battle even in normal circumstances, since Republicans have a majority in the Senate. But McConnell and other Republicans are saying that they may not even bring Obama's nominee to the floor for an up-or-down vote for the rest of the year. (On average, it takes the Senate a little over two months to bring a Supreme Court nominee up for a vote.)
McConnell, of course, wants to wait until after the election, in hopes that the country chooses a Republican president.
That strategy, however, could backfire in the 2016 election, where Democrats have a real chance of taking back the Senate. As Politico noted, "After Republicans spent 2015 arguing that they have sped up congressional business and made Washington work since taking full control of Congress, blocking a Supreme Court nominee could put [vulnerable senators] in a tough spot."
"If Mitch McConnell and the GOP caucus follow through on their alarming plan to obstruct this Constitutional process, then voters will ensure they will not keep the majority for long," said Lauren Passalacqua, a spokeswoman for the Democratic Senatorial Campaign Committee.
But Republicans believe the court vacancy will not be a main issue, and that the economy and national security will drive people to the polls. And they believe they can go after Senate Democrats for obstruction if they hold up business over the Supreme Court nominee.
Democrats have to defend only 10 seats in 2016, the residual benefit of the shellacking they took in 2010 when tea party Republicans swept into office. The GOP, meanwhile, needs to defend 24 -- and six of them are in states that Obama won twice. The two Democratic seats most at risk are in Nevada and Colorado.
Ayotte, Johnson, Burr and Portman are among the Senate Republicans considered most at risk in 2016. Ayotte is facing a challenge from New Hampshire Gov. Maggie Hassan (D), Johnson is defending his seat against former Sen. Russ Feingold (from whom he won it in 2010), Portman is going up against former Ohio Gov. Ted Strickland (D) and McCain is facing Rep. Ann Kirkpatrick (D). Burr is facing a primary challenge and recently picked up a Democratic competitor in former state Rep. Deborah Ross.
Sens. Mark Kirk (R-Ill.) and Pat Toomey (R-Pa.), who are also facing tough re-election races, did not return requests for comment. Rep. Tammy Duckworth (D-Ill.), who is challenging Kirk, has called on the senator to "level with the people of Illinois" on where he stands.
On Saturday, Senate Minority Leader Harry Reid (D-Nev.) condemned Republicans for saying they don't even want to move forward with a potential Obama nominee.
"It would be unprecedented in recent history for the Supreme Court to go a year with a vacant seat," he said. "Failing to fill this vacancy would be a shameful abdication of one of the Senate's most essential Constitutional responsibilities."
Michael McAuliff contributed reporting.
This piece has been updated to include comment from Portman and McCain, and more information about Burr.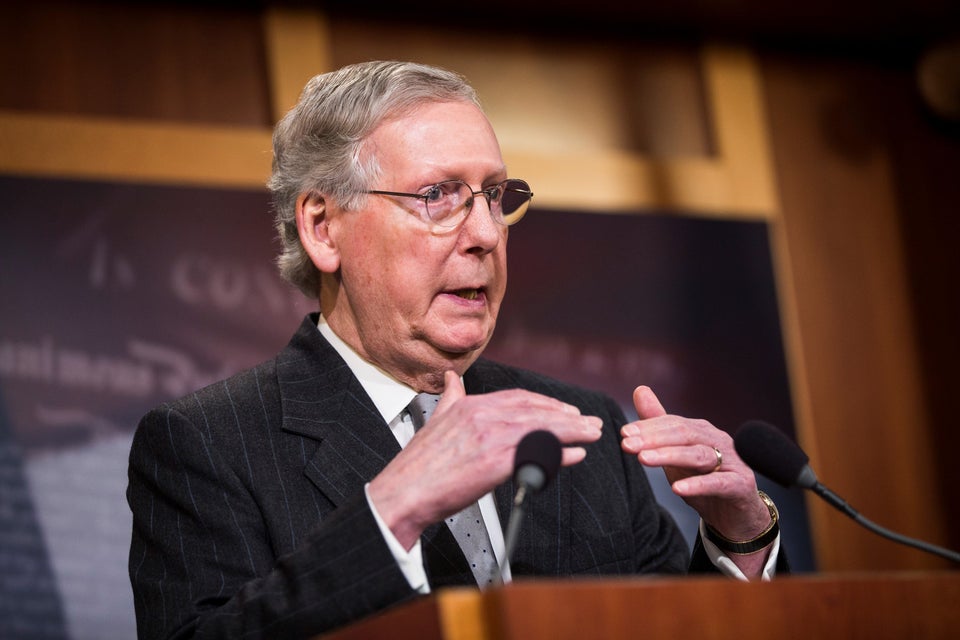 Reactions To Scalia's Death
Popular in the Community