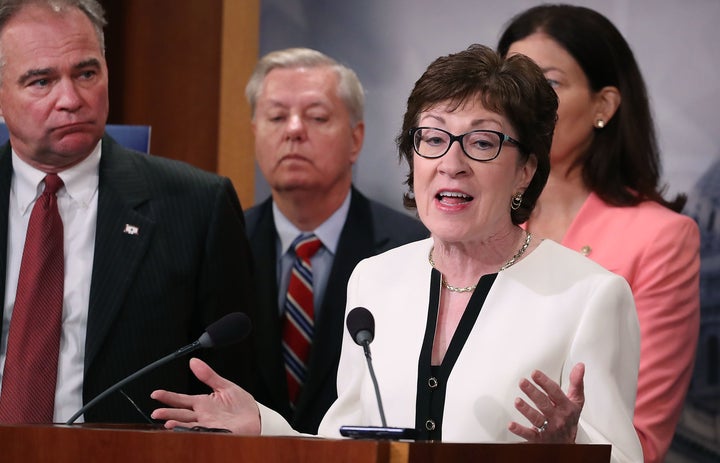 WASHINGTON -- Congress might (and that's a big "might") finally be getting ready to do something about gun violence. There's a catch, though. The effort will affect only about 0.00083 percent of the U.S. population.
A bipartisan group of senators, led by Sen. Susan Collins (R-Maine), unveiled a bill Tuesday that they think can unite people within the gun debate. It would ban firearm sales to the 81,000 people on the Transportation Security Administration's no-fly list, as well as another 28,000 "selectees" who can fly but are subject to extra screening.
The day before, the Senate had failed to pass any measure to deal with gun violence despite the Orlando, Florida, massacre in which a man who pledged allegiance to ISIS shot and killed 49 people in a gay nightclub. Instead, the lawmakers spent Monday voting down bills that would have tightened background checks on weapon sales and blocked people on all terrorist watch lists -- there are many -- from buying guns.
Nearly all Republicans opposed those measures, as did a couple of Democrats. Even lawmakers who voted no, however, realize that most Americans don't understand why the country should sell high-powered weapons to potential terrorists.
Enter Collins' compromise bill. Since it only targets people on two watch lists, it eases some GOP concerns about Americans who erroneously end up on such lists being denied their constitutional right to possess a gun. Democrats like the proposal because it's doing something to curb gun violence.
But the vast majority of people covered by the bill are foreigners. Approximately 2,700 of the individuals on those two lists are Americans, which is about as many as could fit into a suburban high school.
The legislation also would have had no effect on recent mass shootings, since even in the two cases of killers who had pledged allegiance to ISIS -- Orlando and San Bernardino, California -- they were not on the terrorist watch lists. 
And, of course, the Americans who are targeted by the bill could still buy weapons without background checks from some individuals at gun shows and in certain types of internet sales.
Yet such are the standards on Capitol Hill that just the announcement of this tiny, fractional step was greeted by many as a breakthrough.
"It's a great bipartisan proposal," said Sen. Heidi Heitkamp (D-N.D.), who voted against Democratic proposals on Monday but signed on to Collins' bill. "I applaud all of my colleagues who have taken what can only be a pretty terrifying-in-some-ways first step into trying to achieve bipartisan consensus on an issue that today is one of the most contentious issues."
"It's time to start putting progress in front of politics," said Sen. Martin Heinrich (D-N.M.), who favored the Democratic bills but also signed on with Collins. "I think we're all heartsick at the kind of terrible Groundhog Day feeling that we've had as we've seen shooting after shooting in this country."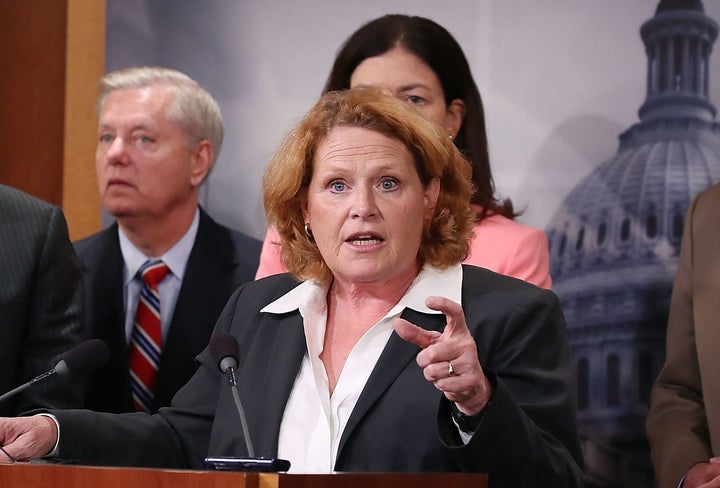 Despite its very modest scope, the legislation could still wind up going nowhere. The National Rifle Association, which has significant sway over members of Congress, announced that it opposes the bill.
"Keeping guns from terrorists while protecting the due process rights of law-abiding citizens are not mutually exclusive. Unfortunately, Senator Collins and others are focusing their efforts on unconstitutional proposals that would not have prevented the Orlando terrorist attack," Chris Cox, executive director of the NRA's legislative arm, said in a statement. "The American people want Congress to stop playing politics and pass policies that will keep them safe from terrorists."
Sen. Lindsey Graham (R-S.C.), a co-sponsor of Collins' bill and a proud owner of an AR-15, said he suspected the gun rights group wouldn't like the fact that the bill could prevent a small number of Americans from buying a gun. He also acknowledged the possibility that some Americans could end up on the no-fly list by mistake -- the bill includes an appeals process for removing their names.
But in a direct message to the NRA, Graham said he is willing to take a little risk to keep guns out of the hands of potential terrorists.
"I understand your concern but every right has boundaries on it," the senator said. "We're talking about a process where we can right a wrong for an innocent person. ... I am far more concerned people on this list will buy a gun and kill as many people as they could."
He added, "If we can't pass this, it truly is a broken system up here."
Collins said she has yet to talk to the NRA about her bill, but hopes they can see why it's important. "I would think that a person who is too dangerous to board an airplane is too dangerous to buy a gun," she said.
Some Democrats don't care what the gun rights group has to say. Sen. Chuck Schumer (D-N.Y.) referred to Collins' proposal as the "Buck the NRA Bill."
Democrats estimate that 15 to 20 Republicans would need to sign on to the bill to ensure it breaks the 60-vote filibuster threshold. Sen. Jeff Flake (R-Ariz.), a co-sponsor, said that could happen.
But his colleague, Sen. Dean Heller (R-Nev.), was less sanguine. "They don't have that today," he said with a laugh, when told of the Democrats' estimate.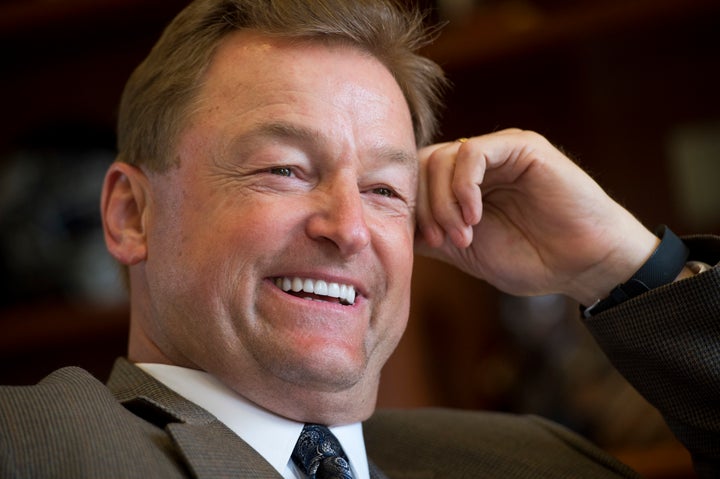 There's also the question of whether the bill, if it passed the Senate, would get a vote in the House. A spokeswoman for Speaker Paul Ryan (R-Wis.) punted the question to Majority Leader Kevin McCarthy (R-Calif.). A senior GOP leadership aide in McCarthy's office said only that it's "premature to say."
White House press secretary Josh Earnest suggested that President Barack Obama may support Collins' proposal, but said it's too early to tell.
"We're still assessing exactly how narrow it is and determining what kind of impact it actually would have," Earnest said in his daily briefing. "If we conclude that it would have a positive impact and at least prevent some suspected terrorists from being able to buy a gun, then it seems likely it's something the administration would be able to support."
For now, though, it's up to the Senate to get moving on the bill. Collins said she expects a vote as soon as this week.
Asked what he thinks will happen, Sen. Pat Roberts (R-Kan.) said gun control measures have long failed in the Senate, so he doesn't expect the latest push to be any different.
"This is one of those issues that is pretty cut and dried," he said. "I'm saying that people's views on this haven't changed much. It's just the way it is."
Laura Barron-Lopez contributed reporting.
REAL LIFE. REAL NEWS. REAL VOICES.
Help us tell more of the stories that matter from voices that too often remain unheard.
BEFORE YOU GO
PHOTO GALLERY
Kids At Orlando Vigils Around The World