WASHINGTON -- Just over a week after the worst mass shooting in American history, the Senate failed Monday to advance a pair of modest and popular gun violence reform measures.
One would have barred gun sales to anyone who has been on a terrorist watch list in the previous five years or who is "reasonably" suspected of posing a terrorist threat. Another would have tightened the background check system to cover the so-called gun show loophole and all internet gun sales. About 90 percent of the public favors such steps.
But neither of the proposals could get the 60 votes needed to advance.
The background checks amendment failed, 44 to 56. Sen. Mark Kirk (Ill.) was the only Republican who supported it. Sens. Heidi Heitkamp (N.D.), Jon Tester (Mont.) and Joe Manchin (W.Va.) were the only Democrats who opposed it.
The terrorist watch list amendment failed, 47 to 53. Kirk and Sen. Kelly Ayotte (N.H.) were the only Republicans who voted for it. Heitkamp was the only Democrat who opposed it.
A pair of competing amendments by Republicans also failed.
The votes were scheduled after Sen. Chris Murphy (D-Conn.) took control of the Senate floor last week in a 15-hour filibuster-style marathon aimed not at stopping something, but at spurring action on gun violence.
Senate Minority Leader Harry Reid (D-Nev.) saw the failure coming, and condemned it Monday, after reciting a long list of recent mass shootings.
"Instead of getting help from their elected officials, our constituents see a disturbing pattern of inaction," Reid said. "It's always the same. After each tragedy we try, we Democrats try to pass sensible gun safety measures. Sadly, our efforts are blocked by the Republicans in Congress who take their marching orders from the National Rifle Association."
Republicans who opposed Democrats' background check and watch list bills favored a measure by Sen. John Cornyn (R-Texas) -- and supported by the National Rifle Association -- that would delay a gun sale to someone on a watch list just three days, and require law enforcement to prove probable cause to a judge in order to stop the sale altogether. Democrats ripped that as unrealistic since if investigators have probable cause to suspect someone of terrorism, they would already be under arrest. It failed, 53 to 47.
The other GOP measure, sponsored by Sen. Chuck Grassley (R-Iowa), would have given more money to the agency that oversees gun background checks, but wouldn't have expanded those checks. It also would have made it more difficult to deem people mentally deficient for the purposes of buying, and made it easier to appeal. It failed, 53-47.
Still, Senate Majority Leader Mitch McConnell (R-Ky.) cast the GOP measures as common-sense steps aimed at thwarting terrorists and defending individual rights. He blamed law enforcement for not doing enough to curb gun violence. "We know weapons convictions are down more than 30 percent compared to a decade ago," McConnell said.
He insisted Republicans were just as interested as Democrats in dealing with the problem.
"Look, no one wants terrorists to be able to buy guns or explosives. No one," McConnell said.
He accused Democrats of merely using the issue to scare up votes.
"Instead of using this as an opportunity to push a partisan agenda or craft the next 30-second campaign ad, [we] are pursuing real solutions that can help keep Americans safer from the threat of terrorism."
After all the amendments failed, Democrats vowed they would keep pushing, even if they lack the votes now.
Sen. Bill Nelson (D-Fla.) cast the failure of the relatively modest measures as another moment of pain for the families of the victims and the wounded in Orlando.
"What am I gonna tell 49 grieving families? What am I gonna tell the families of those who are still in the hospital fighting for their lives?" Nelson said. "What am I gonna tell the community of Orlando that is trying to come together in the healing?
"Sadly, what I'm going to have tell them is the NRA won again," he said.
Still, Democrats were not able to describe a path forward, and had to explain how they would succeed in winning over more than a dozen Republicans when they lost Heitkamp on both of their bills and also lost Manchin and Tester, the head of the Senate Democrats' campaign committee, on the bid to tighten background checks.
"We should keep the focus on the Republicans. We're doing our job. Democrats are doing our job," said Reid. "Republicans are just about as phony as anyone can be. All they care about is taking care of the NRA."
Sen. Dianne Feinstein (D-Calif.), who wrote the bill aimed at potential terrorists, suggested the only way change might come was at the ballot box.
"I'm hoping that one day, the climate will change," she said. "We're going into an election season, and Mr. and Mrs. America, you have to stand up, and I'm going to vote only for people who will do something to close the terror gap, to keep guns out of the hands of people who are mentally incompetent, who are criminals and would use them illegally. Maybe, just maybe, this next election can produce something."
It was unclear how the Senate would act next. Sen. Susan Collins (R-Maine) had promised to bring forth a compromise measure on the terrorist watch list amendment that would use a more narrowly focused set of watch lists, but Democrats said they had yet to see it.
The NRA came to the defense of Republicans, calling the Democratic attempts to close loopholes an "embarrassing display."
"We all agree that terrorists should not be allowed to purchase or possess firearms. We should all agree that law-abiding Americans who are wrongly put on a secret government list should not be denied their constitutional right to due process," said Chris Cox, the head of the NRA's lobbying and political campaign wing, referring to concerns that there are people on various watch lists when they shouldn't be. "It is shocking that the safety of the American people is taking a backseat to political theatre."
This story has been updated to include comments from Feinstein, Reid, Nelson and the NRA.
Before You Go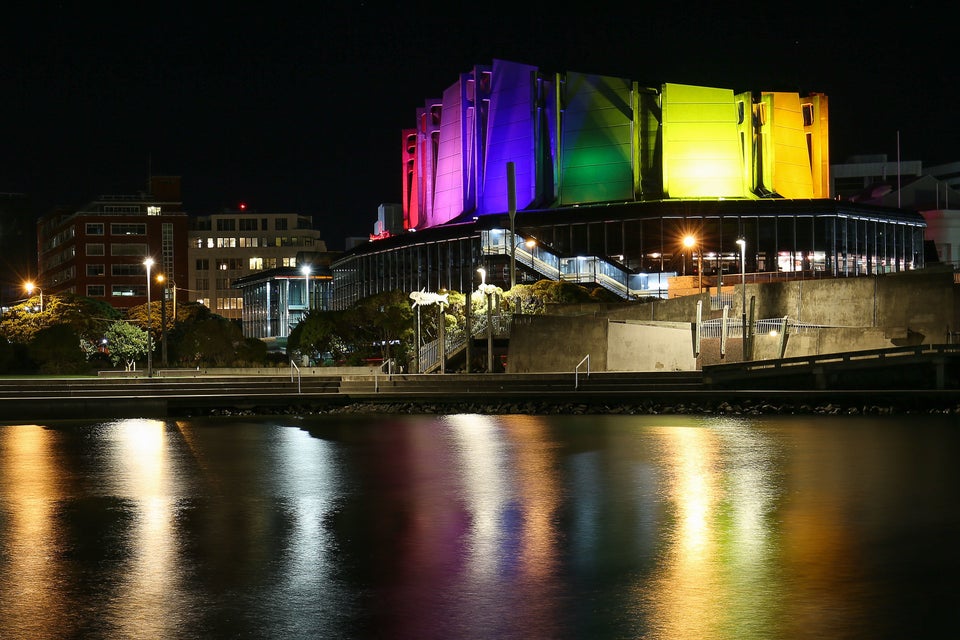 Monuments For Orlando
Popular in the Community