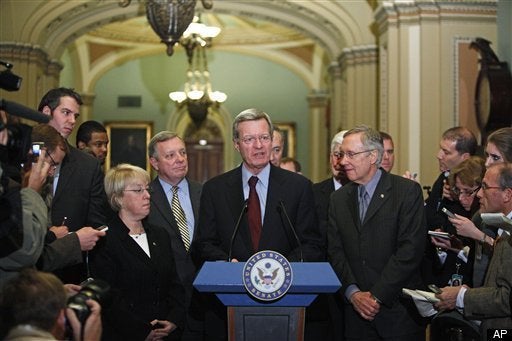 The United States took a major step closer to the rest of the industrialized world shortly after 1:00 a.m. on Monday morning, voting 60-40 to move forward on far-reaching health care reform that will provide subsidies to million of Americans to purchase health care -- and require all citizens to purchase health insurance or prove that they can not afford to do so. (More on the details of the bill here.)
The vote, which was taken in an unusual fashion, with senators seated and voting from their desks, split along party lines, with all 40 Republicans voting no. Sen. Olympia Snowe (R-Maine) rose and announced her nay vote with an affect of regret in her voice.
The bill does not include a public health insurance option that would compete with private insurers in order to keep them honest. The proposal does include tighter regulations on the insurance industry than currently exist, but the law would not create any new regulatory agencies and would leave policing the new rules to individual states, which have shown an inability to combat the major insurers. Those companies will have billions more in resources if the Senate bill becomes law.
The Senate still faces two more procedural votes, but Monday morning's vote indicates that the bill is headed for negotiations with the House of Representatives. The House bill includes a public option and more generous subsidies, among other major differences, but Sen. Ben Nelson (D-Neb.) and Sen. Joe Lieberman (I-Conn.) both said Monday morning that if the bill that emerges from the conference committee contains significant alterations, they may again decide to filibuster it.
Senate rules currently allow a minority of senators to hold up legislation unless 60 members vote to break a filibuster. Those rules, however, have evolved over the chamber's history, and pressure is building to abolish the provision that now essentially gives individual members veto power.
"While the process to get to 60 and the willingness of individual senators to use the Senate's rules to distort democracy for their own interest was disappointing, make no mistake about it: for working Americans this vote signals progress," Andy Stern, president of the Service Employees International Union, said after the vote.
Snowe, meanwhile, said that she told the president recently that while she would be voting no on Monday, she was still open to supporting a final bill coming out of conference. Snowe said she first suggested to the president in March that he pursue a "trigger" mechanism for implementation of a public option. Lieberman, meanwhile, is opposed to a trigger and any other form of a public option.
Snowe spoke with Obama and "he hoped that there was something that could be worked through in the House-Senate compromise and I said I would continue to offer ideas," Snowe said.
Health and Human Services Secretary Kathleen Sebelius, in a brief interview with HuffPost following the vote, was upbeat.
"I think it has all the elements that we've been talking about from the beginning," she said. "It insures almost all Americans. It lowers costs. It provides a huge opportunity to begin to pay for quality and not just quantity of care. It includes lots of investments in health and wellness and preventive medicine. I mean, I'm not sure most people understand what's underlying all of this and I think it's very exciting. It's a big day."
Earlier that day, however, progressive Democratic Sen. Russ Feingold (Wisc.) said in a statement that the White House was to blame for on the major elements not surviving. "Unfortunately, the lack of support from the administration made keeping the public option in the bill an uphill struggle," he said.
Sebelius, asked about Feingold's charge, said that the bill does what it needs to do.
"I think we are where we are," she said. "I think we'll have cost and competition -- cost control and competition in the exchange and that's what we need."
Lieberman also said that he was pleased.
"I regret that it broke along party lines, but it's the moment we're in in our politics. Overall, I think it's a good bill," he said. "I'm glad that some of the provisions that I was worried would increase the debt or increase taxes were taken out -- the so-called government public option."

REAL LIFE. REAL NEWS. REAL VOICES.
Help us tell more of the stories that matter from voices that too often remain unheard.