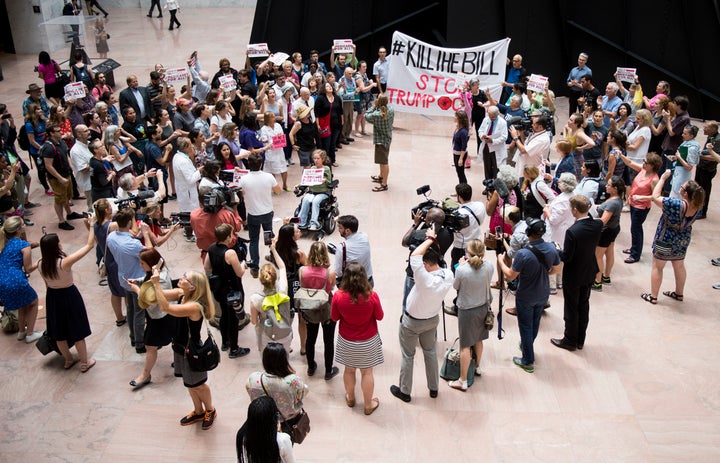 Protesters again took to Capitol Hill on Monday to protest Senate Republicans' proposed health care bill, staging a demonstration in the Hart Senate Office Building, where several people were arrested.
Demonstrators there urged Republican senators to vote against the bill, which would dismantle key portions of the Affordable Care Act and cause millions of people to lose their health care coverage, largely due to cuts to Medicaid.
According to a Capitol Police spokeswoman, five adults were arrested in the atrium of the Hart Senate Office Building. Police also responded to demonstrations in five other locations in the U.S. Capitol, arresting 33 people in total.
"Those who refused to cease and desist were placed under arrest," she said.
Protesters gathered in the building's lobby in front of the towering metal sculpture, "Mountains and Clouds," and took turns explaining how the bill would affect their lives.
One protester explained that she has to visit specialized doctors every six months to check on the progress of her condition.
"I can't go without treatment. I can't go without insurance. And I do need Medicaid," she said. "So I'm asking the president to stop attacking the American people. I'm asking the GOP to stop attacking the American people. I'm asking to kill this bill and save us."
The protesters then took up a chant of "kill the bill."
Dr. Carol Paris, the president of Physicians for a National Health Program, spoke about the negative impact that the bill would have on patients.
Police officers were gathered around the entrance to the building, and after several speakers and many chants of "we're ready to fight, health care is a human right," they asked people who were gathered around the protesters to move away from the front of the sculpture.
A small group of protesters remained in front of the mountainous structure chanting, and appeared willing to risk arrest. As the area cleared, police arrested several protesters and escorted them out of the building.
Two Republican senators, Rand Paul of Kentucky and Susan Collins of Maine, have already said they will vote against the bill, meaning Senate Majority Leader Mitch McConnell (R-Ky.) can only lose the support of one more GOP senator and still pass the legislation.
Keeping that in mind, protesters specifically put pressure on Sen. Dean Heller (R-Nev.), who previously said he couldn't support the bill due to its Medicaid cuts. Several demonstrators staged a sit-in in the lobby of his office.
Meanwhile, down the street in Upper Senate Park, protesters staged a "People's Filibuster" in a light drizzle to protest the same health care bill.
The bill, which was expected to go to a vote in the Senate this week, has been put on hold while Sen. John McCain (R-Ariz.) recovers from surgery. Activist communities see the delay as an opportunity to "dial up the pressure" on lawmakers to oppose the bill, as the event page for the People's Filibuster reads.
"We're fighting for health care for all Americans," Marvell Terry II from the Human Rights Campaign told HuffPost. "And as a person living with HIV, I know firsthand how much health care improves my daily health, and how people like me, with HIV or other chronic illnesses, need adequate health care and access to good health care."
Terry spoke at the rally, as did Sen. Mazie Hirono (D-Hawaii) and representatives from organizations such as VoteVets and Common Defense.
Stephanie Damassa, a D.C. local, came to the rally with her young baby.
"I just feel like it's so un-American, and it's breaking my heart seeing disabled children that are having to come to the Hill every day to lobby Congress," she said. "As an American, I think it's sort of our duty to be here. I just had a child myself, and got my insurance bill for $21,000. Without insurance, I couldn't have afforded that, and to think about all the families throughout our country that are suffering. Our first job should be to protect the vulnerable, and this bill is for the wealthy only, and I just think that's fundamentally un-American."
This story has been updated to include comment from Capitol Police and details from the Upper Senate Park demonstration.
Support HuffPost
The Stakes Have Never Been Higher
Popular in the Community