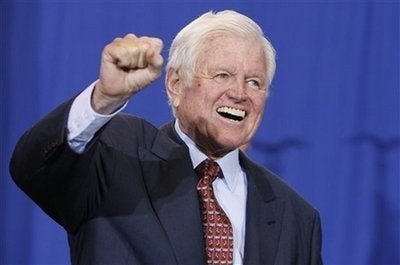 The Senate Health Education Labor and Pensions Committee approved a historic overhaul of the health care system on a party-line vote Wednesday morning. The firm push leaves the Senate Finance Committee as the remaining obstacle to reform.
The House is also moving swiftly to overhaul the system. The three committees involved -- Ways and Means, Energy and Commerce and Education and Labor -- jointly released text of a far-reaching bill Tuesday that would cover some 97 percent of Americans and a cost of slightly more than a trillion dollars over ten years, paid for largely by a tax hike on the very wealthy.
The Senate health committee and the House committees have been able to move forward because they have not insisted on bipartisanship support for their efforts. Democrats alone can move a bill through the House and, with Al Franken making the 60th senator, through the Senate also without Republican assistance.
"There's a lot of pressure on the Finance Committee to get something done," said Sen. Patty Murray (D-Wash.).
What does the bill's passage say to the Finance Committee?
"It says, 'Welcome. Come and join us,'" Dodd told the Huffington Post after the vote.
Finance Committee Chairman Max Baucus (D-Mont.) has been working closely with panel Republicans, who have refused to compromise on key issues. He has been reluctant to move forward without them.
Top Obama aides suggested Tuesday, however, that if Republicans didn't want to be part of health care reform, the president was okay doing it with Democrats alone.
While Senate Republicans voted against the bill in committee, it was not passed without their input. Dodd noted after the vote that 161 GOP amendments were accepted, "many of them substantial."
He cited contributions from Sens. Judd Gregg (R-N.H.), Orrin Hatch (R-Utah) and Lisa Murkowski (R-Alaska) on issues related to long-term care solvency, biologics and small business coverage, respectively.
"Even though it wasn't a bipartisan vote, it was a bipartisan effort," said Dodd. "There were numerous contributions made, not just technical amendments, that our Republican friends were able to add to the bill. And they made it a better bill. That's the way it's supposed to be and I regret they didn't feel it was significant enough to support our effort this time around."
But he was going forward without them, he insisted. "I still believe, as my colleagues do as well, that we can achieve that bipartisanship, but the important issue is a good bill. Getting a bipartisan bill that doesn't do anything for the people out there who are depending upon it, is not going to be warmly received. A good bill that is bipartisan obviously has a chance of not only succeeding but also being sustained, so there's a value in achieving that bipartisanship," he said.
But not at the expense of a good bill. "I will not sacrifice a good bill for that. That's not the goal here," Dodd said.
Asked if health care reform needed GOP votes to pass, Dodd pointed out the recent reality that shifts the debate. "We have 60 votes," he said.
Sen. Barbara Mikulski (D-Md.), a senior member of the health committee, said the decision is now in the hands of the GOP and others who stand in the way of the bill's progress.
"It's a question of whose side are you on? We stand on the side of history," she said.
Popular in the Community