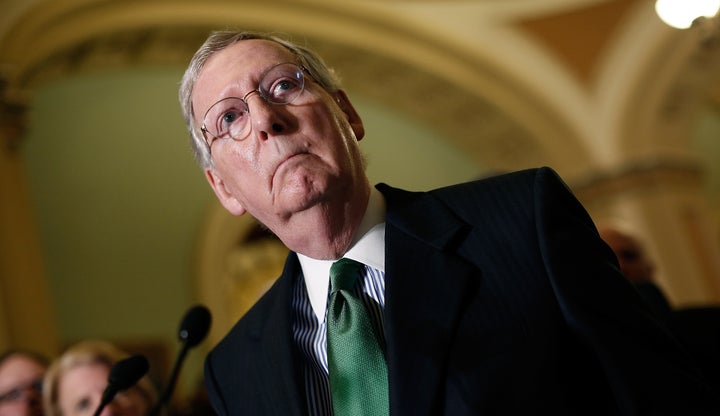 WASHINGTON -- The Senate inched forward Friday on a $45 billion, three-year bill to fund the nation's highways, bridges and roads -- one week before all funding runs out.
Senators voted 51-26 on a procedural motion that puts the bill one step closer to final passage. The Highway Trust Fund runs out of money on July 31, which would cause construction on transportation projects across the country to grind to a halt. In an effort to expedite the bill's passage, Senate Majority Leader Mitch McConnell (R-Ky.) said Friday he will only allow two amendments to the bill: one on repealing the Affordable Care Act, to appease Republicans, and one on extending reauthorization of the Export-Import bank, to appease Democrats.
McConnell is also expected to bring the Senate into session on Sunday to pass the bill.
After the vote, Sen. Ted Cruz (R-Texas) tore into McConnell for preventing senators from offering amendments, accusing him of acting like Senate Minority Leader Harry Reid (D-Nev.) did when he led the chamber. Cruz also said during his tirade that McConnell had lied to him by promising that Ex-Im bank reauthorization would not get a vote.
"We keep winning elections, and then we keep getting leaders who don't do anything they promised," Cruz said. "I cannot believe he would tell a flat-out lie. … If you or I cannot trust what the majority leader tells us, that will have consequences."
Despite moving forward on Friday, the highway bill still faces obstacles. Some senators are unhappy that it authorizes funding for six years but only includes money for three years. Democrats have concerns about its lack of safety provisions. Some Republicans, like Cruz, are opposed to reauthorizing the Ex-Im bank, which could mean they'll vote against the highway bill if an Ex-Im provision is attached.
"It hasn't been easy," McConnell said of crafting a bill that both parties can support. "We always knew obstacles would be at every turn. Our country needs a multi-year highway bill and we'll get there, if we'll just continue to stick together."
If the bill does make it out of the Senate, it still has to clear the House, where Republican and Democratic leaders are arguing there's not enough time to debate and pass it. The House passed a short-term fix last week, which would extend current funding levels for five months, and House leadership wants the Senate to pass that bill instead. 
Each chamber is trying to corner the other into passing its preferred bill before everyone leaves for the monthlong August recess.
The highway fund has suffered from consistent short-term patches since 2009, preventing states from moving forward with larger transportation projects.
REAL LIFE. REAL NEWS. REAL VOICES.
Help us tell more of the stories that matter from voices that too often remain unheard.