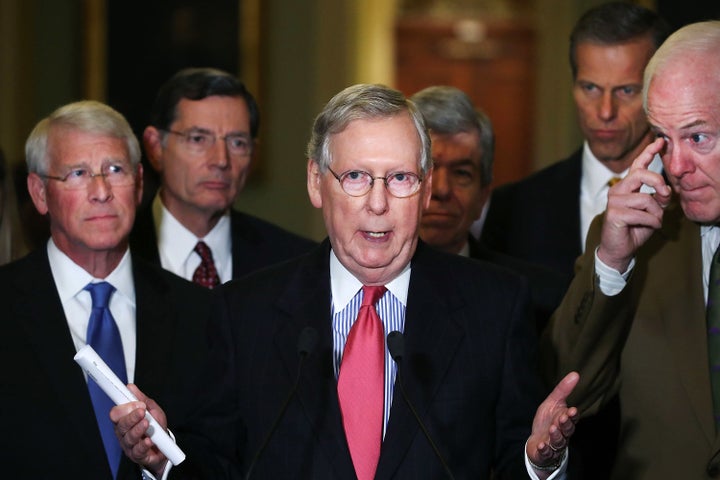 WASHINGTON -- Senate leaders said Tuesday they would take up legislation the House plans to move this week that would extend funding for the nation's highways, bridges and roads for another three months.
The stop-gap bill comes days before the Highway Trust Fund runs out of money, and after weeks of Senate and House Republicans talking past each other on how to best deal with the encroaching deadline.
"The House is going to send over to us a highway extension to October 29, which will also include some important veterans funds to deal with a shortfall in the veterans health care system," Senate Majority Leader Mitch McConnell (R-Ky.) said Tuesday.
In an effort to stave off a lapse in funding that would grind construction on the nation's transportation infrastructure to an abrupt halt and result in the Transportation Department furloughing employees, the two chambers agreed to a three-month extension. Senate GOP leaders agreed to the shorter bill in exchange for promises from the House that a larger funding fix for the fund would be worked on soon after the recess.
"The House, as you may have heard, has decided to process, in early September, a multiyear highway bill of their own and that will lead to a conference between the Senate and House multiyear highway bills and hopefully a conference report," McConnell said.
The House passed a five-month extension two weeks ago, but the Senate refused to take it up, instead drilling down on a long-term fix, which they are expected to pass early Wednesday.
In a game of chicken, House Republicans said they would not consider the Senate's highway bill, which would authorize spending levels for six years and provide funding for three years. House Majority Leader Kevin McCarthy (R-Calif.) said it didn't make sense for the House to tackle the 1,030-page Senate bill just one day before they plan to leave for August recess.
McConnell said as soon as the upper chamber receives the bill, they will see "how quickly" they can move it to the floor.
The short-term funding measure will likely garner enough Democratic support in the Senate to sail across the floor and to the president quickly.
"We have a problem. We need to move money around in the Veterans Administration," Senate Minority Leader Harry Reid (D-Nev.) said. "It's my understanding that will be in the short-term bill they send us. If that's the case, it will move out of here fairly quickly."
Popular in the Community