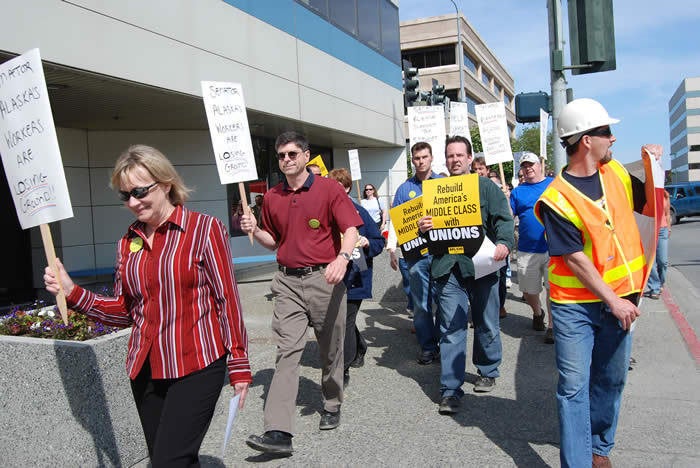 The Senate health committee is set to host the first hearings of the legislative session on the Employee Free Choice Act this Tuesday, a union official says. It's the truest indication yet that Democrats in Congress are willing to plow forward with the hotly contested measure.
The hearings, which will be conducted in two sessions over one day, precede the introduction of any formal piece of legislation. But as one labor official describes it, leadership seems to be "clearing the deck," readying the body for quick action once issues with Senate seats in Minnesota and Illinois are resolved.
"This shows that: A. the Senate is likely going to be taking the lead," said the source, "And it is also showing that B. The Senate is interested in clearing the deck, in that they will offer a view of what is happening on the bill ahead of when it is actually voted on. They will wait to actually introduce the legislation once [Al] Franken is seated and [Roland] Burris is resolved."
Sen. Tom Harkin (D-Iowa) will chair the hearings in the place of the ailing Sen. Ted Kennedy (D-Mass.). And while the title of the session will not mention the Employee Free Choice Act, the labor official said, the substance will be all about that legislation, which would create more and easier avenues for unions to form.
"The hearing is likely going to hinge on the economic impact of EFCA," said the official. "It is going to be framing EFCA in the context of the current economic crisis."
There will be four witnesses in each session: three from the pro-EFCA side and one from the anti-EFCA side. The full list is below:
SENATE COMMITTEE TO EXPLORE OPPORTUNITIES FOR EMPOWERING WORKERS

Panel I:

Dr. Paula Voos, Chair, Department of Labor Studies and Employment Relations, Rutgers University, New Brunswick, NJ

Wade Henderson, President and CEO, Leadership Conference on Civil Rights, Washington, DC

Rev. Jim Wallis, President and Executive Director, Sojourners, Washington, DC

Dr. Anne Layne-Farrar, Director, LECG Consulting, Chicago, IL

Panel II:

Deb Kelly, Worker, Anchorage, AK

Kelly Badillo, Worker, Jersey City, NJ

Larry Getts, Worker, Albion, IN

Sharon Harrison, Worker, Lebanon, VA
Popular in the Community