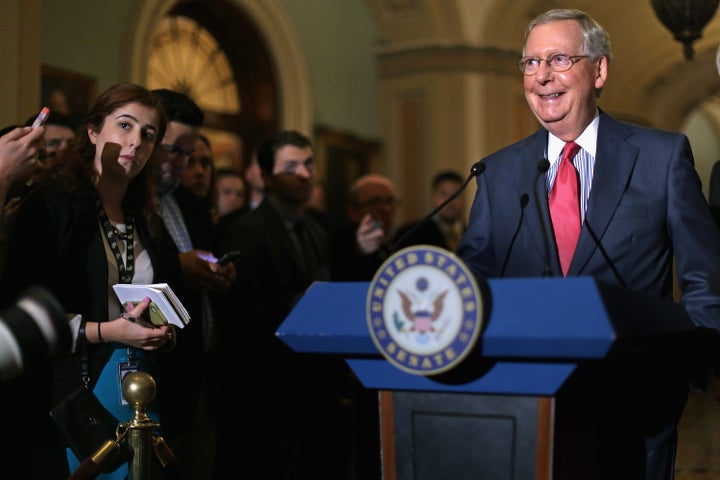 WASHINGTON -- With just two weeks left before the U.S. runs out of borrowed money and is forced into a default, congressional leaders have yet to offer a timetable for when they'll increase the debt ceiling.
Treasury Secretary Jack Lew warned last week that the U.S. will hit its debt limit on Nov. 3, two days sooner than previously thought. Lew said that failure to lift the limit in time could "cause serious harm to business and consumer confidence, raise short-term borrowing costs for taxpayers, and negatively impact the credit rating of the United States."
Pressed on when the Senate plans to bring up legislation to address the looming deadline, Senate Majority Leader Mitch McConnell (R-Ky.) said Tuesday that it's up to the House.
"Obviously we don't prefer a clean debt ceiling," McConnell said. "We'll see what the House sends over and act accordingly."
Republicans would like to attach entitlement reforms or spending cuts to the debt limit increase. Some of the more hard-line conservatives have threatened to vote against any increase that lacks such riders.
In an effort to appease some conservatives, McConnell put legislation by Sen. Rand Paul (R-Ky.) on the Senate calendar Tuesday. The so-called "Cut-Cap-Balance bill" would slash the 2016 deficit in half, put a cap on spending and require Congress to pass a balanced budget before raising the debt ceiling -- a practically impossible task, given the divisions among Republicans and Democrats as the clock winds down.
"To just keep giving more credit to a government that is drunk on spending -- it's a big mistake," Paul told reporters on a phone call Monday evening.
Rep. Mick Mulvaney (R-S.C.), a member of the conservative House Freedom Caucus who's been credited with pushing current House Speaker John Boehner (R-Ohio) into resigning, joined Paul on the call.
Mulvaney said he expects the entire Freedom Caucus, which includes roughly 40 House Republicans, to support Paul's bill to cut spending. He predicted the caucus won't back increasing the debt limit without something like Paul's bill.
Paul vowed he would not vote to raise the debt ceiling "without significant reform," despite the serious warnings being issued by the Treasury.
"I'm going to continue fighting until somebody up here wakes up," Paul said. He acknowledged, though, that establishment Republicans and Democrats would probably be able to muster the votes for a clean increase.
"I'm listening to the voters who are very, very unhappy with Washington, and people want to say the Freedom Caucus is a minority," said Paul, who is seeking the Republican nomination for president. "They may be a minority now, but if you poll the questions where the Freedom Caucus is, they represent a majority of Republicans out there."
Sen. Ted Cruz (R-Texas), another candidate for the GOP nomination, chided congressional leaders for constantly saying "next time we will stand and fight, but not this time."
"That fact, more than anything, explains the volcanic rage from the American people at political candidates who promise one thing and don't follow through," Cruz said, using the kind of anti-establishment rhetoric that has become a common theme on the Republican campaign trail.
On the other side, Hill Democrats and the Obama administration are advocating for a clean debt ceiling increase.
"It's pretty clear, Jack Lew was up here this morning ... The administration isn't interested in entitlement reform," said Sen. John Thune (R-S.D.). "We are going to be in a different place, so we'll see where that negotiation ends up."
Senate Minority Leader Harry Reid (D-Nev.) said Congress only has two weeks left to prevent a "catastrophic" debt default. He criticized GOP leaders for not making the issue a priority -- although he mentioned one Republican who agrees with him: Rep. Paul Ryan (Wis.).
Reid also gave Ryan an unexpected endorsement to be the House Republicans' next leader.
"Paul Ryan, who I hope can be the next speaker, very reasonably said last week, 'If the United States missed a bond payment, it would shake the confidence of the world economy,'" Reid said. "I hope Republicans will come to their senses and pass a clean bill."
Jennifer Bendery contributed reporting.