WASHINGTON -- The senators known as the gang of eight released the full text early Wednesday of their immigration reform legislation, the "Border Security, Economic Opportunity, and Immigration Modernization Act," an 844-page document that addresses border security, undocumented immigrants and the legal immigration system.
The wide-ranging bill would allow undocumented immigrants to become citizens after a lengthy process and after border security improvements, along with strengthened enforcement and changes to the way visas are doled out. It would require employers to check job applicants through the government's online E-Verify system to ensure they are authorized to work in the U.S. And it would shift the country toward merit-based visas based on work, away from family-based visas.
The bill is likely to be contentious. The debate will begin in earnest on Friday, when the Senate Judiciary Committee holds its first hearing. Senators will get a few days to go over the bill ahead of that hearing and another to be held on Monday. Members of the gang of eight have said they are open to amendments, so long as they are not meant to kill the legislation.
The gang of eight includes four Democrats and four Republicans -- Sens. Chuck Schumer (D-N.Y.), Dick Durbin (D-Ill.), Bob Menendez (D-N.J.), Michael Bennet (D-Colo.), John McCain (R-Ariz.), Lindsey Graham (R-S.C.), Marco Rubio (R-Fla.) and Jeff Flake (R-Ariz.).
The group first announced a broad framework in late January, and summarized its final deal earlier on Tuesday. The summary offered more details on how border security would be measured, a vital question for both wary lawmakers and immigrant advocates worried it will derail a path to citizenship.
The gang of eight bill sets a goal for 90 percent effectiveness along the U.S.-Mexico border, meaning a majority of would-be illegal border crossers are stopped. The Department of Homeland Security would be required to propose a plan for border security within six months, when undocumented immigrants would be able to apply for registered provisional immigrant status.
Immigrants would be unable to receive lawful permanent residence for 10 years after obtaining provisional status. During that time, further benchmarks would need to be met, such as implementing the border security plan and mandating employment verification. A Southern Border Security Commission -- made of governors and experts -- would be formed to improve border security if those plans were not completed within five years. Meanwhile, undocumented young people and agricultural workers would be given a quicker pathway to legal status.
Although the pathway to citizenship would be arduous, supporters of reform said its inclusion is a positive step. President Barack Obama, who has said such a pathway is necessary to reform, issued a statement on Tuesday that generally supported the bill without getting into specifics.
"This bill is clearly a compromise, and no one will get everything they wanted, including me," Obama said. "But it is largely consistent with the principles that I have repeatedly laid out for comprehensive reform. ... I urge the Senate to quickly move this bill forward and, as I told Senators Schumer and McCain, I stand willing to do whatever it takes to make sure that comprehensive immigration reform becomes a reality as soon as possible."
The Fair Immigration Reform Movement, a coalition of pro-immigrant groups, called the bill a "starting point" and said it will work with Congress to improve it. Their main concerns are that a path to citizenship could be too long and exclusive, leaving out many undocumented immigrants, while holding the process "hostage to" border security triggers.
"Our families' well-being should not be conditioned on arbitrary border measures or any political or bureaucratic process which holds their loved ones hostage to regulations over which they have no control," Kica Matos, a spokesperson for the group, said in the statement.
Republican senators were cautious earlier Tuesday about commenting on the bill, but Sen. Chuck Grassley (R-Iowa) told reporters it seemed to be a good start.
Sen. Mike Lee (R-Utah), who had worked with the gang of eight, but dropped out over disagreements on the path to citizenship, sounded a note of caution.
"It is unfortunate that we have so little time to digest and evaluate such an expansive piece of legislation before we hold our initial committee hearing," Lee said in a statement. "As senators, it is our duty to read the bill and fully understand the impact it will have on our immigration system before casting votes."
CORRECTION: April 18 -- This post originally misstated the deadline for a Department of Homeland Security border security plan as three months, rather than six. It has been corrected.
Read the full text of the bill below:

Support HuffPost
The Stakes Have Never Been Higher
Before You Go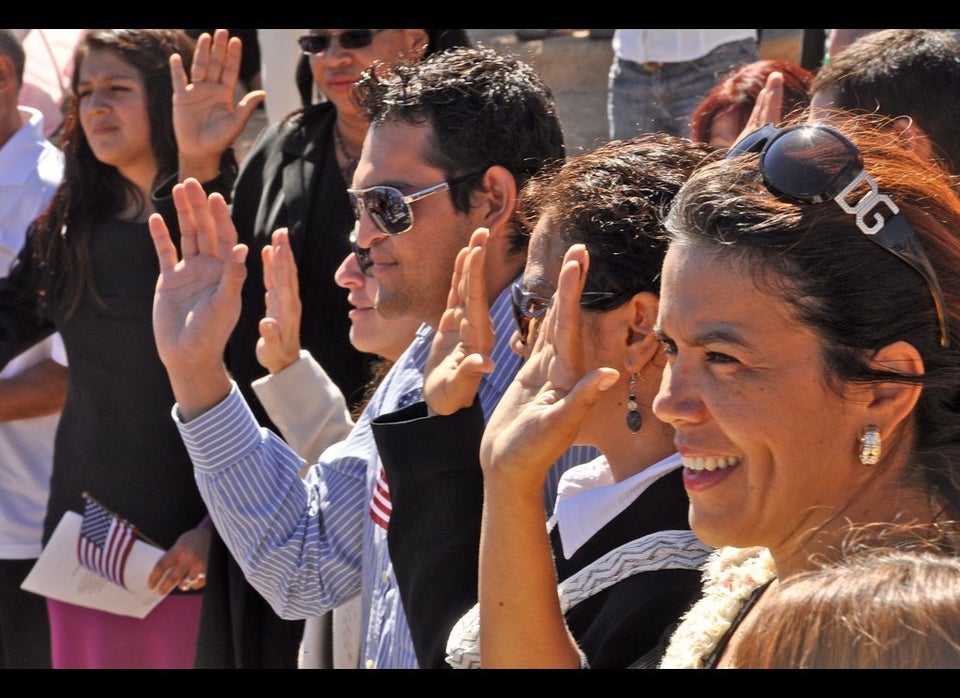 10 Major U.S. Federal Immigration Laws
Popular in the Community