WASHINGTON -- The senators of the bipartisan group unveiling immigration reform legislation on Tuesday will now begin the process of defending it to their colleagues, some of whom they expect to attempt to radically change or kill the bill.
"We will pledge to oppose, all eight of us, provisions that would destroy the fragile agreement that we have," Sen. John McCain (R-Ariz.), a member of the group, told reporters. "But we're certainly open to amendments, we're certainly willing and glad to have votes on them. This is the beginning of the process, not the end."
The so-called gang of eight -- McCain, Lindsey Graham (R-S.C.), Marco Rubio (R-Fla.), Jeff Flake (R-Ariz.), Chuck Schumer (D-N.Y.), Dick Durbin (D-Ill.), Bob Menendez (D-N.J.) and Michael Bennet (D-Colo.) -- will release the result of its months-long effort, the full text of immigrant reform legislation, by the end of the day Tuesday.
Senators will begin to consider the bill during Judiciary Committee hearings on Friday and Monday, and members of the gang of eight have said they want to give their fellow lawmakers plenty of time to consider the bill and offer suggestions to improve it. But they also know their own agreement was hard won, and any tweaks could damage the balance.
"I want to make sure that we do this the right way, and what we have now is a starting point," Rubio told reporters. "From that point, I encourage my other 92 colleagues to get involved and to offer ideas. I hope sincerely that those that have problems with it don't just offer objections but offer solutions."
There are a number of compromises in the bill, with perhaps the most important over the question of border security and a path to citizenship for undocumented immigrants. The bill would allow undocumented immigrants to gain legal status and eventual citizenship, but that pathway is tied to specific border triggers meant to prevent future unauthorized immigration. This requirement is aimed to reassure lawmakers that the legislation won't be a repeat of a 1986 bill under President Ronald Reagan that was followed by an increase in the number of undocumented immigrants.
Legalization under the bill would begin with a new "registered provisional immigrant status," that would allow some undocumented immigrants who entered the U.S. before 2012 to stay and work without federal benefits, after a $500 fine and criminal background check. Then nothing can move forward until after certain "triggers" that guarantee a plan for and then the implementation of increased border security measures. The bill would put $3 billion toward that effort, and another $1.5 billion toward fencing along the U.S.-Mexico border. If the triggers are met, immigrants would be able to apply for lawful permanent status 10 years after beginning the process, then eventually citizenship.
There are other controversial provisions as well. The bill would mandate E-Verify, an already existing system to check whether potential employees are eligible to work in the United States. It would eliminate the diversity visa lottery, which allows up to 55,000 people each year to immigrate to the U.S. without work or family ties. While the current legal immigration system places emphasis on family visas, the bill would shift to give half of all visas based on merit, USA Today reported.
For now, senators have mostly remained quiet on what amendments they plan to offer, particularly before the full text is released. Sen. Chris Coons (D-Del.) hasn't yet made a decision, but may offer amendments to improve due process in immigration if in his view the bill doesn't adequately address the matter.
"They're all written," Coons spokesman Ian Koski said of the possible amendments. "It's just a matter of seeing the final legislation and determining which are necessary."
Judiciary Committee Chairman Patrick Leahy (D-Vt.) has previously said he will push for same-sex couples to be included in the bill, but as of Tuesday afternoon had not seen the final text of the bill to make a decision on amendments, his spokeswoman said. Sen. Rand Paul (R-Ky.), who opposes mandating an employment verification system on civil liberty grounds, said he hadn't seen enough of the bill to know whether he'd oppose such provisions.
Sen. Jeff Sessions (R-Ala.), who opposes key parts of the bill such as a pathway to citizenship for undocumented immigrants, said he hasn't yet determined whether he'll try to amend the bill or just attempt to block it. He told reporters he thinks it's "very possible" it will fail, and that his concern about the lack of hearings isn't assuaged by the two planned so far, since they're planned for days when some senators will be out of town.
"That gives the indication we're going through the motion of hearings," Sessions said. "And besides, it does appear that the core members of the gang of eight have sort of an agreement that they'll defend all the key provisions of the bill and vote against any amendment. So I don't know how valuable a hearing is if they all agree to stick together."
The White House seems prepared to put its weight into helping the bill pass, which McCain said earlier would be "very important, particularly with the Democrats."
After meeting with McCain and Schumer, President Barack Obama said in a statement Tuesday the legislation does not include everything he wanted, but he will push for reform.
"This bill is clearly a compromise, and no one will get everything they wanted, including me," Obama said. "But it is largely consistent with the principles that I have repeatedly laid out for comprehensive reform. ... I urge the Senate to quickly move this bill forward and, as I told Senators Schumer and McCain, I stand willing to do whatever it takes to make sure that comprehensive immigration reform becomes a reality as soon as possible."
Even if the bill passes the Senate, it could be a non-starter in the House, where lawmakers are working on their own compromise for immigration reform. When asked whether he could imagine the House picking up the Senate's bill, Rep. Raul Labrador (R-Idaho), one of those working on a deal, said they're more likely to do their own.
"The scenario would be assuming the Senate passes it, and I'm not sure the Senate can pass it," Labrador said. "We'll just have to see what they do, we're going to have our own regular order, our own process."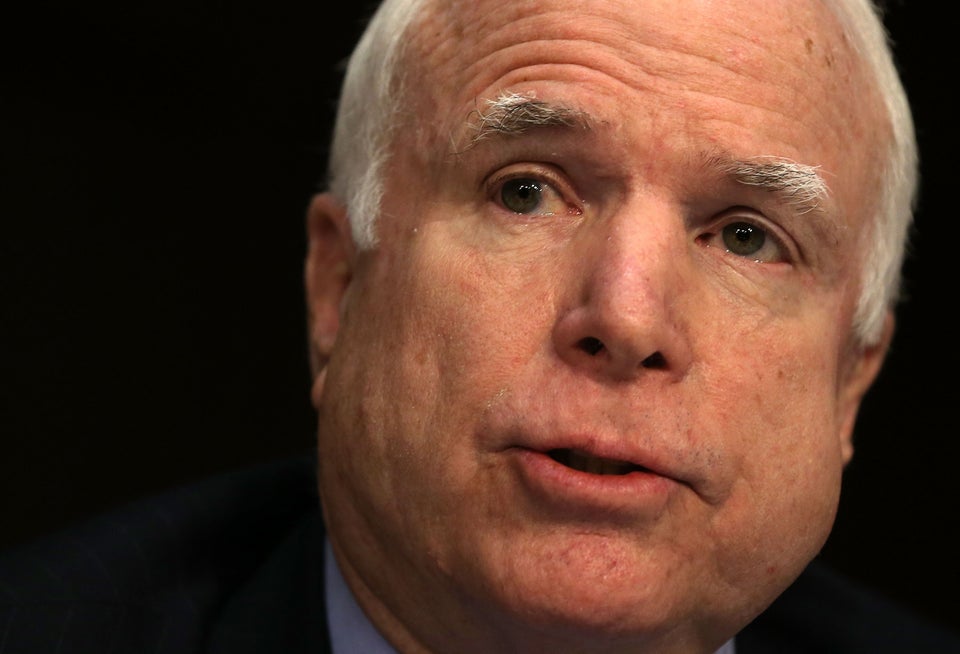 Bipartisan Immigration Plan's Key Provisions