WASHINGTON -- Senators from the eight-member working group on immigration reform did their best on Monday to walk the thin line between two very different camps: one that decries almost all legalization of undocumented immigrants as "amnesty" and another that views such a pathway to citizenship as absolutely necessary to legislation.
They took pains to assure the public that a pathway to citizenship won't be easy. "This will be an arduous pathway, but it will be a fair one," Sen. Bob Menendez (D-N.J.) told reporters at a press conference. Republican Sens. John McCain (R-Ariz.) and Marco Rubio (R-Fla.) emphasized the group's insistence that the border be secure before green cards are doled out.
But they still gave plenty of fodder to people on the right who view any pathway to citizenship as "amnesty," by insisting repeatedly that immigrants will become legal on day one -- if only provisionally.
"Immediately when the bill passes, people who are here living in the shadows would get a legal right to stay here and work," Sen. Chuck Schumer (D-N.Y.) said, going on to explain the requirements to be met before undocumented immigrants could become permanent residents.
Schumer, Menendez, McCain and Rubio are part of the "gang of eight" on immigration reform, which also includes Sens. Michael Bennet (D-Colo.), Lindsey Graham (R-S.C.), Jeff Flake (R-Ariz.) and Dick Durbin (D-Ill.). The four-point framework unveiled on Monday would require border and enforcement measures to kick in -- although it is not clear how -- before immigrants with provisional status can receive green cards. A group of governors, citizens and others from along the U.S.-Mexico border will be given some say -- although it's not clear how much -- on when the border can be defined as secure and additional aerial surveillance and border agents will be installed.
The senators said they hope to introduce legislation in March or April and then hold a vote by late spring or early summer.
The existence of the pathway in proposals for reform is vitally important to many, and stands to be among the most contentious issues as reform talks go forward. Rubio's support for the framework is notable in part because he has previously been wary of a pathway to citizenship, including by saying last week that unions and the left could kill immigration reform by demanding such a pathway exist in the bill.
Rubio denied changing his view, telling reporters Monday "the principles are very similar if not the same" as his prior statements on immigration reform.
The senators said they are more optimistic than ever that they can pass immigration reform, despite previous failures. McCain gave a nod to the late Sen. Ted Kennedy (D-Mass.), with whom he worked on comprehensive immigration reform in 2006 and 2007, saying passage would be a testament to his work. The senators said on Monday that their framework is very similar to that of the McCain-Kennedy plan, which fell apart under bipartisan disagreements.
The senators said the politics have changed since then to the point that immigration reform has another chance, pointing to GOP presidential nominee Mitt Romney's crushing defeat in November among Latino voters, who by and large support comprehensive immigration reform.
In the end, though, they admitted there are some lawmakers who are un-gettable. "We're not going to get everybody on board," McCain said.
There was one bad sign for the bipartisan group: one of its original members, Sen. Mike Lee (R-Utah), declined to sign on to the framework. He said in a statement that he remains "greatly supportive of what the group aims to accomplish" and that he plans to keep working on the issue. But in the end, the pathway to citizenship policy chosen by the group seems to have been a deal-breaker.
"These guidelines contemplate a policy that will grant special benefits to illegal immigrants based on their unlawful presence in the country," Lee said. "Reforms to our complex and dysfunctional immigration system should not in any way favor those who came here illegally over the millions of applicants who seek to come here lawfully. Additionally, the framework carves out a special exception for agricultural workers that has little justification."
President Barack Obama will lay out his own framework for comprehensive immigration reform in a speech on Tuesday, his first such address to focus on the issue since beginning his second term. But the senators said they were not trying to preempt Obama.
"We think this is helpful for the president," McCain said. Durbin added that Obama knew their plans to announce a deal, and told them to go for it.
Earlier Monday, White House press secretary Jay Carney dodged questions about whether Obama could support a proposal that ties citizenship to border security. Instead, he emphasized the similarities between the Senate proposal and the kind of reforms backed by the White House.
The fact that the Senate proposal is bipartisan and includes a path to citizenship "is a big deal," Carney said during his daily briefing. "This is an important development."
It remains unclear whether Obama will push his own bill versus a general outline for the kind of reforms he supports. Carney wouldn't say either way when asked about the strategy.
The House could be the biggest issue on immigration reform, given the Republican majority and a vocal group of politicians who have remained insistent that the president wants amnesty and has failed to police the border.
House leadership expressed some interest -- if vague -- in at least looking at the Senate group's plans. A spokesman for John Boehner, Michael Steel, said, "The Speaker welcomes the work of leaders like Sen. Rubio on this issue, and is looking forward to learning more about the proposal in the coming days."
Rep. Bob Goodlatte (R-Va.), chairman of the House Judiciary Committee, and Rep. Trey Gowdy (R-S.C.), chairman of the House immigration subcommittee, said in separate statements that they are open to considering such suggestions for dealing with the immigration system.
"The current immigration system is broken and inspires confidence in no one," Gowdy said in a statement. "So, proposals which balance the humanity which defines us as a people with respect for the rule of law which defines us as a republic are welcome."
House members working behind the scenes on a deal are still being coy about their plans, but Rep. Mario Diaz-Balart (R-Fla.) hinted Monday that a plan from the lower chamber is likely to be similar to the broad framework laid out by a bipartisan senate group.
Though he declined to say outright whether the House will take the same principles for immigration reform, Diaz-Balart told HuffPost he thinks the Senate "gang of eight" plan sounds reasonable.
"I don't care if you're from the extreme right or the extreme left, reasonable people will reach very similar conclusions, very similar solutions, I should say," he said. "I think that's what you're seeing. Those of us who have been working on this for years and others who have more recently started looking at it I think are reaching very similar conclusions."
Of course, as Diaz-Balart said, "the devil is in the details." The "gang of eight" hopes to release a bill in March, and a House group is working separately on its own legislation. Until then, there will be many specifics to be ironed out.
Rep. Luis Gutierrez (D-Ill.), an outspoken supporter of reform who serves on the House immigration subcommittee, said in a statement that Congress is "on track to pass a bipartisan bill this year."
"All of the pieces are falling into place," he said. "We have not signed on the dotted line and some important details are yet to be resolved, but what we have now is momentum."
Jennifer Bendery contributed reporting.
Before You Go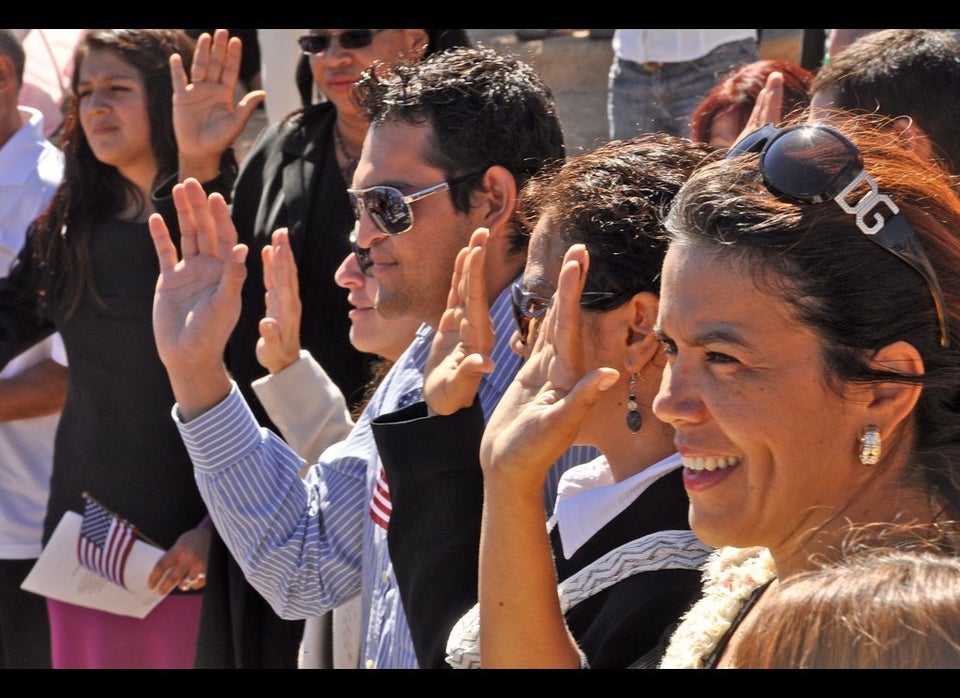 10 Major U.S. Federal Immigration Laws
Popular in the Community