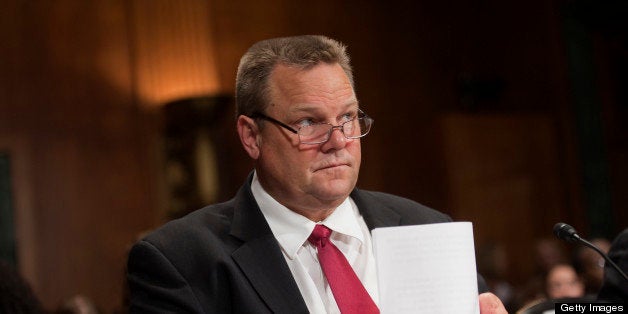 WASHINGTON -- The Senate Banking Committee is considering a new bill to deregulate insurance agent licensing requirements, drawing ire from consumer advocates.
While partisan squabbling for years has blocked the passage of any serious economic reforms, the new insurance bill is the latest of several recent deregulatory efforts to garner bipartisan support.
Insurance agents and companies have long complained about the fees and red tape associated with having to register to sell policies in multiple states. Consumer groups, however, emphasize that different states have different local risks and laws; for example, a Mississippi property insurance expert may not be familiar with the appropriate rates for insurance related to hurricanes in Florida or earthquakes in California. As a result, consumers could pay for policies that are inadequate or wrongly priced.
"We don't mind having some kind of national license approach, but individual states ought to be able to stand up and say, 'Wait a minute, we're unique and need some additional standard,'" said Bob Hunter, director of insurance at the Consumer Federation of America. "This could create shopping toward the lowest standards."
The new federal plan would establish some nationwide licensing standards, but the board responsible for devising those standards -- to be known as The National Association of Registered Agents and Brokers -- would consist of insurance industry representatives and state insurance commissioners. As written, the bill would not give consumer advocates a seat on the licensing board.
The proposal has been floating around Washington since the late 1990s but has never been enacted. Tester and Johanns have defended the bill by arguing that it will lower costs for companies, and the savings will be passed on to policyholders.
"Jon's bill streamlines the licensing of non-resident agents and brokers and maintains state consumer protection in order to increase competition in the insurance market," Tester spokeswoman Andrea Healing told HuffPost. "The measure's widespread support -- which includes State insurance regulators -- demonstrates that the bill will improve the licensing process and provide American consumers with a better product."
And indeed, although states would lose significant control over licensing standards for insurance agents, all standard state consumer protection rules that apply to insurance would remain valid.
The bill is reminiscent of a previous Tester effort on debit card swipe fees from 2011. At the time, Tester was pushing legislation to delay reforms authored by his colleague Sen. Dick Durbin (D-Ill.) that would have significantly reduced the fees that retailers pay to banks to process debit card transactions. Like the insurance agent licensing bill, the swipe fee struggle did have some modest consumer implications, but was not considered a priority by interest groups outside the retail and banking industries.
"America must come to see that what matters for Congress is not what matters to America," said Harvard University Law School professor Lawrence Lessig said of the insurance deregulation bill. "Here is yet another example of Congress coming together where it matters most to special interests, while remaining incapable of coming together for problems that matter."