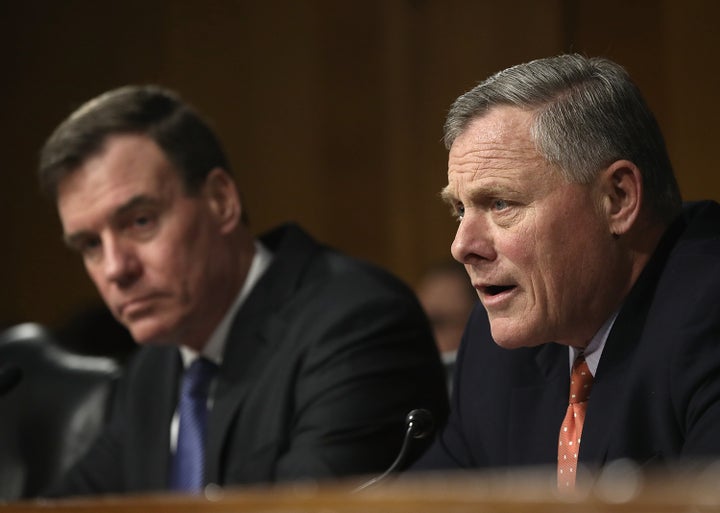 WASHINGTON ― Democrats and Republicans on the Senate intelligence committee are divided on whether the panel is devoting enough resources to its investigation on Russian election interference and possible ties between Moscow and the Trump campaign.
Until this week, the committee's investigation operated with just seven staffers who had access to classified intelligence community documents. As a result, though the investigation launched three months ago the committee has just now completed its first round of reviewing those documents. Members from both parties say the committee members are working well together, albeit at a slower pace than Democrats would like. But a simmering disagreement over the number and type of staffers needed to execute the probe could upend the fragile bipartisan cooperation.
Democrats, including ranking member Mark Warner (D-Va.), have pushed for the committee to bring on additional staffers. They are particularly interested in hiring someone with a background in legal prosecutions, a Senate aide told HuffPost. The committee has no prosecutorial role ― but Democrats say that a prosecutor would bring a unique perspective to a probe that centers around the bizarre interactions between several members of President Donald Trump's campaign team and Russian government officials.
Two members on the panel confirmed ongoing discussions about hiring a prosecutor.
"We're not a prosecuting committee, we're a fact-finding [committee] ― but people who have that mindset can think a little differently and see things a little differently," Sen. Joe Manchin (D-W.V.) told HuffPost.
Sen. Angus King (I-Maine) said the committee is currently making good progress but that he would like to see a prosecutor added to the team at some point. "It's a question of timing," King. "We've established the resources that we need to do that."
But committee chairman Richard Burr (R-N.C.), who has final say over hiring decisions, appeared to rule out bringing a prosecutor on board. If the committee discovers illegal activity, it would make a referral to the FBI or Justice Department, he told reporters Thursday.
"It would never be the function of the committee to have any prosecutors," Burr said. He added that he is open to hiring more investigators if the need arises ― but for now, he said, the committee has "a sufficient amount of bodies" to do its job.
The committee filled two empty National Security Agency monitor positions this week, bringing to nine the total number of staffers cleared to review classified documents related to the Russia investigation. The Democrats' pick, April Doss, is the former general counsel for intelligence law at the NSA and is scheduled to start next week. The Republicans declined to name their new hire, who also started this week.
The two new hires were encouraging to Democrats, but they want to see more. "The reality is that we will need to bring on additional staff," said the Senate aide, who requested anonymity to discuss a sensitive investigation.
"We're starting to make some progress, but there's no reason not to make this our central priority," Sen. Martin Heinrich (D-N.M.) told HuffPost. "We don't have every skill set that we might need for this sort of investigation."
"Where we were before, we weren't cranking through the material and potential witnesses that were necessary to get somewhere on this in a timely way," Heinrich continued.
According to Burr, the committee has reviewed thousands of pages of intelligence and has completed about 20 interviews at a rate of two to three interviews per week. Those interviews have been mostly limited to individuals who worked on the intelligence community's assessment that Moscow interfered with the 2016 presidential elections with the goal of helping Trump win. They have not yet interviewed the Trump campaign officials suspected of unusual communication with Russian government officials, like former advisers Michael Flynn or Carter Page.
Asked how Republicans react in private when Democrats push for an expanded staff, the Senate aide said their response has been mixed. "They have at various times been receptive to the idea when pushed, but I do think when approached you will find them saying, 'We're fine, this is all on track.'"
The aide's prediction was correct.
"They're doing an excellent job," Sen. James Risch (R-Idaho) said. "I'm very satisfied with how things are progressing." The Idaho Republican dismissed calls for more resources as typical bureaucratic inefficiency. "Any time you have a government agency or a government enterprise, they always want more staff ― we're doing just fine."
Popular in the Community